Tools:








TDmonthly Top Toy Award Winners July 2012
TDmonthly Honors 3 Top-Notch Specialty Toy Manufacturers
TDmonthly Magazine is excited to announce our TDmonthly Top Toy Award winners for July 2012. We've selected these toys to feature to our 14,600 retailer subscribers for a number of reasons, including their top quality, high play value, and/or status as a proven best seller. By awarding these Top Toys, TDmonthly hopes to help our subscribers, unique monthly online visitors, retailers and consumers make the best possible choices when deciding which toys to buy.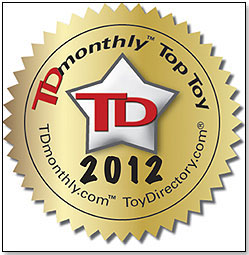 The TDmonthly Top Toy Award winners for July 2012 are:

Calin from COROLLE DOLLS
Why it Won: Specialty retailers interviewed by TDmonthly Magazine have named Corolle's Calin line of dolls as a best seller for six years in a row. These high quality baby dolls have soft bean bag bodies and posable limbs, making them a great toy for both naptime and playtime.

Groovy Girls from MANHATTAN TOY
Why it Won: Manhattan Toys' Groovy Girls line shares the distinction of being named a best seller by retailers for six years in a row. The soft fabric dolls come in a variety of skin tones and hair colors, and wear funky outfits that buck tradition and promote self expression.

PlanWood Dancing Alligator from PLANTOYS
Why it Won: PlanToys has updated their classic Dancing Alligator pull toy, which is now made from PlanWood. PlanWood is made from the sawdust and wood chips left over from regular PlanToys production and is non-toxic. It's great to see a manufacturer stepping up to the plate and rethinking their classic products so that they cause less harm to our fragile environment — all without compromising the quality of the finished product.

(See full descriptions of these winning products / examples of winning product lines at the end of this article)

No nominees or winners paid a submission fee to be considered or chosen, and we strictly limited the number of award winners, evaluating products based on the above criteria, as well as favorable review from retailers, consumers, experts or TDmonthly staff.

For more information on submitting your products for awards consideration, see this article.







.

AD
---






.

AD
---






.

AD
---






.

AD
---






.

AD
---






.

AD
---






.

AD
---
Catalog Request Form
THIS BANNER IS AN AD:
---
---