---
UPDATED: See All 21 of ASTRA's Best Toys For Kids Winners!
View product descriptions, images, videos and more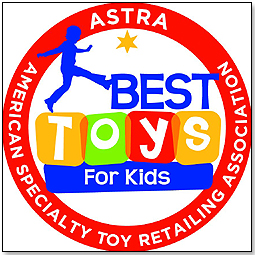 ASTRA has announced the 21 winners for the 2012 "Best Toys For Kids" awards. What sets these toys apart from other award-winners? "ASTRA's Best Toys for Kids award program is different from other top toy lists because it reflects the collective expertise of hundreds of toy retailers who know toys inside out," Gwen Ottenberg, chair of ASTRA's Best Toys for Kids Committee and owner of Imagine That Toys in Wichita, Kansas, said in a press release. Retailers had the chance to view and vote for the nominated toys at the ASTRA Marketplace & Academy in Baltimore, June 10-13th.




The winners are:
scroll to the end of the article to learn more about these products
Active Play

Kickin' Putt by BeginAgain

OgoSport RAQ by OgoSport , LLC

Constructive Play

The ZOOB Challenge by INFINITOY, Inc.

nanoblock musical series assortment by Ohio Art Company

Creative Arts Play

Loopdedoo by Ann Williams

Sunflowers Master Kitz by Kidzaw

Early Play

Tobbles Neo by Fat Brain Toy Co.

Roll & Play by ThinkFun

Game Play — 3—7yrs

Look Look by MindWare

Feed the Woozle by Peaceable Kingdom

Game Play — 8yrs+

Pajaggle Board by Pajaggle, Inc

TENZI by CARMA GAMES

Game Play — Brainteasers

Perplexus Twist by PlaSmart

Rubik's® The Void™ Puzzle by Winning Moves

Pretend — Doll Play

Puppet-on-a-Stick(TM) by Educational Insights(R)

Pretend — Fantasy Play

E-Rangers Headquarters by PLAYMOBIL

Pretend — Role Play

Kidoozie Deluxe Build-A-Road with Elevator by International Playthings LLC

Scientific Play

My First Super Science Kit by Be Amazing! Toys

Snap Circuits LIGHT by ELENCO

Classic Play — 0-7yrs

Brio Classic Figure 8 Train Set by Schylling Toys

Classic Play — 8yrs+

Rush Hour by ThinkFun


According to ASTRA's website, toys with the Best Toys for Kids seal are:

Engaging: Encourage creativity, invite exploration, and spark a child's interest and imagination anew each and every time he/she plays.

Unique: Delight children with its original concept and ambitious design.

Open-Ended: Grow with the child as he/she advances from one developmental stage to the next. Introduce and reinforce age-specific skills while opening up limitless possibilities.

Fun And Safe: Most of all, provide hours of fun play, while meeting or exceeding all current federal safety standards.

A lot of great products were nominated along with the winners (which you can see below); check out the nominees in each category to learn more!









Watch our video interview with Kathleen McHugh

See more products in our 2012 ASTRA Preview: 28 Toy Makers Share Products for Specialty

Prepare for ASTRA with our 11 Retailing Tips on Making the Most of Your Time at Trade Shows







This outdoor game combines the fun of soccer, kickball, ying discs, and golf. The Kickin' Putt 2 player game is complete with 2 kick around golf balls and the ying scoring disc. Toss the scoring disc to set the hole, and get ready for a game of soccer meets golf. The scoring disc is made in the USA from wheat based plastic and the kick around golf balls are made from natural rubber.

.

AD
---






A hand trampoline for balls: throw, catch, bounce. RAQ combines the ease of the other OgoDisks with the added power of a handle. Features the new Flux ball, with adjustable speed, for tailored fun. Bounce any ball; for summer fun, try it in the pool with water balloons. Each set includes one yellow and one OgoOrange RAQ disk with one Flux ball. EVA foam ring. Nylon-spandex membrane center.

.

AD
---






How can kids move a ball into a target with 2 high walls from 2 feet away? Build a ramp? A catapult? A trampoline? A zip-line? There are no right answers and we provide no solutions--it's up to kids to use ZOOB pieces (and other materials that they choose) to build contraptions that solve the challenges. The ZOOB Challenge features 175 ZOOB pieces, string, wheels, a ball, rubber bands, a foam play pad, and 25 challenges based on STEM (Science, Technology, Engineering, & Math) skills-skills that educators have targeted as essential to helping the US compete successfully in the 21st century.

.

AD
---






The nanoblock 'Miniature Collection' includes a wide range of musical instruments. Form a miniature band with the Drum Set and Electric Guitar or perform a piccolo concerto on the Grand Piano or violin. nanoblocks are all about the creative construction process with rewarding sculptural results – the perfect three-dimensional puzzle. The miniature blocks connect securely to create extremely detailed objects of varying size and complexity. Challenging three-dimensional puzzle with amazingly small sized building blocks.

.

AD
---






.

AD
---






.

AD
---






The unique grippable texture of Tobbles Neo awakens touch. See those gentle, playful curves? They truly enliven tactile experiences. Young minds revel in stacking, toppling, and the discovery of endless ingenuity with Tobbles Neo. Six uniquely weighted pieces balance, neatly nest, and incessantly spin beyond your expectations. Includes 6 vibrant, weighted spheres & stacking base. Launch date: July 2012.

.

AD
---






To play, simply toss the big plush cube and identify which colored side faces up. Choose a matching color card and perform the simple activity shown. "Make a happy face," "Moo like a cow," etc. The activities supported by Roll & Play are designed to help kids shine, supporting healthy development and celebrating success. Roll & Play gently introduces play patterns and rules through a loving, joyful play experience. Launch date: 2012.

.

AD
---






Crazy creatures abound in this fast-paced, mixed-up matching race. Draw a card to reveal the challenge. Will players need to find the identical creatures within two differently colored frames, or do quick math once they spot the numbers? Race against opponents to spot it or solve it. The winner keeps the card. The first to collect enough cards to spell "Look Look," takes the game. Game board is comprised of eight interchangeable frames, making it a new game every time it's played. Includes 68 challenge cards. 2 or more players.

.

AD
---






.

AD
---






.

AD
---






.

AD
---






.

AD
---






.

AD
---






.

AD
---






With a detachable roof and changeable transparencies in the command canter. The balance Racer can be turned into a propeller or a jet-car racer. Launch date: August 2012.

.

AD
---






This kit is for kids as they begin to explore, experiment and discover their world. Over 70 fun exciting experiments to stimulate young minds. Launch date: 2012.

.

AD
---






.

AD
---






.

AD
---






.

AD
---
THIS BANNER IS AN AD:
---
---