---
Helping Boys and Girls Set and Measure Goals with Games Workshop
Specialty toy store owners are always looking for products that are more than just toys. The ideal item isn't just fun - it also helps kids develop a variety of skills that will help them succeed later in life.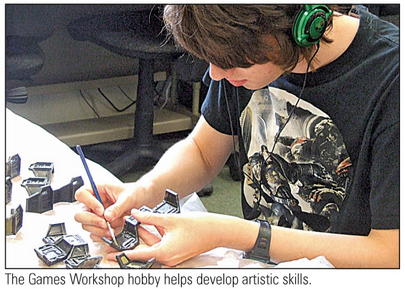 Hobby toys and model kits can help kids develop everything from mathematics comprehension to social skills.

We asked Adrien Broussard, account outlet developer at Games Workshop, to share with our readers some of the ways that their toys help kids grow. You can read our interview, and check out some of their products, below.

Adrien: A little bit about me. I work for Games Workshop as an Account Outlet Developer on the toys store team.

My experience with Games Workshop product started around the age of 12. I have been an avid fan and collector since then. As a retailer I have run a corporate Games Workshop store and independent specialty retailer who carried the product. In both cases I was successful with the product line and believe in the value it adds.

Q. What types of hobby activities are most helpful in teaching kids new skills?

A. Games Workshop product teaches and encourages different skills.

Reading and Comprehension – Every kit has a start of a story that inspires kids to create their own stories for their figures. Part of Games Workshop is called Black Library which produces around 5 new books a month to encourage children to explore further product lore. The Games Workshop games have basic rules along with every figure having different abilities to use in game. Reading and retaining this information is part of what our product inspires.

Mathematics –The game portion of it is a point buy system. Every model is worth a certain number of points, which children have to use in different ways to create their forces in order to play the game. Kids have to balance their choices depending on what appeals to them. The rules structure of the game encourages the use of addition, subtraction, and multiplication through the process of play.

Art – Painting and customizing figures teaches children about color theory. They learn project management through the life cycle of their figure. The child builds their kit, paints their kit and then can play a game with their figures. It teaches patience and confidence as they master different skills to complete each kit. We have created the How to Paint Citadel Miniatures book and DVD to create bench marks for children to progress through as their skills grow.

Social Interaction – In the early days of gaming these types of games were the first social network. It is a warm and welcoming place that helps teach children how to properly win and lose. It teaches children the age old art of storytelling through narrative game play. It also brings customers together to build and paint their kits. Children build relationships that surpass social barriers and will last a life time. In today's world of social networking we are seeing customers gathering together to share an activity over vast distances.

Give a kit to a child and watch what they come up with - you will be amazed.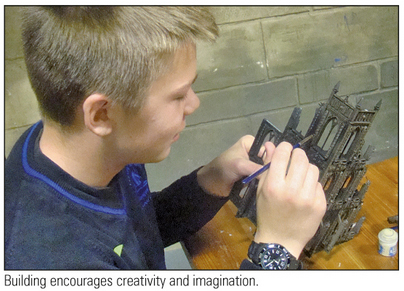 Q. What skills do Games Workshop products help kids build?

A. Skills that Games Workshop product develops includes:

Creativity – Kids get to build and create a narrative story with their kits. Each kit that is completed is an expression of that child and their personality. It is awe-inspiring to see completed figures, from a child's very first figure to a figure they completed after 20 years with our product. You can always see the progression and growth in that customer.

Problem solving/Logic - The game is fluid; it helps kids develop problem solving skills as they play with different people and face different forces. It builds an awareness of a situation in front of them and teaches them to start looking for solutions as the game goes on. This is a skill that is developed over time through the act of play and the social interactions that come from the product.

Hand-eye coordination – Building and painting kits builds a child's hand-eye coordination. There is a teacher who uses Games Workshop product in his after school program. The kids that took part in the program would see improvements in their hand writing through act of developing skills to paint figures. The Teacher also never had an issue getting the kids to read during reading time in class because our product covers fantasy and science fiction stories that appeal to children.

Spatial Awareness – Games Workshop games are played in a space and use dimensions to measure actions. Warhammer Fantasy uses formations in the shape of squares that teach children about the angles of attack. Warhammer 40,000 uses circles to create bubbles that have influence and control over a space.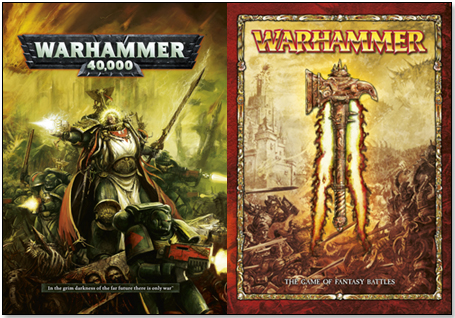 A good example is you have a monster bearing down on you. Your cannon is your only hope, using pre-measuring to give your shot the best chance before adding little random result through a dice roll. After the battle you will often find your customer sharing story with their friends about their cannon and how it saved the day or talking about the monster that feasted on his bones because the cannon failed.

Focus – These are kits that children will build and paint. The process of building and painting a kit teaches children how to focus to complete a task. I have seen kids who only have 5 minutes a day to work on their projects, but they find that time and use it to reach completion because the reward is being able to play with their figure.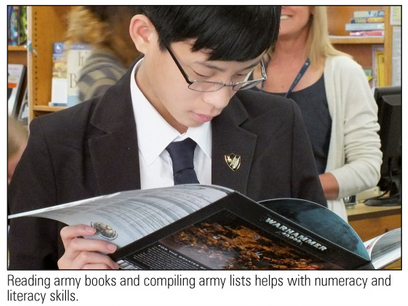 Q. How do these sorts of activities help differently-abled kids?

A. Our hobby has a lot of possibility for building different bench marks to use with a child. The kits have appeal because they are more adult oriented, allowing the child to grow with the product. It may seem challenging but it is all about learning skills and applying those skills to your figures. A good place to start is painting a model. We teach seven different painting techniques in our How to Paint Citadel Miniatures book. These are clear steps of progression to use with a child to teach the different painting techniques. We commonly teach one skill, send the child home and have them practice with their figures. They would come back the next week and work on the next skill. With a little patience and time the child would be completing kits on their own. You work through each step of the product. You build, you paint, and you can play a game with it. Each of these has different benchmarks that you use to progress forward with a child. The great thing is you don't have to know the product as a retailer; you can use the How to Paint Citadel Miniatures book and DVD and let that teach those skills for you.

Social interaction is a huge part of our product. It improves a child's ability to talk with confidence. We have seen it improve a father's ability to interact and communicate with his son. We had a mom who spent time with a daughter to paint models together to build their relationship. If a parent chooses to be part of their child's excitement for the product, they will find it impacts other parts of their life in a positive way.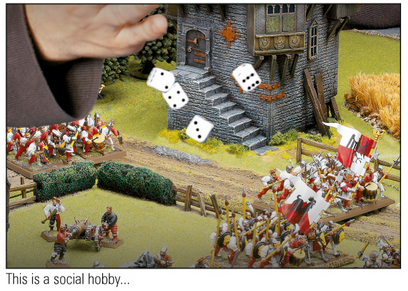 \


Q. How can hobby products teach kids about goal setting?

A. Goal setting with our product is easy. The product can be used as a reward system to encourage good behavior and grades. Parents will set goals where the child has to build and paint a kit before they could buy another. Teaching children to plan their purchase and then finish their figures before moving on. With any goals it is about having a measurable. What could be more measurable than building and painting a kit? It also helps something most parents are faced with. We have all heard stories about a child who was into something and just stopped doing whatever it was because they are no longer interested. This product allows parents to have an active role in the life cycle of the product to retain its value, while giving the child space to be themselves.


Q. Which products would you recommend for a kid who is just getting started?

A. Our core products give a child the best chance to grow with and ease of entry, while providing a foundation for success.

Dark Vengeance/Island of Blood – These boxed games have everything you need to start playing, containing two complete armies ready to assemble and put straight on the battlefield. The two armies offer a full exciting experience as you and your partner can delve into all the rules and tactics. Also included in the set is a full-color rulebook that contains all the information you'll need to play the game.

Citadel Hobby Starter Set – If you're completely new to the world of creating and painting models or returning to the hobby after a brief hiatus, then the citadel Hobby Starter Set is for you. This one box contains everything you need to begin your own unique journey into the world of Citadel Miniatures. The Citadel Hobby Starter set contains 13 citadel paints, 1 Starter Brush, 1 pair of fine detail cutters and 1 bottle of plastic glue.

How to Paint Citadel Miniatures – When it comes to painting Citadel Miniatures, this book is an absolute must-have. This mighty tome is crammed full of information about painting; from undercoating your miniatures and applying your first layer of paint, right through to your final highlight. There's even a 90-minute DVD included to show you how to put these techniques into practice.

Pick a Box - Some children buy what appeals to them and start from there. That is the great thing about our product.


Q. Do you have any helpful tips that retailers who carry your products can communicate to their customers?

A. Ask a question, It can be as simple as "what are you working on?" When they tell you about it and you don't know what they are talking about. Ask them what it is. You will find people in the hobby love to share with one another and that includes you as the retailer. If you take an active interest you will find it leads to more sales.

If the customer is new, then show them an open core product. Ask your rep, we provide you with open copies. We provide demo kits to use in activities write-up if you choose to run them. You have product support you can use every year.


Q. Is there anything else you'd like to tell us?

A. We want to be part of your store. Your stores success with our product is how we measure the success of our partnership with you. We offer a program build for specialty retailers that offers free freight, no minimum order, and product return ability. The question we have for you is "How are you engaging boys and girls 10 and up in your store?"





MSRP: $99.00

Age Range: 12 and upSpecialty: Yes (as of 2014)Gender: Boys And Girls





Dark Vengeance is one of the most incredible box sets produced by Games Workshop! Inside, you'll be faced with 48 miniatures that form two detailed armies - Dark Angels and the Chaos Space Marines - and everything two players need to field their own Warhammer 40,000 forces. As if these models weren't enough, Dark Vengeance comes with a full-color 168-page mini Warhammer 40,000 Rulebook; a complete Assembly Guide; a quick-play reference guide; an army roster sheet; dice, templates, and a Quick Start booklet.

ToyDirectory Product ID#: 36758

(added 5/6/2014)

.

AD
---




MSRP: $40.00

Age Range: 12 and upSpecialty: Yes (as of 2014)Gender: Boys And Girls





The Space Marines are the knight defenders of humanity in the far future. These fearless and noble guardians keep watch against the dangers of the galaxy from their fleets of fortress-like space ships. They are clad in mighty armor and bear the finest equipment the Imperium of Humanity can produce. This multi-part plastic box set contains all the components to build ten Space Marines with many additional parts for individual customization.

ToyDirectory Product ID#: 36757

(added 5/6/2014)

.

AD
---





MSRP: $37.00

Age Range: 12 and upSpecialty: Yes (as of 2014)Gender: Boys And Girls





The Sisters of the Thorn are Queen of the Forest's handmaidens - a sisterhood pledged to sorcery and subtlety. Their counterparts, the Wild Riders are fey and dangerous creatures who serve as the King of the Forest's personal guard. They are all borne into battle on graceful magical elks, which are as reckless and aggressive as their riders. This multi-part plastic boxed set contains all the components to build five Sisters of the Thorn or Wild Riders.

ToyDirectory Product ID#: 36756

(added 5/6/2014)

.

AD
---

Writer's Bio:
Justina Huddleston graduated Magna Cum Laude from Emerson College with a BA in Writing, Literature, and Publishing in 2009. After graduating she was the on-site director of the Boston Children's Museum gift store for a year, selling educational, developmental, and creative activity toys that tied in with the museum's exhibits. Justina also interned at children's book publisher Candlewick Press before moving from Boston to Los Angeles, where she is now Editorial Director of
TDmonthly Magazine
.
Read more articles by this author
THIS BANNER IS AN AD:
---
---