---
Toys in the News: 8-28-2014
SUBMIT your news to TDmonthly.
See previous toy industry news.

Toys in the News is updated Mon-Fri at 9:15 am PST

Mattel intros new American Girls line. August 28, 2014 — Mattel's direct-to-consumer American Girl brand, which saw sales shoot up 6% last quarter, is introducing a revamped product line...

Stephen Colbert lashes out at Hasbro for adding "selfie" to the Scrabble dictionary. August 28, 2014 — Earlier this month 5,000 new words were added to the Scrabble dictionary to reach a younger audience...

Summer movie report card: Only toys came to play. August 28, 2014 — Hollywood didn't exactly bring the heat this summer. One of the industry's most critical...

Could Disney's Tsum Tsum be the next toy craze? August 27, 2014 — They're soft, cuddly and adorable, and they're making kids go gaga. No, the Beanie Babies from the '90s haven't made a comeback...

This Is The Worst Tragedy In Retail Right Now. August 27, 2014 — Throughout my 64 year career in retailing I have seen a lot of tragedies in the retail industry...

Could drones be coming to Disney World? August 27, 2014 — Future visitors to Walt Disney World may come for the rides but stay for the drone show...

Hasbro Studios Taps Josh Feldman as Head of Development. August 26, 2014 — Toymaker Hasbro has named Josh Feldman head of development of the company's film and TV division, Hasbro Studios...

DISNEY INFINITY 2.0 Execs Talk Marvel, Disney, Tease STAR WARS for 2015. August 26, 2014 — John Vignocchi is one of the public faces of Disney Interactive, with a heavy twitter presence, and a larger-than-life...

The Surprising Reason Retail Sales Are Set to Rebound. August 25, 2014 — Things are sure looking up for the average American. The job market, in terms of openings...

The Trouble With Barbie. August 25, 2014 — At 55, Mattel's Barbie is showing her age. But Hasbro's Transformers and My Little Pony brands are still hot...

Toys 'R' Us' Christmas wish: debt refinancing. August 25, 2014 — Toys 'R' Us wants its Christmas present early — thanks to the hot credit markets...

Amazon Grows Rapidly, Traditional Retailers Struggle, Should Brick and Mortar Retailers Partner with Google? August 25, 2014 — Google owns search. Except in one area, product searches. When it comes to...

Activision 'mulling a plan' to make Call of Duty and Skylanders movies. August 22, 2014 — Activision Blizzard is reportedly considering a plan to launch an entertainment studio that could...

Two Engineers Have Created the Doll Every Young Girl Should Be Playing With. August 21, 2014 — Pink bows, Easy-Bake Ovens, Bridal Barbie. Take one walk down a toy store aisle in the U.S...

LeapFrog and Mia Hamm Partner to Get Kids Up and Active With LeapBand™. August 20, 2014 — Mia Hamm, international soccer star and mom of three, launches LeapBand™, LeapFrog's first wearable activity tracker designed just for kids...

Hasbro family's R.I. matriarch, Sylvia Hassenfeld, recalled as a 'most remarkable woman'. August 20, 2014 — Sylvia Hassenfeld, philanthropist, human rights activist, supporter of many Jewish causes, children's advocate...

Mom-Made App Allows Parents to Lock Their Kids' Phones Until They Call Back. August 19, 2014 — For generations, children have found new and inventive ways to ignore their parents...

Hasbro casts a new spell with Dungeons & Dragons update. August 19, 2014 — For Wakefield residents John and Danielle Neary, Dungeons & Dragons is more than a game...

New 'Disney Infinity 2.0' Toy Box Pack Reveals 'Big Hero 6' Characters. August 19, 2014 — Today Disney announced a Disney Infinity 2.0 Toy Box Combo starter pack, including Merida and Stitch...

Want your children to learn? Give them time to play alone and explore the world, says academic. August 14, 2014 — Next time you reach for the Play-Doh and start making models with your toddler, think again. You may be doing...

Retail Sales Slow, Raising Concerns About Economy. August 14, 2014 — Retailers are posting uneven results this year, but economists and investors are not sounding the warning bells just yet...

America's Fastest-Growing Retailers. August 14, 2014 — After the recession, retailers are growing once again and, increasingly, moving online...

Sue Warfield Joins ASTRA Staff as Director of Member Relations. August 13, 2014 — Toy industry veteran, sale representative, and retail consultant Sue Warfield has joined ASTRA as Director of Member Relations, the American Specialty Toy Retailing Association (ASTRA) announced today. In the newly created position, Warfield will assume responsibility for building innovative, win-win programs that will grow channel cooperation and collaboration in the specialty toy industry, with the goal of increasing efficiencies and savings for retailers, sales representatives, and manufacturers.

Retail Woes Raise New Worries - Less Consumer Spending. August 13, 2014 — Retail sales got off to a slow start at the beginning of the third quarter, adding to the list of worries facing investors...

'Guardians of the Galaxy' Pushes Disney to More Than $1 Billion Domestically. August 12, 2014 — "Guardians of the Galaxy" pushed Walt Disney Studios over the $1 billion mark domestically this week. Overseas, Disney's $4 billion purchase...

Update: LeapFrog Earnings Leave A Lot To Be Desired. August 12, 2014 — LeapFrog announced disappointing results with sales declining 43% YoY due to high discounting...

These 3 High-Tech Toys Help Teach Girls to Stick with Science. August 12, 2014 — As the late great James Brown once sang, "It's a man's man's man's world." And while that may no longer...

Dispute Erupts Between Amazon and Disney. August 12, 2014 — When Amazon.com Inc. wants to fight, it turns to a familiar playbook...

Retailers: Don't Get Stuck in the Deep Discount Dilemma. August 12, 2014 — Retailers are running scared. In every sector, from apparel to electronics to groceries...

Sensing a Tsum Tsum Craze Afoot, Disney Rushes to Supply Fans. August 11, 2014 — Has Disney stumbled across the new Beanie Baby? Last month, a smattering of Disney Stores...

Amazon's largest retail competitor may have a shot at catching up online. August 11, 2014 — Amazon has had a quite a week of challenges: Google and Barnes & Noble teamed up to offer same-day book delivery...

Ubisoft Announces Hasbro Game Channel. August 7, 2014 — Ubisoft has announced the new Hasbro Game Channel, which will bring classic board games to consoles...

Hasbro CEO diagnosed with prostate cancer. August 7, 2014 — Brian Goldner, the president and CEO of Hasbro, announced to employees and shareholders...

Looking Beyond Mattel's Second Quarter Numbers. August 7, 2014 — Retailers are off to a good quarter as warmer weather hits various parts of the world...

Disney Infinity 2.0 is a whole new world with Aladdin, Jasmine. August 7, 2014 — Disney Infinity 2.0 will include playable Aladdin and Princess Jasmine characters, Disney Interactive announced...

Parents are choosing organic toys with eco-friendly origins. August 6, 2014 — Whether it's a plastic train set or a plush stuffed animal, toys often end up in babies' mouths...

BeginAgain to Distribute Artterro Eco Art Kits, Hires National Sales Director. August 6, 2014 — Eco innovator BeginAgain is expanding its offering of earth-friendly playthings and building a sales team to support strategic growth. The three-year-old company has inked an agreement to distribute Artterro's popular line of art and craft kits and recently hired dynamic toy industry veteran Justin Victor as director of national sales. "We are thrilled to be working with BeginAgain, a company whose mission closely aligns with our own," said Artterro founder Forrest Espinoza. "Like BeginAgain, we believe in the power of open-ended, child-led play and creativity, and we hold our products to high standards of sustainability, quality and durability. This partnership helps us respond to the strong and growing demand for products that inspire, and will allow us to reach many more families with our message that everyone is born creative."
"Artterro Eco Art Kits are a perfect fit with our toys and we love that they are made responsibly in the USA," said Chris Clemmer co-founder and president of BeginAgain. "This partnership will enable our new national sales director, Justin Victor, to bring even more eco-friendly products that teach through play to retailers—and families—across America."

Disney's Third-Quarter Profits Soar, on Marvel's Back. August 6, 2014 — The Walt Disney Company said on Tuesday that its quarterly profit totaled $2.25 billion, a 22 percent increase from the year-ago period...

Jakks Pacific World of Nintendo line adds new toys. August 6, 2014 — Jakks Pacific is putting out more World of Nintendo toys...

Toys 'R' Us hires restructuring specialist. August 6, 2014 — An investment banker with a background in corporate restructuring has joined Toys "R" Us in Wayne...

SDCC: IDW & Hasbro Announce "Angry Birds: Transformers," "Combiner Wars". August 5, 2014 — Friday afternoon at Comic-Con International in San Diego, IDW Publishing and Hasbro hosted a panel discussing their current...

15 Retro Kids' Toys That Are Making A Serious Comeback. August 5, 2014 — Brighter, shinier, more modern. If you thought you had a serious case of deja vu in the toy aisle recently...

Walt Disney Company (DIS) Earnings Preview: Q3 2014 Profits Score With World Cup, 'Frozen'. August 5, 2014 — For Disney, "Frozen" fever was the gift that kept on giving...

Who has what it takes to lead retail in 2039? August 4, 2014 — Twenty-five years from now, shopping will look and feel very different—and those leading retail companies...

LeapFrog Buys Kid's Web Browser Maker KidZui. August 4, 2014 — San Diego-based KidZui, the makers of a web browser designed for children, has been acquired...

The case for making libraries full of toys and games. August 4, 2014 — American businessman and philanthropist Andrew Carnegie's public library legacy was built on a boyhood dream...

Film world's cast of toys teleport into digital playground. August 1, 2014 — Those ubiquitous Angry Birds flew from the mobile screen to the toy store, hooked up with Hollywood...

Hasbro Offers Artwork For 3D Printing At Shapeways. August 1, 2014 — Hasbro and Shapeways recently announced a joint website that will allow...

Toys R Us anatomically correct baby boy doll causes a stir. August 1, 2014 — While most dolls come without any genitalia, the You & Me Mommy Change My Diaper Boy Doll sold at Toys R Us is anatomically correct...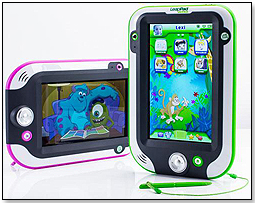 LeapFrog's Highest Performance Five-Inch Screen Children's Learning Tablet, LeapPad™3, Now Available. July 31, 2014 — LeapFrog Enterprises, Inc., the leader in children's learning tablets*, today announced that LeapPad™3 is now available for sale...

How millennials will shape retail in 25 years. July 31, 2014 — Looking ahead 25 years, the majority of the country's spending power will rest in the hands of millennials...

Hilco Streambank Hired To Sell Kid Brands Trademarks. July 31, 2014 — Hilco Streambank has been retained by Kid Brands, Inc. as Kid Brands' intellectual property consultant...

Here Are 3 Reasons Why Hasbro Actually Performed Well So Far This Year. July 31, 2014 — Recently, toy maker Hasbro released its second-quarter results. It's year-to-date revenue...

Toy Industry Losing Its Glory. July 31, 2014 — The traditional toy industry faces tough competition from Tech companies and sales are plunging...
THIS BANNER IS AN AD:
---
---