---
Retailing Tips - When to Buy for 4th Quarter
The holiday season is the busiest of the year for most retailers. That's why TDmonthly Magazine asked a panel of experience specialty store owners when they start their holiday buying. See their answers, and advice, below.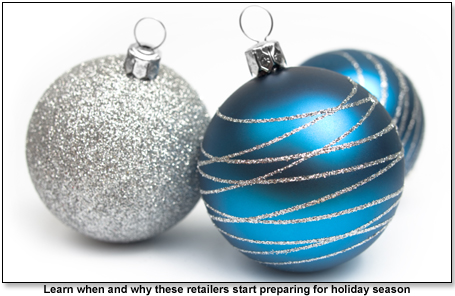 No Time Like the Present

"We do a lot of ordering at the ASTRA show - so it is a lot of planning for the holidays and ordering for the holidays right now to take advantage of deals and terms." - Kim Emigh, manager of e-commerce at Growing Tree Toys in State College, Pa.

"The most important step for the holiday season for us is getting our mailing list up for our toy catalog. We have already started doing that." - Suzi McMullen, manager of e-commerce at Doodlehopper for Kids in Springfield, Va.

"We started planning for this holiday season last year. You need to make sure you have enough product and you have your marketing and promotions planned out (or outlined), look at your figures to try and see what product lines should be increased or added, and get rid of dead product. You should definitely get your advertising in order, too." - Grafton Stine, owner of Toys on the Square in Hummelstown, Pa.

"If you think a company might be out of stock in the fourth quarter, it might be better pulling the trigger now even if you're going to be putting up a little more money." - Isaac Judd, head of operations at Magic Beans in Brookline, Mass.

"We're preparing now - but not just for Christmas and Hanukkah! We have a huge Halloween influx, so I've been buying costumes. But for 4th quarter, a lot of companies have you order the holiday stuff early. Mostly, I've ordered impulse items and stocking stuffers." - Kristen Pollard from Mud Puddle Toys in Salem, Mass.

"Now is the time to look for summer deals that will pan out at the end of the year. I try to find all new items in the summer that are really going to catch on in the fall and winter." - Kristin Dolle, buyer for Playthings Toy Shop in Louisville, Ky.


Let's Wait and See

"Times have changed over the past five years and so has my buying process. Gone are the June and July 'sit downs' with rep after rep, purchasing bid orders for the holidays. Now I'll buy a few things in late August or early September and then place orders as I see the traffic in the store increase." - Joe Berardoni Jr, owner of Pun's Toys in Bryn Mawr, Pa.

"We are gearing up for summer camp season. I will start thinking about the holidays in August." - Mary Porter Green, owner of Curiosity Zone in Ashburn, Va.

"No. More next month. I'll be testing out different lines, or expanding existing lines with more variety and more expensive pieces." - Phyllis Stroud, owner of Rocking Horse Toy Store in Natchitoches, La.

Writer's Bio:
Justina Huddleston graduated Magna Cum Laude from Emerson College with a BA in Writing, Literature, and Publishing in 2009. After graduating she was the on-site director of the Boston Children's Museum gift store for a year, selling educational, developmental, and creative activity toys that tied in with the museum's exhibits. Justina also interned at children's book publisher Candlewick Press before moving from Boston to Los Angeles, where she is now Editorial Director of
TDmonthly Magazine
.
Read more articles by this author
THIS BANNER IS AN AD:
---
---