---
The Role of IP When Growing Your Business by Going Overseas
Protect your IP for International Success
Whether attracted by the lure of new market potential or reduced production costs, American businesses of all sizes have considered expansion overseas, especially in China. For businesses that rely upon brand recognition, that have know-how or technical advances, or that have a product with a unique appearance, intellectual property is a must to keep copycats and competitors in check.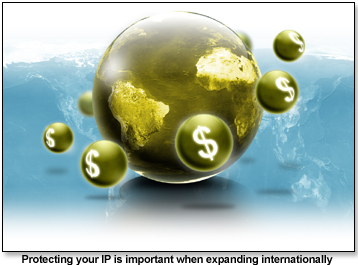 In recent years, the Chinese courts have issued judgments in tens of thousands of IP cases each year. This far exceeds the numbers handled by U.S. courts. However, by Westerns standards, the Chinese enforcement system still remains shrouded in mystery. Nevertheless, IP is gaining popularity as a form of currency, and can be used for business leverage. Some key considerations in growing in China include:

· Filing for local intellectual property protection. Intellectual property rights are territorial in nature. Except for minor exceptions, any IP protection garnered within the United States do not cross international boundaries. Along the same lines, it is important to understand what parts of your business can and should be protected with registered patents, copyrights, and trademarks and what the process is for filing.

Be cognizant of what rights you are being accorded by each type of intellectual property and determine whether it is sufficient. Similar terminology to describe types of intellectual property protection may not be the same at all. For example, the broadest and strongest form of intellectual property for technology in the U.S. is known as the "utility patent." Due to a substantive examination process which may take years, it is typically costlier to obtain than other forms of protection, such as trade secret or copyright or a design patent. However, a utility patent is broader in scope and has a large body of federal case law to provide uniformity in its enforcement. In contrast, in China, a similarly monikered "utility model" is an extremely low cost form of protection.

That is not to say that a Chinese utility model is not valuable. In fact, some of largest patent damages awarded in Chinese litigation have been awarded to holders of Chinese utility models. China does have a form of protection analogous to the U.S. "utility patent.". There, it is known as an "invention patent." Regardless of jurisdiction, ask a local practitioner questions to make sure you know what you are getting.

· Practice preventative law. Before filing any patent application abroad, it is necessary to obtain a foreign filing license. In situations where a U.S. patent application is filed, the foreign filing license review is part of the preliminary examination work of the U.S. Patent Office. In most cases, the foreign filing license is granted within a few months of filing of the U.S. patent application.

Before filing, it is also prudent to know whether your designs and products tread on the rights of others. It is a waste of time and money to attempt to register a trademark that someone else already owns, or to apply for a patent on an invention that may not past muster with the local IP examination agencies. If there is a design or invention similar to yours, the next step would be to investigate the scope of a competitor's rights. If an IP rights holder has not registered their trademark in a sufficient number of classes or has not correctly classified their design patent, they may have left a large opening for your enterprise to move forward. Even if large gaps in protection are not evident, it is perfectly viable to "design around" another rights holder's intellectual property by taking advantage of any small gaps left open in their legal fences.

· Be a good local corporate citizen. Nascent free markets, such as China, are eager to learn from the experiences of others. Local intellectual property agencies are tasked with teaching homegrown businesses on how to become "IP savvy." Become a contributor to their mandate and foster local goodwill. In an environment where signs of localism are still apparent, such goodwill pays dividends. Here, having some IP protection to license to a potential local competitor can also help convert that would-be competitor into an ally. As a licensee, the local business can help police the marketplace and help identify or track non-licensed competitors. In order to do this, the first stage is to have some IP in place, even if in the form of an application.

Finally, as China fights waves of bad international publicity about the safety of its food and products, American businesses with products that have any colorable tie to safety, health and general welfare can enlist local law enforcement agencies. Such general enforcement agencies can help in locating counterfeiters and seizing counterfeit goods that could potentially threaten public welfare.

· Learning about the local market. Aside from gaining an ally in the form of a potential licensee, local players can offer valuable market information. For example, colors in a product line that would be popular in the West may not be as well-received in China due to cultural differences or practical use. Local players can also potentially provide access to valuable local supply chain partners.

While skepticism still pervades about the Chinese IP enforcement system, gradual improvements have taken place over time. Regardless of the enforcement issues, IP rights are a recognizable form of currency that can help lead to collaboration between Chinese and U.S. companies. Also bear in mind that several multinational companies spent decades in China before being able to see any financial payoff. The process requires patience and adjustments.

Writer's Bio:
Susan Perng Pan is partner in the Washington, D.C., office of the global intellectual property firm, Sughrue Mion PLLC. She litigates multi-party complex patent disputes before several U.S. federal district courts, the U.S. International Trade Commission, and the U.S. Federal Trade Commission. Her practice also includes preparing and prosecuting patent applications, appeals and interferences before the U.S. Patent and Trademark Office. She may be contacted at span (at) sughrue.com.
Read more articles by this author
THIS BANNER IS AN AD:
---
---