---
Big Events Test Toys
Figpickels Lets Kids Make Holiday Decisions
Figpickels Toy Emporium in Coer D'Alene, Idaho – two-time winner of TDmonthly's Charity Giveaway contests – was selected this year for a special thank-you promotional giveaway to reward its customers for supporting specialty toys and toy stores. As part of a strategy to introduce the value of the products to their customers, Figpickels included the donations from HABA USA, Hohner, Schoenhut Piano Company and Gymnic (Toy Marketing International) in two major pre-holiday events.

Kid Experts
After the results of one of the largest essay contests in the country, Figpickels convened their 2013 Board of Directors/toy testers on November 3rd. Based on the best essay entries, 12 students from all over the Inland Northwest were chosen to pick this regions' holiday favorites. Whisked away in a limousine, the toy testers arrived to a magical toy-testing arena in the center of the prestigious Cd'A Resort Plaza Shops.

In addition to Schoenhut, Hohner, Gymnic and HABA, Goldiblox, Blue Orange, Lion Rampart and Zing/Oz West also donated toys. In all, Figpickels exposed kids to more than 500 toys and games, many of which they played with and tested. Those that were played with enough and scored high were put on a Figpickels Best Holiday Toy List. Gymnic's Rody made the cut in the "Staff Favorites" categories.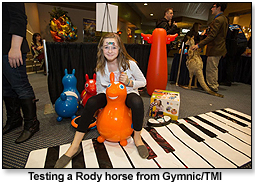 Birthday Bash
The musical instruments from Schoenhut and Hohner were brought out for Figpickels' 8th birthday bash the following week – which attracted an astounding 800 customers. Regular kids got their chance to test the playability of high-quality specialty toy guitars, drums, and xylophones.

"Not a single child could stay off the Schoenhut drum set," said Susan Sommers, co-owner of Figpickels.

According to Susan and her husband Brett, more than one would-be musician said, "I feel like a rock star!"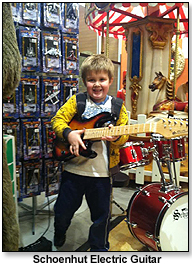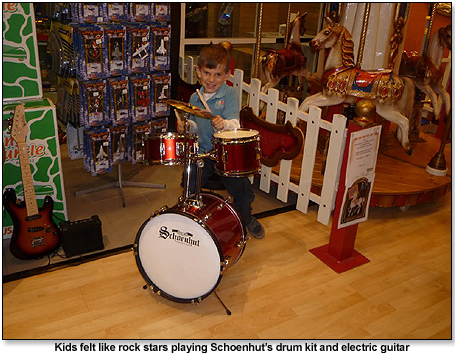 The Sommers were knocked out by the quality of Hohner's new Green Tunes line, which is targeted to kids three and up and made from eco-friendly and sustainable woods that appeal to parents.

"We'd never seen them before," said Brett. "We will definitely be ordering them!"

The kids found the musical toys not only musically appealing, but visually enticing as well. One child commented that "the colors are so beautiful" and reminded him of "candy."

The staff at Figpickels set up a series of HABA games to entertain young kids.

"They were totally engaged in picking objects to match the story they were being told," said Susan.

In addition to a store full of testable toys, the Sommers entertained their customers with jugglers and professional yo-yo demonstrators. Finally, to remind them that the holidays are a time for giving, some of the donated toys were then presented to the local Marines' Toys for Tots charity.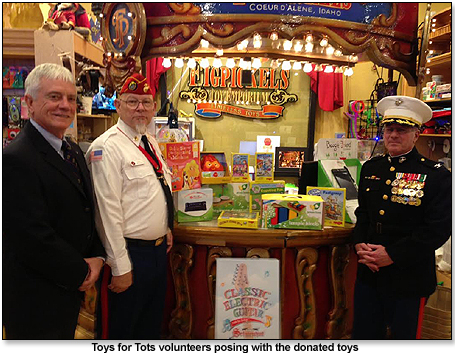 Time to Receive, Too
Brett and Susan will be ending the holiday season with an extra-special thank you to their customers for supporting them and the specialty toy industry throughout 2013. Packages of the donations from HABA USA, Schoenhut Piano Company, Hohner and Gymnic (TMI) will be raffled off to some lucky kids.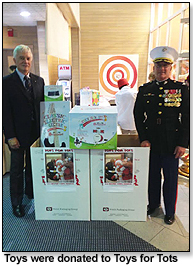 More Tests to Come!
In the Coeur d'Alene Resort Plaza Shops, where Figpickels resides, over 60,000 people will pass by the store's doors while waiting for the world famous "Cruise to the North Pole" this Holiday Season.

"We plan to maximize this opportunity by setting up tables and inviting the public to play with our toys and games," Brett told TDmonthly. "Our four incredible donors — Haba, Schoenhut, Hohner and Gymnic — will have their products featured and will get more exposure and feedback on their product than they ever dreamed.

"In exchange for their feedback and ratings of the featured toys, Figpickels customers can enter a raffle to win a package of these amazing specialty toys on December 22nd," said Brett.

Specialty Toys That Grandma a Rock Star
Brett and Susan never cease to explore new ways for independent retail to stores to compete with the big box stores and the internet by keeping the spotlight on the quality and durability of specialty toys.

"The giveaways we have been afforded by our donors is just one advantage the mom & pop store can offer over the competition," continued Brett. "I can't tell you how many times we hear 'I'm tired of the large toy shopping experience,' 'I want the customer service, and unique toys that Figpickels always has to offer.'

"Grandparents, in particular, need personal help in selecting toys for their Grandkids. It can be overwhelming! We have had incredible success in making grandparents & aunts and uncles rock stars when we continuously hear that the toys we chose for them were the hit of their Holiday. You can't ask for more than that!"







.

AD
---






The perfect instrument for a JUNIOR ROCK STAR. Delivers great sound and incorporates many of the same features as a full-sized professional drum set. Built to last, constructed of high-quality hardwood shells and sturdy chrome-plated steel hardware. 8" Mounted Tom Drum & 10" Mounted Snare Drum, tunable w/ precision, adjustable, double-braced mounting arm 16" Bass Drum, tunable w/ two stabilizers for adjustable angle 10" Crash/Ride Cymbal, tunable, adjustable, Bass Drum Pedal, adjustable spring action Assembly required. Includes: Easy set-up instructions w/ illustrations, adjustable padded foam seat, tuning key, drum sticks.

.

AD
---






.

AD
---






Our classic "Orchard" for the youngest ones. Can the children harvest the fruit into the basket before the raven reaches the Orchard? Cooperative game.

.

AD
---






.

AD
---






This could be a first guitar for kids and a travel guitar for players of all ages. It includes eight dot position inlays, 1/4 pin pickup, and a silkscreen logo. No assembly is required. Launch date: August 2009.

.

AD
---






.

AD
---






Rhino Hero is out and about again. The super hero from the animal world fearlessly scales the highest houses looking for burglars and rogues. He is as strong as a lion and as smart as a fox but also as heavy as a rhinoceros. So even the most robust multi-story buildings may start to wobble. Kids must try to help Rhino Hero accomplish his wobbly mission and build a skyscraper as tall and solid as possible. A heroic 3D-stacking game for 2-5 super heroes ages 5-99. Available with English packaging.

.

AD
---






12.5" ergonomically designed eco-friendly Mangowood base fits easily on a lap or table. Eight precision tuned bars in the C major diatonic scale provide an authentic musical experience that never sounds tinny. Includes pair of wood mallets.

.

AD
---






6" eco-friendly Rubberwood tone drum with 4 grooved tone chambers that produce warm and appealing rhythms when struck. Includes child safe rubber mallet. Open box will hang.

.

AD
---






.

AD
---
THIS BANNER IS AN AD:
---
---