---
10 Tips For Increasing Holiday Sales
With additional reporting by Chris Lundy and Brenda Ruggiero

It can be tricky to navigate the holidays. That's why TDmonthly Magazine asked experienced store owners for their best retail tips for the holidays. From customer service to product knowledge and everything in between, you can read their 10 tips for increasing holiday retail sales below.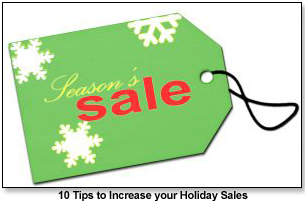 Advertise Early

"We send out a catalog in early October that is helpful for attracting holiday shoppers."
- Elliott, manager of Givens Books & Little Dickens in Lynchburg, Va.


Focus on Product Knowledge and Customer Service

Focus on "Training employees on games, getting employees to help people, and keep the sale going. Let the customer end the sale, not the employee."
- Karen Laroche, manager of Kid's Ketch in Lews, Del.

"Watch your inventory. Get rid of stuff before it's too late (meaning January). Train staff on how toys work. Make sure people know what they're selling." And, try to make year-round shoppers out of holiday shoppers. "Certain people you only see at holidays. Customer service at this time of year is critical because you're getting a much broader range of people."
- Sally Lesser, owner of Henry Bears Park in Brookline, Mass.

"Offer layaway. Focus on customer service, making customers happy, and fulfilling their needs."
- Marc Slotin, owner of My Imagination Station in Spartanburg, S.C.

Stay away from Mass Market products. "Be out of the box. Don't try to compete with the enemy. Find something that's not at every other store around." Also: "Encourage the community to shop locally."
- Tom Levin from Tom's Toys Inc in Great Barrington, Mass.


Actively Sell

"We just aim to be helpful to make sure that every customer gets the perfect gift and will want to shop with us again. Also, we are big on add-ons."
- Suzi McMullen, manager of Doodlehopper for Kids in Springfield, Va.

"Carry things that appeal to impulse buyers, last-minute buyers, and your best customers, and things that require a high-touch sale. Everyone else will shop around and buy from whomever has it cheapest (hard to beat Amazon and Walmart)."
- Mary Porter Green, owner of Curiosity Zone in Ashburn, Va.


Unique Events and Community Outreach

"We have Santa come every weekend throughout the holiday. The actor - the same one for 19 years - donates his time. The store donates supplies, and charges $10 for photos. That $10 goes to needy families. We also have an incentive called Awesome Bucks. We give $1 for every $10 spent. People save Awesome Bucks throughout the year to spend at Christmas."
- Fred Rosenberg, owner of On the Park Toys in Kingwood, Texas.

"We've been supporting local charities during holidays and doing good in the community to get our name out there in a feel-good way."
- Kate Noreen, manager of MudPuddles Toys & Books in Marblehead, Mass.


Have Fun!

"Stay calm and have fun with it. Don't let it get to you. You're in a toy store. You need to keep it fun even if everyone is stressed."
- Sarah Evers, owner of Dancing Bear Toys Limited in Hendersonville, N.C.

Writer's Bio:
Justina Huddleston graduated Magna Cum Laude from Emerson College with a BA in Writing, Literature, and Publishing in 2009. After graduating she was the on-site director of the Boston Children's Museum gift store for a year, selling educational, developmental, and creative activity toys that tied in with the museum's exhibits. Justina also interned at children's book publisher Candlewick Press before moving from Boston to Los Angeles, where she is now Editorial Director of
TDmonthly Magazine
.
Read more articles by this author
THIS BANNER IS AN AD:
---
---