Tools:








Specialty Retailers Report on Top Holiday Toys
Retailers report their top specialty toys for the 2013 holiday season
If you're wondering which toys are going to be holiday hits this year for specialty toy store owners, you're in luck!

TDmonthly Magazine was fortunate enough to have three specialty toy retailers divulge their picks for the biggest holiday toys of the season. You can see the top holiday toy picks from each of the three specialty retailers below - and you can scroll to the bottom for more in-depth info on each product.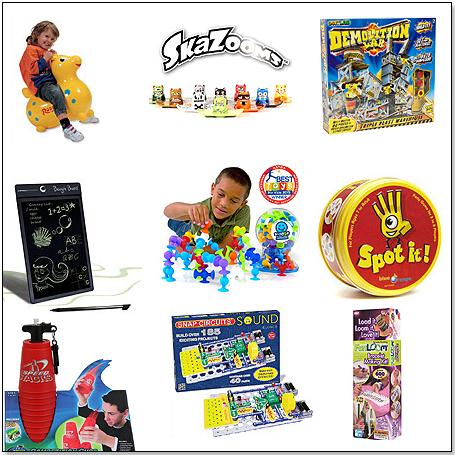 Fun Loom Bracelet Making Kit by IDEAVILLAGE PRODUCTS

Skazooms by JAX LTD INC.

Speed Stacks Competition Cups by SPEED STACKS INC.

Rockboard Scooter by M.Y. PRODUCTS LLC

EzyRoller by EZYROLLER LLC

Stuffies by STUFFIES

Snap Circuits by ELENCO

CAT Multi Terrain Loader by BRUDER TOYS AMERICA INC.

Remote-Control Machines by THAMES & KOSMOS

Spot It! by BLUE ORANGE GAMES

Double Barrel Shooter by MARSHMALLOW FUN COMPANY

Pocket Disc Knit Frisbee by POCKET DISC

Rock Crystal Candy by SQUIRE BOONE VILLAGE


---
Laser Maze by THINKFUN

Demolition Lab Triple Blast Warehouse by SMARTLAB TOYS

Squigz by FAT BRAIN TOY CO.

Spot It! by BLUE ORANGE GAMES

LEGO City Starter Set by LEGO

Mini Super Sports OgoDisks Set by OGOSPORT, LLC

Skwish by MANHATTAN TOY

Scented Scoops by BEGINAGAIN

SmartMax Build & Light by SMART TOYS AND GAMES INC

Snap Circuits LIGHT by ELENCO


---
Boogie Board 8.5 LCD Writing Tablet by IMPROV ELECTRONIC

Rody Horse - Yellow by TMI TOYMARKETING INTERNATIONAL INC.

Demolition Lab Triple Blast Warehouse by SMARTLAB TOYS

Squigz by FAT BRAIN TOY CO.

LEGO (General)

Imaginets by MINDWARE

Spot It! by BLUE ORANGE GAMES

Kinetic Sand by WABA FUN LLC

Calico Critters by INTERNATIONAL PLAYTHINGS LLC

Metalworks by FASCINATIONS

Glitter Tattoos by GLIMMER BODY ART

X-treme Sticker Maker by CREATIVITY FOR KIDS

Jellyfish Lamp by FASCINATIONS


Learn more about these specialty toys below!









.

AD
---






.

AD
---






.

AD
---






.

AD
---






.

AD
---






.

AD
---






.

AD
---






.

AD
---






.

AD
---






.

AD
---






.

AD
---






.

AD
---






.

AD
---






.

AD
---






.

AD
---






.

AD
---






.

AD
---






.

AD
---






.

AD
---






.

AD
---






.

AD
---






.

AD
---






.

AD
---






.

AD
---






.

AD
---






.

AD
---






.

AD
---






.

AD
---






.

AD
---






.

AD
---
Catalog Request Form
THIS BANNER IS AN AD:
---
---