---
Madame Alexander Doll Lovers Share Their Stories
New Moms and Former Little Girls Remember Their First Dolls
At the 111th American International Toy Fair, held February 15-19, 2014 at the Jacob Javits Center in New York City, the Madame Alexander Booth held a special "Share Your Story Day" to celebrate the role their dolls have played in the lives of girls and women for almost 90 years.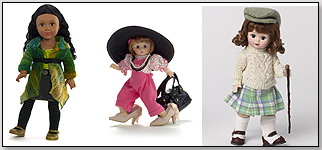 During their famous "cupcake hour," at Toy Fair, The Alexander Doll Company invited women who worked at or attended their booth to share their stories of a favorite Madame Alexander Doll on video. One young mom of multiracial children appreciated that the new 18" dolls reflect a multitude of ethnicities and are stunningly beautiful. Another woman, of Irish heritage, recalled the Christmas when she received Madame Alexander's Dolls of the World, including one representing Ireland.

The Alexander Doll Company is reaching for an even broader audience with their new Isaac Mizrahi-designed clothing. Perhaps next year, fashion icons like Karlie Kloss and Oscar-winning actress Lupita Nyong'o will come to the Alexander booth to share their stories, too!

Watch these stories and feel free to post your own and share the link with TDmonthly's readers!





MSRP: $99.95

Specialty: Yes (as of 2014)Gender: Girls





This classic 8" Maggie doll has light freckled skin, rosy cheeks, auburn hair styled in fat bouncy curls, blue eyes in dressed in an Irish fisherman knit sweater, green tweed kilt and coordinating derby hat, plus she arrives carrying her shillelagh walking stick. A perfect doll honoring traditional Irish folklore.



ToyDirectory Product ID#: 36614

(added 3/4/2014)

.

AD
---





MSRP: $59.95

Age Range: 3 and upSpecialty: Yes (as of 2014)Gender: Girls





This 12 inch baby doll with blue eyes and light brown painted hair wears a soft, pink knit top and pants. The shirt, pink textured knit with princess seams and self-binding, has a pink and white striped yoke and sleeves. The pink and white, striped, knit pants has pink, mini polka dot binding at the ankles and an elastic waistband. A pink knit headband with a white bow that has mini, pink polka dots, completes this baby.



ToyDirectory Product ID#: 36613

(added 3/4/2014)

.

AD
---





MSRP: $59.95

Age Range: 3 and upSpecialty: Yes (as of 2014)Gender: Girls





Autumn Mist 18" African American Play Doll from Favorite Friends has long black curly hair and brown eyes. She wears a green jersey top and denim skirt under a green knit hoodie. A polka dot corduroy belt, green and black, stripped leggings and gold Mary Jane's completes our very cool Autumn Mist doll.



ToyDirectory Product ID#: 36612

(added 3/4/2014)

.

AD
---




MSRP: $114.95

Age Range: 14 and upSpecialty: Yes (as of 2014)Gender: Girls





Dressed Up Like Mommy. She, an 8-inch fully-articulated Wendy, with blue eyes and short Tosca bob, wears pink bib overalls that features a heart applique on the bib. A pink polka dot blouse, with short sleeves trimmed with pink scalloped lace, is worn with the overalls, as is white anklets and oversized turquoise heels. A long strand of pearls wrapped twice around her neck, a matching iridescent necklace and bracelet and a black bead necklace add 'Mommy glamor' to her outfit. An oversized black straw hat that's trimmed with a tulle bow and pink roses along with an oversized black vinyl purse completes Wendy's adorable look when she decides she wants to be Dressed Up Like Mommy.



ToyDirectory Product ID#: 36611

(added 3/4/2014)

.

AD
---





MSRP: $39.95

Age Range: 0 and upSpecialty: Yes (as of 2014)Gender: Girls





12-inch Fancy Nancy™ Washable is for those little fans who not only want to wash their dolls, but the clothes as well. Made out of tan velboa, she has an embroidered face and orange, magenta and purple hair that's styled into two ponytails that have lime green ribbon ties. She is dressed in a blue velboa shirt that has purple ruffled sleeves. A sheer pink skirt with white polka dots is paired with the shirt. Delightful details such as an orange ribbon with a green bow on the right side of her skirt and a pink plaid waistband with a bow, that features an orange flower, add zip to an outfit that is beyond cute. Red velboa shoes with yellow bows completes the Fancy Nancy™ Washable. Machine wash and dry on gentle cycle.



ToyDirectory Product ID#: 36586

(added 2/25/2014)

.

AD
---







Based on a classic lsaac Mizrahi runway look, 16" "Alex" doll is dressed in a white ribbed tee shirt and long "Isaac pink" taffeta ball skirt with a pink tulle underslip. Topped with a short orange and pink striped puffer jacket and brown faux fur trapper hat, this classic is completed with black motorcycle boots. The doll comes with an illustration card drawn by Isaac Mizrahi.

ToyDirectory Product ID#: 36534

(added 2/5/2014)

.

AD
---
Catalog Request Form

Writer's Bio:
ALISON MAREK is an award-winning writer, director and cartoonist whose work has been published by Fairchild Publications and DC Comics (Piranha Press), broadcast on Showtime and other cable networks, and viewed worldwide in film festivals. See her short films and print work on www.alisonmarek.com. Watch her nefarious villains in the web series www.MuggsMovers.com. Get inspired by her cartoons "Daily ARFFirmations to Unleash Your Inner Fido" at www.ARFFirmations.com. Phew! And then ...
Read more articles by this author
THIS BANNER IS AN AD:
---
---