---
Are Fashion Dolls Old Hat?
Fashion Dolls have dominated the U.S. doll market since Barbie came onto the scene back in 1959 and they have reigned pretty much without challenge since then.

This is how the U.S. market looked last year: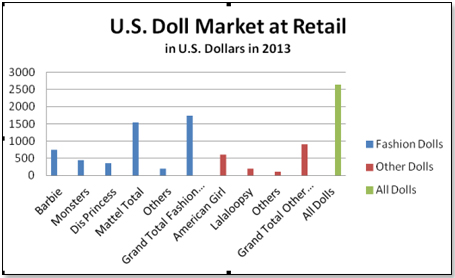 Source: NPD, SEC Filings and Klosters Retailer Panel

The definition of Fashion dolls is dolls primarily designed to be dressed to reflect fashion trends. They are manufactured both as toys for children to play with and as collectibles for adult collectors. The dolls are usually modeled after teen girls or adult women, though child, male, and even some non-human variants exist.

As you can see from the chart above, Mattel continues to reign supreme. It was not always thus. Back in 2001, a brash newcomer, Bratz of MGA, dared to challenge Barbie and by 2006 had captured the #1 position in the U.S. market place. Mattel pushed back not in the market place but in the courts, alleging theft of intellectual property, and nearly brought MGA, and with it Bratz, to their knees. Today, Mattel's three major brands – Barbie, Monsters and Disney Princess – control about 90% of the U.S. Fashion Doll market and about 59% of the total U.S. Doll market. MGA's position in the Fashion Doll market never recovered despite renewed efforts to re-establish Bratz and launching new entries such as Moxie and Mooshka.

Mattel also made an entry into the non-fashion doll segment with American Girl. They bought the original manufacturer, Pleasant Company, and with them the brand, in 1998. Before the acquisition, the American Girl dolls were only sold online but Mattel decided to open dedicated retail stores for the brand. This strategy was eminently successful and American Girl has established itself since then as the leader in the non-fashion doll segment. A quick look at growth rates tells the story: Mattel's U.S. Fashion Doll business grew between 2011 and 2013 by 10% and American Girl by double or 20%.

However, American Girl was not the only successful entry into this "other" segment. MGA decided that it offered sufficient opportunity for an entry, not necessarily positioned against American Girl but rather against the array of secondary brands holding about a third of this particular market place and sold at in brick-and-mortar retailers, mainly Big Box stores. They hence launched Lalaloopsy in 2010. Lalaloopsy is a plastic rag doll – inspired by the Raggedy Ann dolls brought to life in the early twentieth century – and the brand has done exceptionally well since then. In fact, Lalaloopsy more than doubled its market share between beginning of 2013 and today.

This confirms what the national buyers have observed over the past couple of years – the Fashion Doll segment is growing much more slowly than the "Other" Doll segment and they foresee a point not too far in the future when Fashion Dolls will begin declining, at least in the U.S. This is not too surprising given demographic and cultural factors – population growth, market saturation and the KGOY [Kids Growing Older Younger] phenomenon. Another factor, though not quantifiable, is that all fashion dolls fall basically into two cookie-cutter categories. Either it is Barbie or a clone thereof; or it is Monsters or Monsters-like. Either the doll represents the chaste, kind, nice girl mothers would like their daughters to be; or it represents the bratty, often bullying, and at times not very nice girls these daughters sometimes are – Dr. Jekyll and Mrs. Hyde, as it were. The buyers fear that the same consumer fatigue that beset Barbie and its sisters will also begin to bedevil Monsters and its clones and that the entire category will go South unless somebody comes up with yet another fundamental change.

However, they do not see the same happening to the "Other" segment for which they see yearly growth rates in the neighborhood of 20% to 25%. One of the reasons is that the consumer is generally younger and hence much less affected by trends towards electronics. The second is that the major players in the "Other" segment have been much more innovative in bringing new initiatives to market. American Girl with its store expansion and Lalaloopsy in its many versions are cases in point.

One rapidly growing sub-segment, for instance, is the very small doll – 3 inches compared to the traditional 12" and up – for the very young child of around four years old. This is a relatively recent development, less than two years old, and the business made by the three leaders still relatively small – about US$ 40 million at retail in the United States. However, it is a very rapidly growing sub-segment and one worth watching.

There are really only three manufacturers engaged in this 3 inch space – The Fiammetta Toy Company Inc with their Stork Babies , International Playthings with Calico Critters Friends and MGA with Mini Lalaloopsy Tales. Calico Critters Friends and Mini Lalaloopsy Tales are mainly [75% and up] sold at Mass Retailers whereas Stork Babies can today only be bought at specialty toy stores or online. This may also be the reason why Stork Babies appear more innovative and more interesting than the other two whose product development must accept compromises to accommodate the often diverging wishes and mandates from the side of the mass retailers.

When asking the national buyers where they see this particular segment going, they all expect growth rates around 30% for at least the next five years. They believe that four factors work in favor of these very small dolls.

· One is that the targeted group, three to five year olds, is much less saturated with product than the older children.
· The second is that it is a large group – estimated at 15 million in 2013 and going to seventeen million by 2019
· The third is that the size of the dolls is much more suited for small children than for instance fashion dolls that are typically 15 inches and up.
· And the fourth, and probably the most important, is the fact that price points are about half that applicable to Fashion Dolls which will benefit the products in this segment in the context of the ongoing price migration by lower-income consumers particularly affecting the early preschool toy category.

This perception is also reflected in the interest levels consumer demonstrate towards the various doll categories as shown in web searches: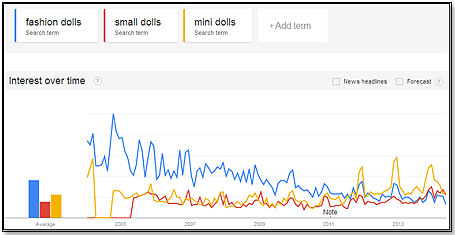 Source: Google Trends

It is interesting that neither Mattel nor Hasbro have entered this particular space so far. For the former, Fisher Price would suggest itself as the ideal vehicle whereas in the case of Hasbro, a small version of its now very successful Little Pony Equestria doll range would appear to be a natural.

Writer's Bio:
Lutz Muller is a Swiss who has lived on five continents. In the United States, he was the CEO for four manufacturing companies, including two in the toy industry. Since 2002, he has provided competitive intelligence on the toy and video game market to manufacturers and financial institutions coast-to-coast. He gets his information from his retailer panel, from big-box buyers and his many friends in the industry. If anything happens, he is usually the first to know. Read more on his website at www.klosterstrading.com.
Read more articles by this author
THIS BANNER IS AN AD:
---
---