---
Games Workshop Captures Big Brothers & Dads
Craft & Gaming Kits Turned Bored Browsers Into Devoted Customers
George and Linda Bell first opened a games shop in 1993. Since then, Specialties Games Toys & Gifts in San Angelo, Texas, has relocated four times, expanded to 2,300 square feet and has become a full-service toy store that caters to all ages – including those elusive older boys.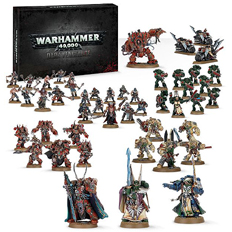 Listening to their customers has been crucial to their success, George told TDmonthly Magazine. It was a customer, in fact, who first alerted them to the existence of the UK-based company Games Workshop – which has become one of their top sellers, driving up to 8.5% of their business during non-holiday months and keeping boys in their store long past the age that most toy-store owners are able to hold their interest.

Visual Bait



Older brothers and Dads who are brought to the toy store along with younger kids are enticed by George's display of miniatures and games in the back. He always has a Games Workshop model assembled and displayed, to catch the attention of newbies and to entice regulars to buy again.

"If you have a teen boy working for you in the store, just hand him a model and say 'Build it, paint it,'" George recommended. They're more than willing to comply and the result helps to drive sales upward.

The kits themselves are high-quality, with "fantastic" paints that are sold separately, so modelers can pick the color schemes themselves, George shared with TDmonthly.

Some of his customers come just for the crafting/hobby aspect of the product. Some like to assemble and collect the finished pieces. Others go for the whole experience and get into the gaming part of Games Workshop, too. To make the gaming a social event, George built a felt-topped gaming table in the back of the store for customer use.

"If you've got the teens coming into the store, if you're carrying Rio Grande or Mayfair, or any of the Eurogames, then you've got the demographic," said George. "That's when you want Games Workshop."

Weekly Releases Are Effective Lure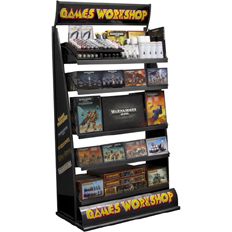 George noted that the initial investment can be "sizeable," but that , if you've got the necessary capital, in the long run, "It ROCKS!"

Games Workshop provides support and unique marketing strategies to help keep business booming. They publish a weekly magazine, "White Dwarf," that's available for $4 MSRP and alerts customers to upcoming releases. Some customers buy the magazine, others browse through it to dream of new releases. If your monthly orders are $500 or more, you can send the back covers of magazines that don't sell and receive a credit on your next order.

Releasing new product each week means that customers are continually coming back to the store to see the latest. Even if they don't resonate with that actual kit, they often buy something else.

"Games Workshop experimented with releasing on a monthly schedule, but that didn't work as well," said George, who has seen his income increase as the weekly releases were re-started.

If you're uncertain of which releases to order, "Your demographic will tell you," assured George. "If you're pro-active with your customers, this is a great company"

Huge Profit Potential

Once you've become a regular customer, Games Workshop doesn't charge shipping or COD fees, said George. Their margin is 45% of MSRP; with the free shipping, there is plenty of room for profit, noted George.

What kind of profit?

George looked up the last 30 days' of receipts for TDmonthly: He'd sold $2,500 worth of Games Workshop products in that time.

What kind of footprint did that take? Six feet – filled top to bottom, said George, proclaiming, "It works!"





MSRP: $99.00

Age Range: 12 and upSpecialty: Yes (as of 2014)Gender: Boys And Girls





Dark Vengeance is one of the most incredible box sets produced by Games Workshop! Inside, you'll be faced with 48 miniatures that form two detailed armies - Dark Angels and the Chaos Space Marines - and everything two players need to field their own Warhammer 40,000 forces. As if these models weren't enough, Dark Vengeance comes with a full-color 168-page mini Warhammer 40,000 Rulebook; a complete Assembly Guide; a quick-play reference guide; an army roster sheet; dice, templates, and a Quick Start booklet.

ToyDirectory Product ID#: 36758

(added 5/6/2014)

.

AD
---




MSRP: $40.00

Age Range: 12 and upSpecialty: Yes (as of 2014)Gender: Boys And Girls





The Space Marines are the knight defenders of humanity in the far future. These fearless and noble guardians keep watch against the dangers of the galaxy from their fleets of fortress-like space ships. They are clad in mighty armor and bear the finest equipment the Imperium of Humanity can produce. This multi-part plastic box set contains all the components to build ten Space Marines with many additional parts for individual customization.

ToyDirectory Product ID#: 36757

(added 5/6/2014)

.

AD
---





MSRP: $37.00

Age Range: 12 and upSpecialty: Yes (as of 2014)Gender: Boys And Girls





The Sisters of the Thorn are Queen of the Forest's handmaidens - a sisterhood pledged to sorcery and subtlety. Their counterparts, the Wild Riders are fey and dangerous creatures who serve as the King of the Forest's personal guard. They are all borne into battle on graceful magical elks, which are as reckless and aggressive as their riders. This multi-part plastic boxed set contains all the components to build five Sisters of the Thorn or Wild Riders.

ToyDirectory Product ID#: 36756

(added 5/6/2014)

.

AD
---

Writer's Bio:
ALISON MAREK is an award-winning writer, director and cartoonist whose work has been published by Fairchild Publications and DC Comics (Piranha Press), broadcast on Showtime and other cable networks, and viewed worldwide in film festivals. See her short films and print work on www.alisonmarek.com. Watch her nefarious villains in the web series www.MuggsMovers.com. Get inspired by her cartoons "Daily ARFFirmations to Unleash Your Inner Fido" at www.ARFFirmations.com. Phew! And then ...
Read more articles by this author
THIS BANNER IS AN AD:
---
---