---
TDmonthly Kid Reporters Dig the Dirt (& Dino Poop) at ASTRA
Kids Go Behind the Scenes at Toy Trade Show
See our Kid Reporter Videos
See our Live Coverage of the show

For the first time in its 18-year history, ToyDirectory.com and TDmonthly Magazine used Kid Reporters to cover a major American toy trade show – the ASTRA Marketplace 2014 in Phoenix, Arizona. We ventured into this unknown territory to get insights into new toys from a child's perspective ... and to have really cute videos for our readers and clients!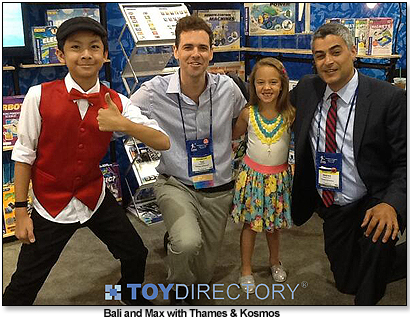 Shepherded by TDmonthly's videographer, Terry Larson, two teams of Kid Reporters covered some of the major booths at the show.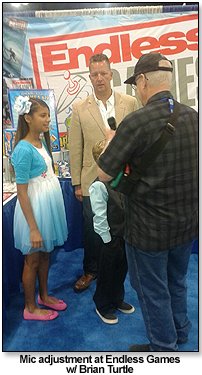 The Stories Behind the Toys

TDmonthly's Morning Kid Reporter, 12-year-old Max Mendoza was especially adept at extracting from vendors the real reason their toy was invented. Snake Oil by Out of the Box Publications, for instance, was originally pitched as a game to teach marketing skills to kids. OOB "funned" up the original idea by creating a game where you sell dubious products to prospectors and other clients who want a magic fix to reach their goals.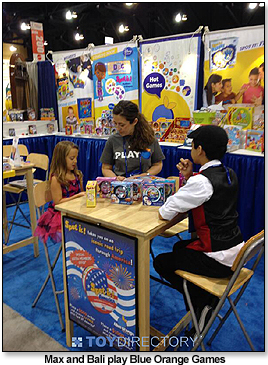 TDmonthly's Evening (well, after lunch) Reporter, 12-year-old Alicia Laguna, found out that the inventor of the Grandpa Beck's card game Cover Your Assets had based all of the characters on members of his own family!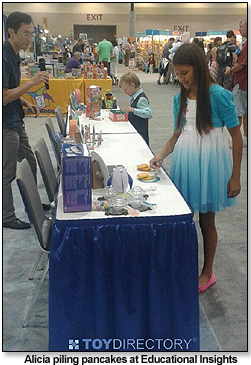 "I liked being a Kid Reporter because I got to meet people I didn't know," Alicia said. "Their toys were really cool. I can't believe they made them!"

Another of her favorite items was the Dancing Water Speakers from Leading Edge Novelties.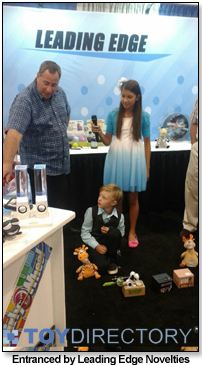 Did meeting inventors inspire Alicia to become a toy inventor herself? "Yes!" she said enthusiastically. How about Max? "Well, only if I'm not acting," he allowed.

The Stories Behind the Kids

So who are TDmonthly's Kid Reporters? Their stories are almost as surprising as the cool new toys at ASTRA.

Max is an actor, who most recently appeared as Smee in "Peter Pan Jr." at Peoria Theaterworks. His list of credits includes 16 theatrical roles, 16 film roles – including a small role in the upcoming indy feature "Hope Rises" by the Bring Me Hope Foundation — and work in a web series.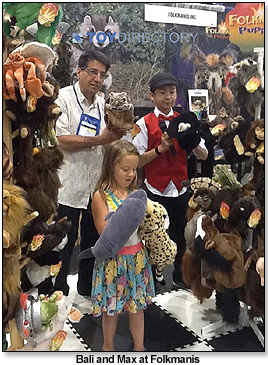 Alicia, too, is a veteran thespian. She appears in a commercial for Fulton Homes that's currently airing and has a supporting role in the upcoming indy feature "The Godchildren."

Max's Morning Co-Reporter, 6-year-old Bali Bare, might be giving her interview subjects some fierce competition in the near future: She's already invented a product, which her mom — slow-cooking blogger Jenn Bare — is helping her develop and promote (details are on hold for now! Shh!) And – as you might guess from her big personality – she's also an actress and a model.





Alicia's co-reporter, 7-year-old Kinzer Ratajczyk, is a just cute kid and that's enough!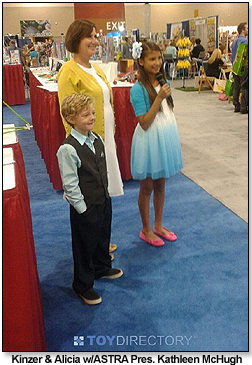 What the Kids Thought

The kids all agreed that going to the ASTRA Marketplace was "cool," "awesome" and "a dream!"

Kinzer's favorite part was that, "I got free toys because I was dressed in a suit!" He, like his partner, loved the Leading Edge water speakers. His other favorite toy was the Squinkies.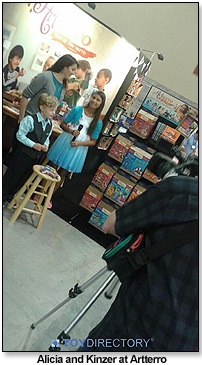 Max, with his inquisitive mind, favored science-based toys like Modular Robotics. This new product had TDmonthly Retailer Reporter Kate Tanner of Kidstop Toys so in awe that she forgot to take photos – she was too busy ordering. She called it "the new LEGO." Max also loved the Cubelets and Magformers.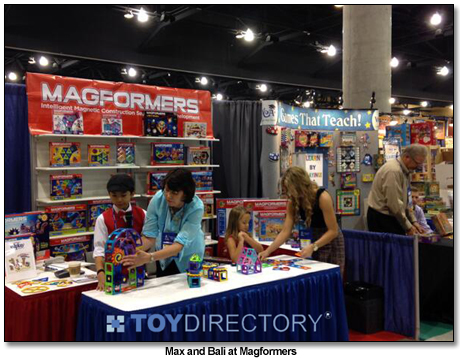 Expressing his more active side, Max was taken with all of the different scooters and bikes.

"The Giant Flying Turtle was fun to ride," he said. "I really liked the BERG pedal cars."

Bali's favorite thing of all were the Safari Ltd. Minis that she got to keep. She also loved Science Wiz's Cool Circuits. And though Max beat her out for keeping a sample (you'll need to see the video for that!), she's excited because Dr. Penny gave her a Grow Your Own Crystal kit. Bali's mom says they'll probably buy the Cool Circuits, too!

Bali also loved the stuffed animals and the Unicorn from Douglas Cuddle Company and puppets from Folkmanis: "All of them!" she said.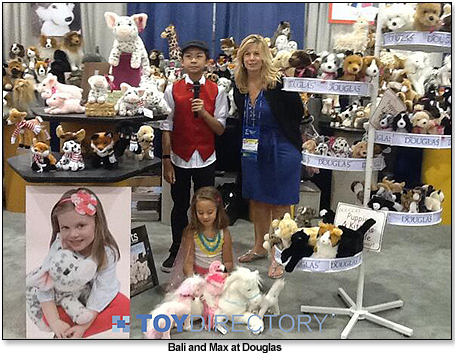 Her favorite game was Snake Oil from Out of the Box Publishing. Mom Jenn commented, "My husband is in sales so we really appreciated that it's about selling ideas."

Finally you may notice that Bali starts the day in a glittery costume and ends in a cute skirt and shirt. Why the costume change? "I was freezing!" she explained.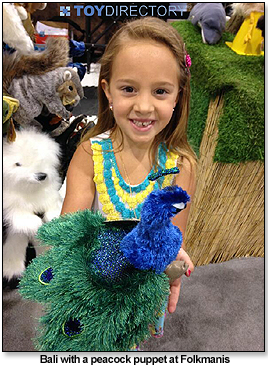 Once-in-a-Lifetime Treat

None of the Kid Reporters had ever been to a toy trade show before, of course, and probably will never go again. While at ASTRA, they got to live out a kids' dream, playing with every toy under the sun, from digging amethysts at Geocentral (which also has diggable dino poop) to transforming their hands into whales and turtles at Folkmanis.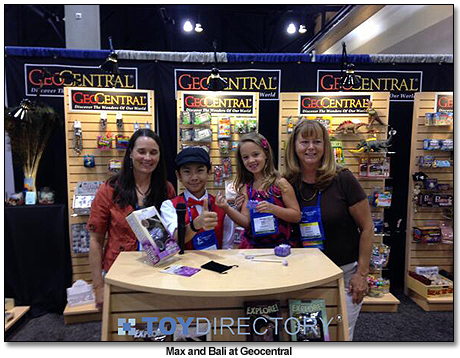 You'll soon be able to see videos of Max, Bali, Alicia and Kinzer at work (and play). In the meantime, check out some of the toys they got to scrutinize:







You'll enjoy more colorful, magical, and powerful magnets in this larger version of the basic set. The 62 Piece Set contains 30 squares, 20 triangles, and adds building diversity with 12 pentagons. A wonderful set for the novice builder who's ready to leap into creativity. This set is truly easy and simple to use right out of the box. Only the best materials are used, High Quality ABS Plastic and 1/3" rare-earth NEODYMIUM magnet on side of the shape.

.

AD
---






.

AD
---






.

AD
---






.

AD
---






.

AD
---






.

AD
---






The new Ostrich puppet is a rare bird indeed. A beautiful specimen with feathery soft plush and lustrous long eyelashes, this lovely long-legged creature holds its head up high when you insert your hand up the neck and into the beak. Two handed wing movement allows for pecking, strutting and flapping fun! 23-inches tall. MSRP $49.99.

.

AD
---






.

AD
---






This plush unicorn is 27" long with tail (69 cm). Douglas Toys makes beautiful, soft, cuddly stuffed animals and infant plush with a distinctive expression or gesture that speaks quality and value unlike any other plush animal.

.

AD
---






.

AD
---






Build a distance-sensing robot motorcycle. The Basic Builder is the best way to start playing with robots. This kit includes two spin modules so you can create simple robot critters that scoot and drive. Control your creation with an infrared distance sensor!

.

AD
---






The Squinkies series of toys are soft, squeezy characters that can be held in the palm of a child's hand. Each toy comes inside its own bubble from which it can be removed. Put the Squinkie in the cupcake, insert a "coin," and the Squinkie comes tumbling out. The Cupcake can be opened to reveal a bakeshop playset.

.

AD
---






A rugged, four-wheel pedal kart with air-filled pneumatic tires and a wide wheelbase. Riders can pedal forward, backward, and brake without taking their feet off the pedals. Thanks to an adjustable seat, kids can continue to ride as they grow older.

.

AD
---
THIS BANNER IS AN AD:
---
---