---
American Girl Goes on Travels
American Girl may be facing a Canadian rival.
As the name tells you, American Girl is an American lady. And she is a pretty successful one as well as we can see from the brand's recent sales trends: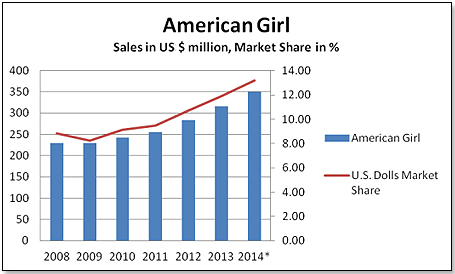 First, a little history: founded by Ms. Pleasant Rowland as a mail order company in 1986, the company was taken over by Mattel (MAT) in 1998. A year later, the first American Girl store was opened in Chicago and American Girl has since gone from strength to strength. The chain has now grown to 16 stores (plus one outlet store in Oshkosh,Wi) with two more to be opened this year and another two in 2015. All their stores are owned and operated by Mattel.

While Canadians have for a long time been able to buy American Girl dolls by going to the U.S. website and paying in US Dollars, Mattel decided to step things up a bit about two years ago. They first converted some of their packaging to a bi-lingual English/French version which was, under Canadian law, a precondition to be able to ship from Canada rather than from the United States. Once the packaging change was completed, Mattel opened a warehouse in Markham, Ontario, last year. Late last year, they went a step further and announced on October 29 their "expansion into Canada via the company's award-winning catalogue and two experiential store-in-store boutiques in partnership with Indigo Books & Music Inc., Canada's largest book, gift, and specialty retailer."

Indigo Chapters (IDG.TO) has sales just over US$800 million and operates more than 200 stores of which about half are superstores with a footprint of about 24,000 square feet. Just like its U.S. peer, Barnes + Noble, Indigo Chapters is struggling because of declining book sales. To offset this, they are putting more muscle behind a number of adjacent product categories – toys being a prime example.

Mattel's deal with them is that Indigo puts a range of American Girl products into specialty boutiques embedded in two of Indigo's superstores – Vancouver and Toronto. The grand opening of the two boutiques took place in May this year. First reports are that Toronto store sales are pretty good and those of the Vancouver store somewhat disappointing.

Here is a shot of the Vancouver boutique: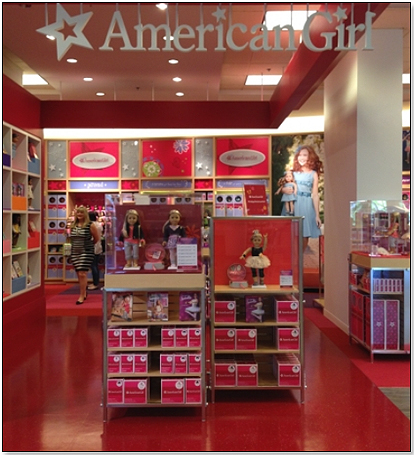 These boutiques, each at 1800 square feet, carry 27 of American Girl 18" dolls [at C$125 or US$116.25] plus eleven Bitty Baby dolls [at C$90 or US$83.70]. In addition, there is American Girl furniture, accessories, books, craft kits, dresses and – last but not least – a doll hair salon, which also allows for doll ear piercing. No "Cafe", though, because Indigo already has a deal with Starbucks.

In addition, consumers can order the American Girl products via 100 Kiosks [computer terminals] located within Indigo stores for shipment either direct to their home or for pickup at any Indigo store nearby. To protect Mattel's e-commerce business in Canada, no American Girl products can be ordered online via Indigo.

So – what does this all mean?

Why Canada was chosen for American Girl's first international venture is pretty obvious. The place is near, they speak English, and American Girl already has some sort of infrastructure there. What better place to test the concept before venturing into such wild and wonderful places as the United Kingdom or Australia, let alone Germany or France?

The first question is obviously why Mattel decided not to establish its own store or stores in Canada. This would have been the most logical strategy given its success in the U.S. It would also have been easy – the American Girl brand is already well known in Canada, the e-commerce warehouse could have been used as a supply point; all support facilities are in ready reach from the nearest store in the U.S. and language and laws would have been no issue [at least outside Quebec].

The likely answer is that Mattel anticipated headwinds in Canada that do not exist in the U.S. There are probably three – one is that there is a significant level of anti-American sentiment in Canada and this could backfire on an American Girl store – similar to what happened to the ill-fated Barbie Palace in Shanghai. Having said this, whilst there is significant anti-American sentiment in Canada, it is less there than in virtually any other country.

The second problem is that – unlike the United States where American Girl reigns in splendid isolation – there is direct and well established competition in Canada. Avonlea Traditions has since 2003 very successfully sold Maplelea "Canadian Dolls for Canadian Girls". And the company made it onto PROFIT500, the list of Canada's fastest growing companies, in 2013 in 155th ranking and in 2014 in 177th ranking. Equally importantly, Maplelea was not negatively affected by American Girl's launch at Indigo but, to the contrary, has experienced double-digit growth since then. Maplelea is not sold in stores – only online from the Company's website and catalogue.

Here are some of Maplelea's Canadian Girl dolls: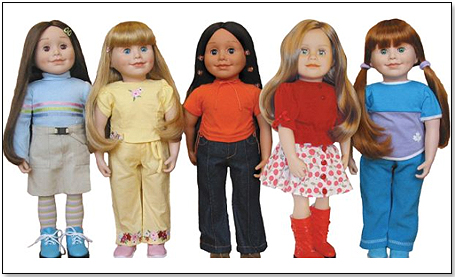 In fact, it is interesting to look at the web traffic pattern for both brands over the past twelve months: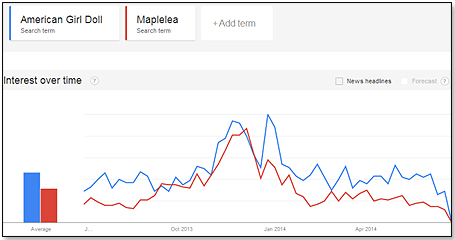 Both peaked for the Christmas period and American Girl had stronger traffic pre- and post fourth quarter. However, the difference really is marginal which again suggests that Maplelea is a strong competitor.

Maplelea main strength appears to be that it is totally and uncompromisingly Canadian. In the words of its owner, Kathryn Galagher Morton:

"This situation, however, is what Maplelea has identified as an opportunity. We design our line of Maplelea dolls and accessories to reflect Canadian culture, heritage and geography. By doing so, we know that we are limiting our international appeal. But, we also know that we are dramatically increasing our appeal to Canadians by being Canadian-themed. To our knowledge we are the only significant toy company that is designing and selling toys of any kind specifically for the Canadian market. It is a big risk doing so because Canada's population is only one 10th the size of the USA's. We know that we will never be the size of Mattel, and that's OK. Maplelea is a niche company, serving a niche market and what we do, we do very successfully."

The third problem is that American Girl is pretty expensive in Canada. The 18" doll goes for C$125 [at Indigo] which compares to Maplelea's doll at C$99.99, Battat's Our Generation at C$34.99, and ToysRUs' house brand Journey Girls at C$39.99. American Girl's premium, at least versus Maplelea, does not appear to be justified by better quality materials, or workmanship, or finish.

Given these three factors, it is easy to understand why Mattel would wish to market test a retail store concept before investing the Millions needed for an American Girl establishment.

However, what Indigo does not provide at all is the overall American Girl experience which is so successful in the United States. To give an example, the New York American Girl store devotes its first floor to modern American Girls, plus Coconut the Dog, and the Book Store. The second floor holds the Pet Shop, the Doll Hospital and the Doll Hair Salon. On the third floor are the "Cafe", the Photo Studio and the Souvenir Shop. The basic difference between the Indigo boutique and American Girl New York is that the former is just another small shop-in-shop of 1800 square feet and the latter a social occasion at 45,000 square feet.

Also, there is the question of whether Indigo will survive over the next few years. Their core business, books, is declining and they are trying to morph into a more general retailer that carries lots of things other than books – toys, for instance. To achieve this, the owner of Indigo has formulated a strategy designed to turn Indigo into a "cultural department store" by introducing a whole lot of mini-boutiques – tech, baby, housewares. Given this transition effort, American Girl came as a Godsend. However, books still represent three-quarters of the company's business and general merchandise the remaining quarter. The general consensus is that the company will have to reverse these percentages to have a real shot at prospering over the long haul – an uphill struggle if there ever was one.

So, while you can understand why Mattel came to Indigo, and why Indigo jumped at the opportunity, prospects for a successful outcome are at best mixed.

This leads us to the second question. Assuming that the Indigo test does in fact go well over the next few years, where will Mattel go from there?

There are basically two choices. One is that the present setup with Indigo is rolled out further and hits the other large Canadian cities such as Calgary, Ottawa, Edmonton etc. The other is that Mattel starts its own store, probably Toronto as Canada's largest population center, and then goes from there.

If Mattel is serious about taking American Girl outside the United States, they really have no choice but to stay with the concept that has been successful in the United States and which has set the brand apart from every other. To do so, Mattel will eventually have to bite the bullet and to open their own international store somewhere and Canada is probably the best place to do this in.


Writer's Bio:
Lutz Muller is a Swiss who has lived on five continents. In the United States, he was the CEO for four manufacturing companies, including two in the toy industry. Since 2002, he has provided competitive intelligence on the toy and video game market to manufacturers and financial institutions coast-to-coast. He gets his information from his retailer panel, from big-box buyers and his many friends in the industry. If anything happens, he is usually the first to know. Read more on his website at www.klosterstrading.com.
Read more articles by this author
THIS BANNER IS AN AD:
---
---