---
And the 2014 Top Toy Debut Awards Go To...
Retailers Have Spoken!
Forty-six retailers voted to pick the 2014 TDmonthly Top Toy Debut Awards, including Toy Werks in San Antonio, Texas; Indigo Mountain Express in Safford, Arizona; and Epic Toys and Customizing. Toys were nominated this spring by TDmonthly editors, who spotted new offerings at Toy Fair and ToyFest West.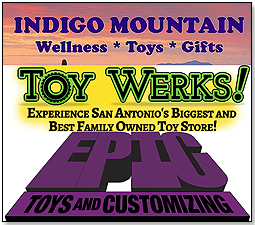 Late write-ins for great toys spotted at ASTRA were provided by our intrepid Kid and Retailer Reporters — Kid Reporters Max Mendoza, Balie Bare, Alicia Laguna and Kinzer Ratajczyk; Kate Tanner of KidStop Toys & Books in Scottsdale, Ariz.; Sari Powazek of Doll House & Toy Store Too, also in Scottsdale, and Sallie Kishawa of Fairhaven Toy Garden in Bellingham, Washington.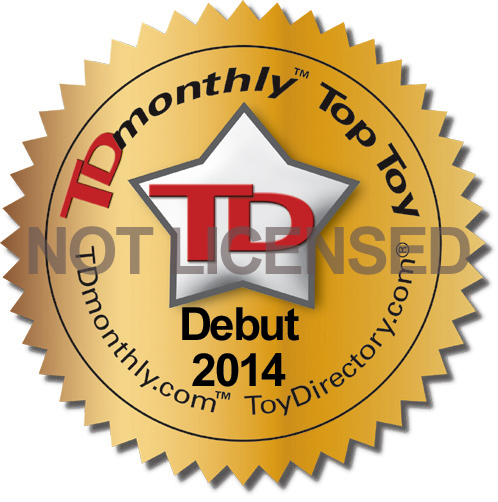 Congratulations to ALL of the worthy winners & nominees!

See images of the first place winner and learn more about them at the end of this article.



JUST FUN (46 voters):

1. 30.43% (14 votes) Hobbytron/World Tech Toys - Unbreakable RC Helicopter

2. 23.9% (11) Leading Edge Novelty - Water Dancing Speakers; Yomega - Kendama Pro; Geospace International - Jump Rocket LED Night Shotz; Hog Wild - ZipStix

No third place owing to multiple 2nd place winners



GAMES & PUZZLES (40 voters):

1. 32.5% (13) ThinkFun - Gravity Maze

2. 27.5% (11) White Mountain Puzzles - Candy Wrappers Collage Puzzle



PLUSH & DOLLS (31 voters):

1. 45.16% (14) Folkmanis - Grunting Pig

2. 22.58% (7) Aurora World - Sloths

3. 19.35% (6) Douglas Cuddle Toys- Spotted Pig; Folkmanis - Ostrich; Douglas Cuddle Toys - Tundra Wooly Mammoth

Special Mention, Dolls:

1. 12.9% (7) Imports Dragon - Caillou Learning Doll; Zeenie Dolls - Eco Warriors



CONSTRUCTION (35 voters):

1. 57.14% - (20) Automoblox - T9 PIck-Up

2. 31.43% - (11) Play Visions - Sands Alive!; K'Nex Brands - Amusement Park Series Super Sonic Swirl Building Set; Magmodz - Magnetic Cars

No third place owing to multiple 2nd place winners



OUTDOOR TOYS (26 voters):

1. 46.15% - (12) Smakaball - Smakaball

2. 30.77% - (8) Pacific Play Tents - Jumping Sacks; Swring - Swring



SCIENCE & NATURE (36 voters):

1. 66.67% (24) Elenco - Snap Circuits Motion

2. 36.11% (13) Thames & Kosmos - Jumping Robots

3. 30.56% (11) Science Wiz - Cool Circuits



ARTS & CRAFTS (35 voters):

1. 42.86% (15) The Orb Factory - Plush Crafts

2. 37.14% (13) Ann Williams - Loop de Loom

3. 31.43% (11) Games Workshop - Tau Empire XV104 Riptide Battlesuit



ELECTRONICS (25 voters):

Tie: 48.12% (12) Improv Electronics - Boogie Board 8.5 Color LCD eWriter; MakerBot - Makerbot Replicator Mini



INFANT & TODDLER (31 voters):

1. 38.71% (12) NogginStik

2. 35.48% (11) Calisson - Sophie the Giraffe Bath Toy

3. 32.25% (10) Plan Toys - Wooden Bath Toys; Manhattan Toy Co. - Treetop Adventure



MUSICAL TOYS (27 voters):

1. 59.26% (16) HAPE - Mighty Mini Band

2. 29.63% (8) Hohner - Green Tones Temple Wood Blocks



CLASSIC TOYS (27 voters):

1. 51.85% (14) Aurora World - Raggedy Ann & Andy -- 100 Year Anniversary

2. 25.93% (7) American Classic Toys - American Classic Carousel



And the GRAND PRIZE goes to

Elenco - Snap Circuits Motion for getting 66.67% of votes — higher than any other toy



Here's more about the winners; let's start playing!







.

AD
---






.

AD
---






.

AD
---






.

AD
---






.

AD
---






.

AD
---






.

AD
---






.

AD
---






.

AD
---






.

AD
---






.

AD
---
THIS BANNER IS AN AD:
---
---