---
Specialty Retailers Predict Hot Holiday Toys of 2014
4th quarter is almost here so we asked retailers: What do you think will be the hot holiday toys of 2014? See what products they chose below.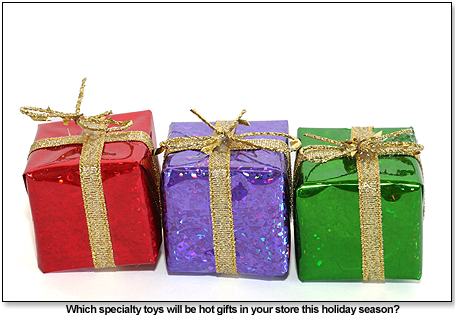 FAT BRAIN TOY CO.'s Squigs and Funtime Tractor from International Playthings / IPI
— Barb Stine, owner of Toys on the Square in Hershey, Pa.


The Kidoozie Royal Princess Playhouse, Ice Crystal Queen dresses (they look like Elsa from Frozen) from CREATIVE EDUCATION, Boogie Boards from IMPROV ELECTRONICS and the Magna-Tiles building sets from VALTECH CO.
— Beth Snyder, manager of Growing Tree Toys in State College, Pa.


Plush and specialty plush is selling very well right now.
— Dean Smith, owner of JaZams in Princeton, N.J.


Robotics; chemistry kits.
— Mary Porter Green, owner of Curiosity Zone in Broadlands, Va.


Anything woodland creatures — if it has a fox on it, raccoon or squirrel, especially in baby toys, stackers, games, charms, wind-ups. If there are two puzzles, and one is jungle and one is forest, the forest will outsell.
— Melissa Pennille, co-owner of Teaching Toys & Books in Tacoma, Wash.


Not Frozen. All the big box stores will stock up on Frozen stuff, so we'll be avoiding it. Perplexus Warp from PATCH PRODUCTS INC. and Aggravation from Winning Moves.
— David Campbell, owner of Amazing Toys in Great Falls, Mont.


Brand 44 Zip line, slackline and slackbox. KICKBOARD USA LLC Scooters and Snap Circuits from ELENCO
— Candace Williams from The Toy Maven in Dallas, Texas


Construction toys — that's what we see consistent interest in. Magna-Tiles, Magformers — That category is still very strong. I expect to sell a lot of GoldieBlox, and everything Frozen.
— Lynda Blankenship, Smart Toys & Books, Knoxville, Tenn.


About every other year is a big doll house year. Magnatiles is big for us too. Frozen will be big, and Loopdedoo from ANN WILLIAMS GROUP has new accessories with it - that always improves what is already a good item.
— Kai Rady, owner of Shenanigans Inc. in Charlottesville, Va.


LEGOs always sell out for us here.
— Brian Raddatz, manager of Time Machine Hobby in Manchester, Conn.


Still not sure what products you want to stock your store with for the holiday season? Check out our toy videos from the ABC Kids Expo, our October Staff Picks, or just check out all of the new toys we've added to our site in the past month.

Writer's Bio:
Justina Huddleston graduated Magna Cum Laude from Emerson College with a BA in Writing, Literature, and Publishing in 2009. After graduating she was the on-site director of the Boston Children's Museum gift store for a year, selling educational, developmental, and creative activity toys that tied in with the museum's exhibits. Justina also interned at children's book publisher Candlewick Press before moving from Boston to Los Angeles, where she is now Editorial Director of
TDmonthly Magazine
.
Read more articles by this author
THIS BANNER IS AN AD:
---
---