---
Tencent and Alibaba are invading each other's turf in China
Alibaba's recent IPO generated a lot of hoopla for the company. However, there is another Chinese entity that is a bigger technical company, much more diversified and much more profitable - Tencent, Inc. Alibaba and Tencent are now squaring off against each other in China and this may well have implications for investors in either company.

This is how the two companies compared in revenue terms for the third quarter 2014: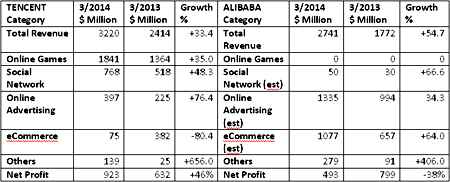 Note that the Alibaba numbers for Social Network, Online Advertising and eCommerce are estimates made by a group of Chinese market researchers who were kind enough to share their findings with me. Alibaba rolls all three activities into one overall Revenue number under the eCommerce category.

Video Games:
Nearly 60% of Tencent's business is in the video game space.

Tencent is the second largest overall video game retailer in the world after Gamestop. In the third quarter 2014, Gamestop had worldwide sales of $2,092 million and Tencent $1,841 million. Tencent is also growing much faster than Gamestop and is expected to overtake it by next year. In addition, Tencent is by far and away the largest online video game seller and is hence riding the wave of digital downloads which is now so threatening to Gamestop. The company had a 8.5% market share of the $22 billion Chinese video game market, down from a 10% share in 2013 - a decline which they attribute to delays in the launch of expansion packs for certain mobile games.

Tencent controls half of the top twenty mobile games in China and nearly three-quarters of the top 10 games with titles like "Thunder Fighter," "Timi Run Everyday," and "We Fly." Of late, Tencent has begun to put much more emphasis on licensing and distributing games as opposed to developing them. This is an ongoing process and by October this year, more than half were licensed. This strategy is a much safer one in that it eliminates the risk of developing games at great cost only to see them bomb and it transfers this risk to the licensors.

Equally importantly, Tencent is also a major shareholder in the second-largest video game publisher Activision in addition to the investments it made earlier in two other significant U.S. game developers – Epic Games and Riot Games. Also, Tencent is working with Electronic Arts in bringing their FIFA game to China.

Alibaba is not so far a factor in video games. Yes, they took a number of steps to change this situation - they made a significant investment into KTplay (a social gaming platform) and also took a major stake in Kabam (a mobile device game developer). They also are bringing Ubitus, a cloud gaming service, into China and are launching Rovio's Angry Birds game there as well. However, virtually all of these investments and activities are focused on mobile games or android games for TV.

Now that the ban on consoles has been lifted in China, Alibaba is also reported to develop a high-end gaming console to compete with Xbox One and the PS4.

However, given the fact that about 90% of all gaming revenue in China is derived from PC-based games, Alibaba's efforts in the gaming space do not so far appear to represent a significant competitive threat to Tencent.

Social Networks
Social Network Apps like Tango, Viber and WhatsApp allow users to send free texts or make free calls over a data connection. They pose a growing threat to traditional carriers by siphoning away the fees people normally pay for texts and calls.

Social Networks represent Tencent's second-largest business composed of two parts – QQ and WeChat. QQ is an instant messaging software service providing online social games, music, shopping,microblogging and group and voice chat. WeChat on the other hand is a mobile text and voice communication service which provides text messaging, hold-to-talk voice messaging, broadcast (one-to-many) messaging, sharing of photographs and videos, and location sharing.

Between the two components, Tencent has the second largest number of monthly active users – 1,01 billion in all – and is a whisker behind the #1 company Facebook which between Facebook Messenger and WhatsApp has 1.1 billion as of December 2014: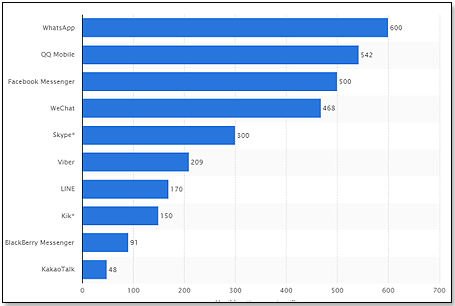 Source: Statista

WhatsApp is owned by Facebook who also owns Facebook Messenger; QQ Mobile and WeChat are owned by Tencent; Skype by Microsoft; Viber by Rakuten Japan; LINE by Line Corp.; Kik by Kik Interactive Inc., BlackBerry Messenger by Blackberry Limited; and KakaoTalk by Daum Communications Corp. Notably missing from this lineup is Alibaba.

In fact, Alibaba has tried before to enter the Social Networks area. Last year they introduced Laiwang as a response to WeChat but it never took off. Now they are trying with Tango, a company in which Alibaba invested $215 million earlier this year. Tango is a California-based business, started in 2009, which combines social media, mobile, and content into a form of communication that enables a more fluid form of messaging. It is too early to say whether this now financially stronger Tango will represent a threat to Tencent's social networks business.

Also, Alibaba launched this year Fun, an Instagram-like app that tags brand names that appear in photos Rather than making it a standalone, it is built into Alibaba's TMall shopping app which is an online marketplace for large vendors and major brands. For users, it works like this: snap a photo, tag the brands in it, and share it within Fun and also to other social networks like Sina Weibo (a Chinese microblogging website, partly owned by Alibaba and launched in 2009 as a hybrid of Twitter and Facebook), or Alibaba's own Laiwang messaging app. However, it cannot be shared via WeChat, Tencent's social messaging app.

Online Advertising:
This is Tencent's third-largest and fastest growing business but is dwarfed by its key competitor, Alibaba, as the chart below shows: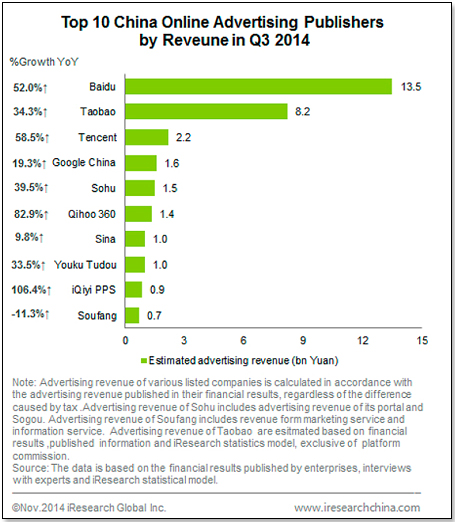 Note that Tabao belongs to Alibaba. Also, Alibaba has a 16.5% stake in Youku Todou. IQiyi PPS is owned by Baidu.

eCommerce:
This is where things begin to become really interesting. The revenue numbers above suggest that Tencent lost 80% of its business in the category this year. This is of course not the case. Tencent transferred its eCommerce business to JD.com in return for 15% ownership in JD. JD.com primarily competes against Alibaba's Tmall, a business-to-consumer site similar to Amazon and controls 17.5% of the business-to-consumer market in China, while Alibaba's Tmall controls 51%.

Theirs is an impressive operation. They offered at the end of last year 25.7 million SKUs to 47.4 million active customers and shipped 323.3 million orders. They have 97 warehouses and more than 62,000 full-time employees. The company last year had revenues of $11.5 billion and an operating loss of $96 million – their third consecutive loss year. JD had and has two fundamental problems – one is that 85% of its sales are from consumer electronics that in China are typically sold as loss leaders and hence provide razor-thin margins. The second is that 70% of JD's business is from its own inventory which inherently is less profitable than one where warehousing and shipping is done by the manufacturers as is the case with Alibaba.

JD launched a U.S. IPO in May this year and Tencent in this context increased its holdings in the company by an estimated 10% to now about 25%. Also, JD has basically integrated its entire operation with Tencent via WeChat. This will be instrumental in morphing JD into a consumer-to-consumer platform and into a much more diversified company in product terms – both of which should enhance market share and profitability.

This transition has already begun. In December 2014 JD entered into a partnership with Gap Inc. which allows JD to sell directly to consumers more than 600 products from the US apparel retailer. This partnership will allow JD.Com to benefit from higher customer traffic driven by higher product offerings for customers. Moreover, the partnership reflects a change in JD's business model and demonstrates JD's goal to continue partnering with other global brands to increase market share. Given Tencent's reach and financial muscle behind it, JD is very likely to begin challenging Alibaba for the leadership in the Chinese eCommerce market place.

Online Payments:
Included in Tencent's and Alibaba's eCommerce endeavor is their Online Payments platform. As of end of September 2014, Alipay (Alibaba's operation) was the market leader with about 50%, followed by Tencent's Tenpay with a market share of about 20%.

Online Payments in China are a huge market place – estimated at $330 billion in transaction value and growing at a 42% clip year-on-year. This is how market shares stood on September 30, 2014:



Alipay belongs to Alibaba, Tenpay to Tencents, YingShang to Shangqiu Yinshang Holdings, 99Bill to Baidu, Chinapnr to China Payment and Remittance Service, Yeepay to Yeepay Co., Ltd. and IPs to Universal Technology Holdings.

Tencent is broadening its ecosystem with investments in various categories such as Chinese taxi-hailing app Didi Dache. In addition, as part of the company's open platform strategy, Tenpay is also helping banks serve its customers directly via Weixin. Before Tenpay came along, Chinese banks had to spend resources developing their own apps and then encouraging customers to download them. Now banks can use their platforms to serve their customers directly by communicating through Weixin messages instead of SMS. On Tenpay's platform, users can pay for hailing taxis and make in-app purchases on Weixin for orders ranging from local pharmaceutical chains to organic tea shops. Given Tencent's traffic leadership and login relationship with users, it would be a likely scenario for Tencent to eclipse Alibaba's leadership, especially in the mobile payment market in China.

In summary, Tencent's core business is video games and this is unlikely to be challenged by anybody anytime soon and this includes Alibaba. Its second largest business, Social Networks, is second only to Facebook and the company is likely to become #1 next year. Its third business, Online Advertising, is a distant #3 to Baidu and Alibaba but it is the company's fastest growing segment and will, if this growth continues, become a serious challenger to Alibaba in the course of the next two or three years. In eCommerce, the core of Alibaba's success story, Tencent's decision to partner with JD promises to represent a very serious threrat to the market leader over the mid to long term. Finally, Online Payment platforms are likely to be another major segment where the skill and the endurance of the two opponents will be tested. While still #2 after Alipay, Tenpay has the faster growth rate and appears to be better diversified than its competitor.

Neither has so far made a major entry into the United States but this is only a matter of time. It would appear that Alibaba with its eCommerce expertise is probably better positioned today to challenge the market leader, Amazon.

Writer's Bio:
Lutz Muller is a Swiss who has lived on five continents. In the United States, he was the CEO for four manufacturing companies, including two in the toy industry. Since 2002, he has provided competitive intelligence on the toy and video game market to manufacturers and financial institutions coast-to-coast. He gets his information from his retailer panel, from big-box buyers and his many friends in the industry. If anything happens, he is usually the first to know. Read more on his website at www.klosterstrading.com.
Read more articles by this author
THIS BANNER IS AN AD:
---
---