---
Mr. Fubs Reports on Hot Toys at Toy Fair 2015
Priscilla Moore of Mr. Fubs Party/Toys and More in Yellow Springs, Ohio, was busy at the 2015 New York Toy Fair, and reported to us from several booths. What's her toy-hunting strategy?

"I try to find things to start trends before they come trends," she told TDmonthly. "I always look for design in any kind of toy. The form, the color, the material. And I'm always looking for the safest toys because I was on the board of ASTRA when [the toy recalls] went down. So I will question companies, even if they have a safety certificate."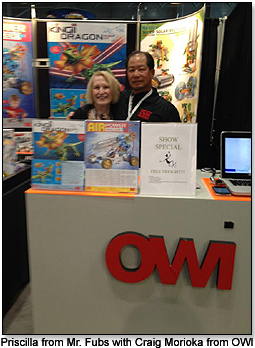 JURATOYS US CORP

Priscilla loved the Kaloo plush shown at the Juratoys booth.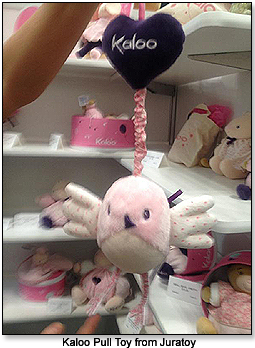 She was entranced by the "musical pull toys like this sweet bird (above) and like all Kaloo plush, it is fully washable." It's part of their "luxuriously soft plush line," which also includes "small activity toys on cards for easy display."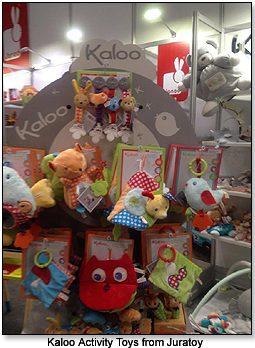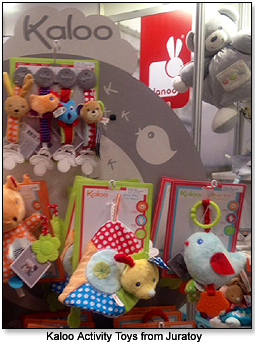 Priscilla was also intrigued by their Janod offerings. "Juratoys has plenty new in its Janod line. Workbenches for boys are now joined by girls' kitchens," she told us.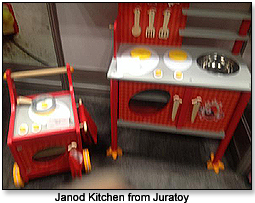 For girls, "The Janod Princess Palace play sets open up completely to make their own play space," while boys have the Janod Grand Prix suitcase race track.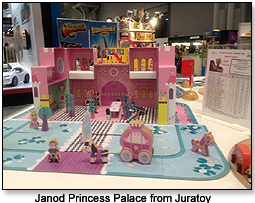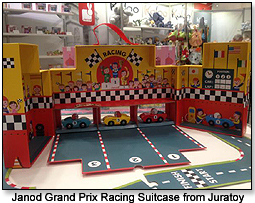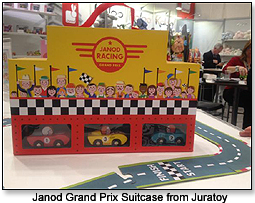 Their instrument line is expanding, too. They have "more accessories and 4 new sets joining the polka dotted Confetti musical play group," she shared.



FOLKMANIS

"The fabulous menagerie of unique puppets at Folkmanis has grown again," Priscilla told TDmonthly. "Newest members include a showy lizard whose wings flap with your command...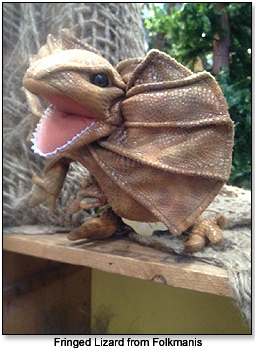 "Hungry Chick finger puppets...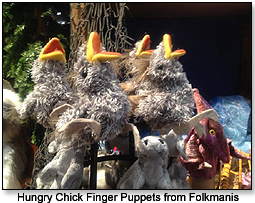 "A dragon that comes out of its turret...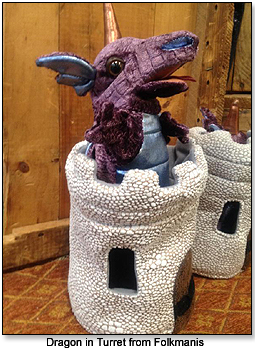 "A handsome Winged Dragon...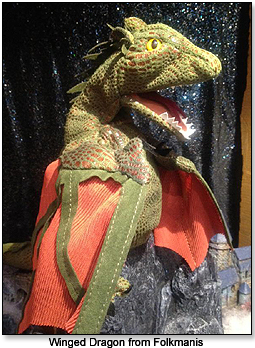 "And a snowy white Arctic Fox."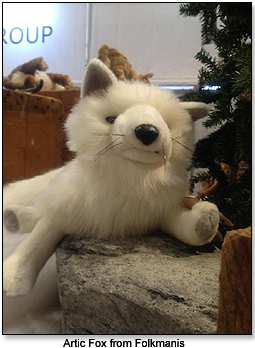 "They're reliably inventive!"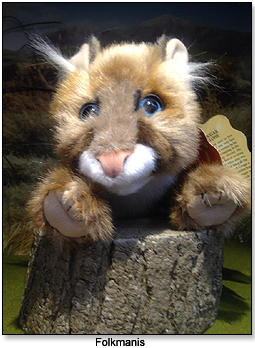 SUGAR LULU

Priscilla told TDmonthly that Sugar LuLu "has the best tats for tween girls ever! Didn't even come off in the shower!"


IMPROV ELECTRONICS

Priscilla was impressed with Improv Electronics' new offerings, especially the Play & Trace. "Some big news is the Boogie Board Play & Trace. It's less than $40.00, and has a generous oval screen that lets you trace anything placed under it. Trace, erase and trace again. Love it!" she said.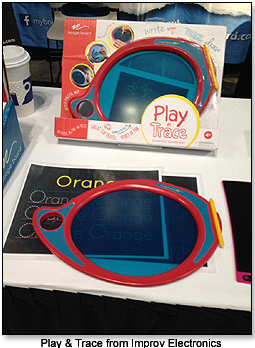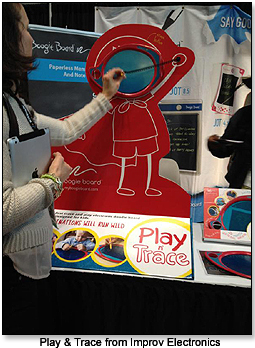 As for their other items, "The new Jot 8.5 is upgraded with a pen tray and a 50% brighter screen - at a lower price."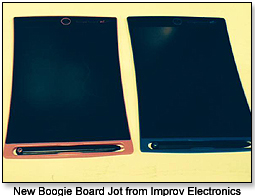 ELENCO

"I like the Tyranno model and series," Priscilla told us at Elenco's booth. "It is large, 2 ft probably. It's not new, but it's cool. A must-have classic."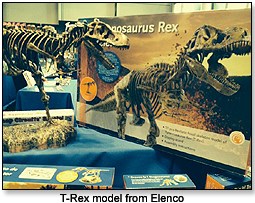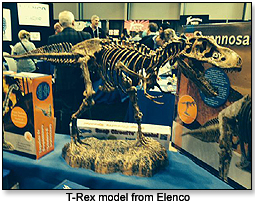 Another new item that looks like a good bet for specialty? "Snap Circuit Beginner for 5+. No small parts, simplified instructions. It's a little kit with big play," she reported.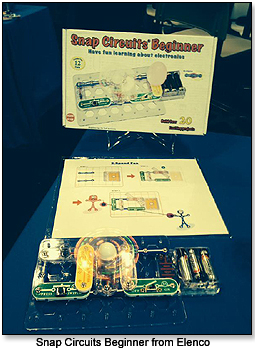 They also have "New DIY sets for kids to build a quality microscope, camera or sound cylinder, for ages 8+."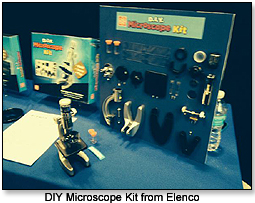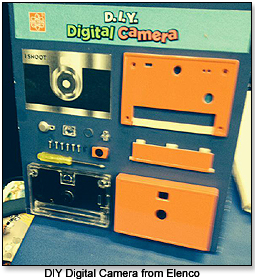 BRAND 44

Priscilla from Mr. Fubs told us that she liked the Sky Pogo from Brand 44 (Booth 5163).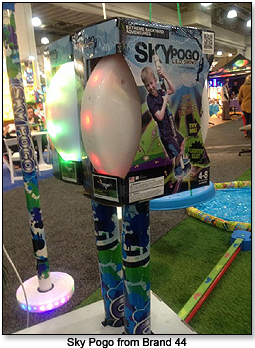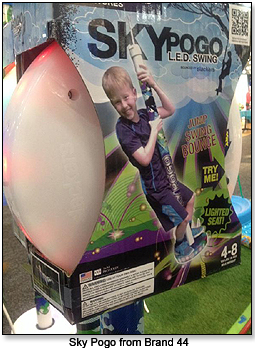 OWI

Over at OWI, Priscilla fell in love with the Kinjii Frilled Lizard robot from OWI. "It's very cool! Once you build him, he'll roam around, back away and wiggle his ruff in delight or when feeling threatened," she reported.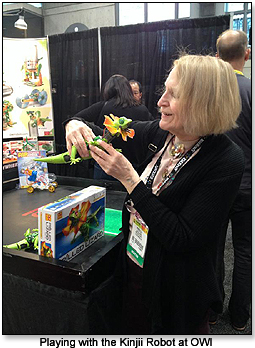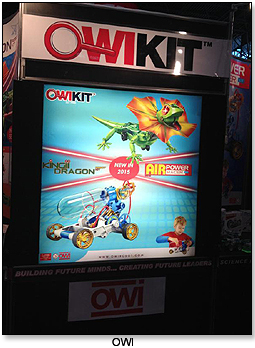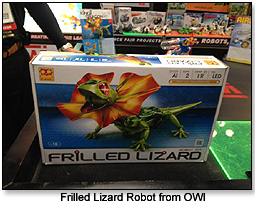 She also liked their air and solar powered kits. "The Air Power Engine Car runs on air and also looks well put-together.," she told us.

SLACKLINE INDUSTRIES/CANAIMA OUTDOORS

Priscilla was impressed with Slackline Industries/Canaima Outdoors (Booth 5047).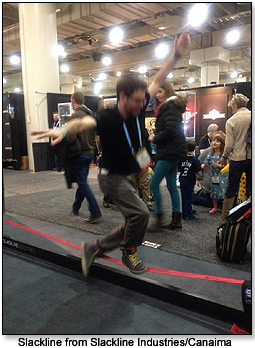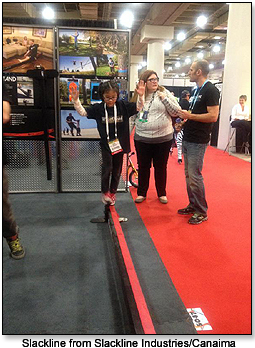 "They have slack kits for beginners (age 8+) that are a few inches off the ground, to high liners that are ratcheted up the tree," she told us. Their Play Line slacklines are "Great play for balance, strength and coordination."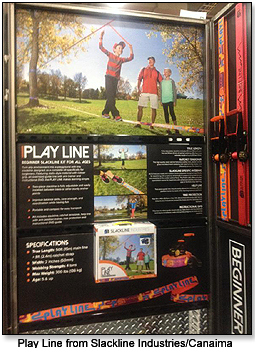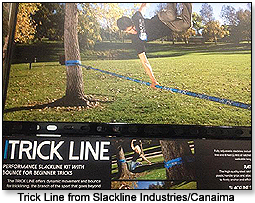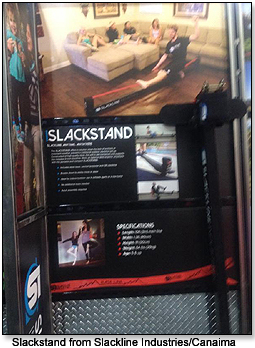 "They also have neon discs of high density felt with Swiss cheese holes for aerodynamic flight," Priscilla said of the Sky Shredder.



They also have Ziplines.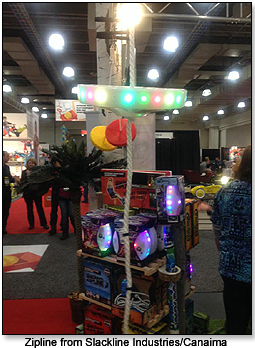 BRAND 44

Priscilla got to check out some new outdoor products from Brand 44. "Their products offer genuine athletic activities for kids," she told us, like the Sky Pogo, which hangs from a tree branch. Kids jump on the attached flashing disk to "pogo" without touching ground.

They have slack lines for beginners as young as 4. "Learning to walk a slack line is child's play! The new line is short, wide and 4" the ground. They can be used singly or connected - four will make a square. Footprints on line help kids as young as four learn balance and coordination," she disclosed.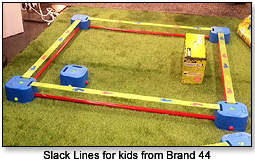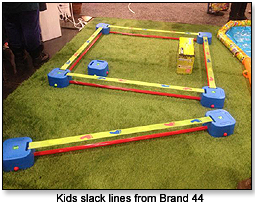 Also keep an eye out for Slide & Surf, a water toy that is in keeping with the TIA's Aquatic trend. "It's a neon bright backyard water toy that's now 2x as long for smoother ride. Slide and Surf looks fun for adults too," she told us.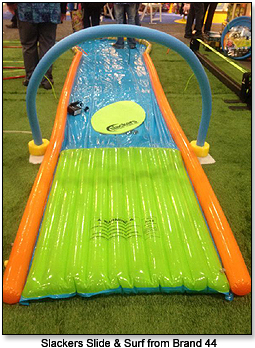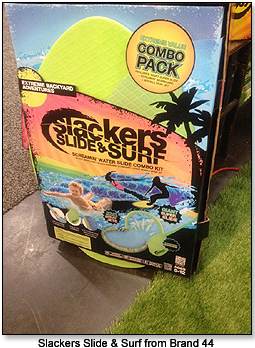 PLAY VISIONS

"There are more color-changing toys in the works at Play Visions (Booth 471)," Priscilla told TDmonthly.

"The new glow in the dark Sands Alive gets a neon glow when you turn off lights and wave the included UV penlight across the sand. Hands-free glasses in each kit also spread the UV while you play.There are 5 new sets, plus molds and play mats that glow.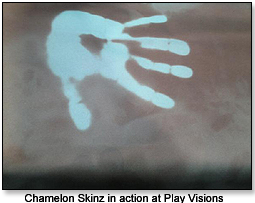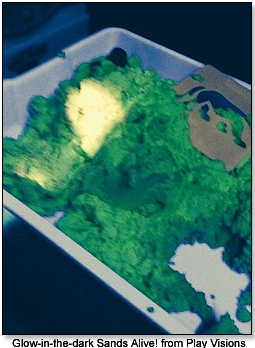 "Another venture here is color change toys made with heat-reactive materials. First out is duct tape. Kids can make a wallet in one color then warm it in their hands to change it to another color. Let it cool, and the original color returns," she told us.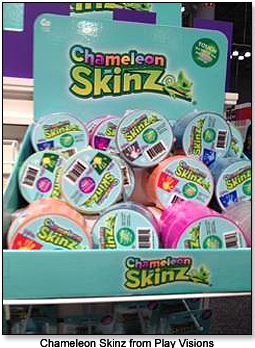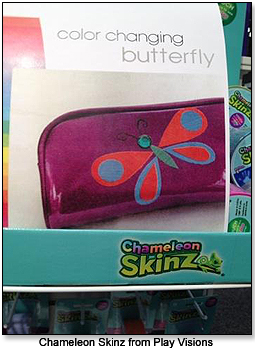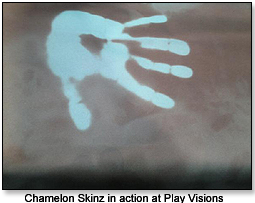 In keeping with the TIA's "Aquatic" trend, Play Vision is introducing "Aqua Dragons: self contained environments for small organisms similar to brine shrimp. Aqua Dragons come with everything needed to hatch eggs, feed, grow and sustain them through their life cycle," Priscilla told us.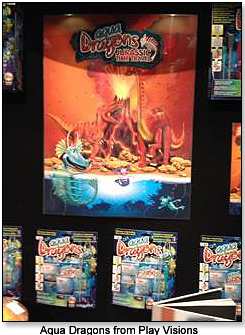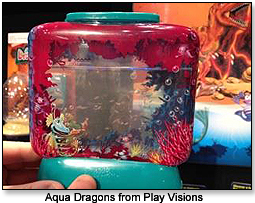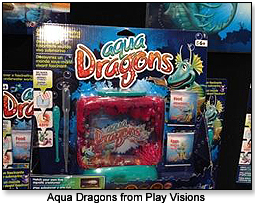 They're also featuring some new arts & crafts items, like "Weavy Loops, with safety-tested para cords to make jewelry. There are four sets: bracelet, necklace, keychain & superset. There's also a new machine to make multi-strand, multi-color cords using a variety of craft threads," Priscilla reported.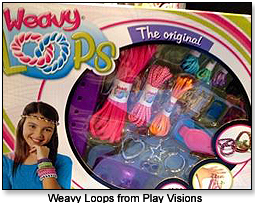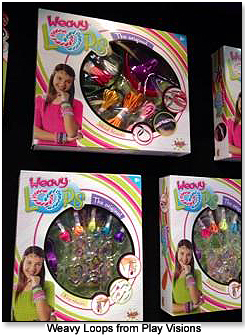 And, more tween fashion. "People at Toy fair have been sporting decorative little braids in their hair. They are easy to make with Twisties, 7-9" corkscrews made of moldable fired clay. Twist them into your hair for a new do," Priscilla explained.


THIS BANNER IS AN AD:
---
---