---
Brick and Mortar Retail Stores' Best Asset Is Alive And Well
We're nowhere near the end of brick and mortar retail.
This is a post about why brick and mortar retail stores still rule in a world of omnichannel. Reports of their demise often dismiss their greatest asset, but this greatest asset can ensure their longevity.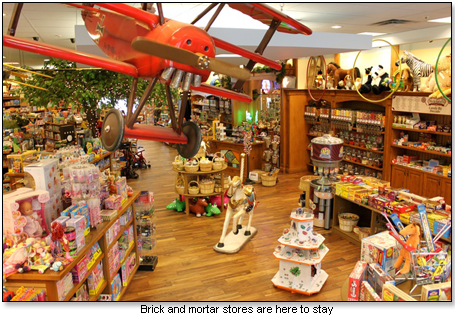 Heck, even Amazon is opening stores.

It was the week prior to Christmas and I went to a boutique for a table centerpiece. It was a very high-end shop not far from the mall.

Once I decided on the centerpiece, the saleswoman showed me a table of wooden toys from Czechoslovakia. You placed the bunny or hedgehog or an elephant on a wooden incline, and it clicked and clacked its way to the end where it stopped.

I was charmed and thought of the perfect person to give it to who lived in California. I happily paid $70 and left.

When I got home, I wasn't sure of the weight so I did a simple Google search to discover it used on Ebay for about $4 and on Amazon (with kid's packaging) for about $12.

Now I can hear all you smart discount-driven buyers out there:

What a fool! He overpaid by 500%!

Except I'm not a fool.

I would never have seen the hedgehog toy – ever.

I would never have searched online for such an item.

I would never have gone to Ebay to find such a thing.

It was only because of that brick and mortar shop that I found the perfect gift.

Brick and mortar's greatest asset is to help customers discover new products in a compelling way that leads to an emotional connection.

Another story...

I was buying some port glasses from a local home furnishing boutique. The saleswoman asked me if I was going to have candles on my table for the holidays.

I replied, "I used to use a lot of candles, but I'm done with their smoke on the ceiling, wax dripping everywhere, and the fire alarm going off from the smoke when I blow them out." She walked me over to their selection.

She said, "We only carry Root candles. They are pure so they won't smoke. They take a long time to burn with minimal dripping, so you'll be able to use many times. We've never had a disappointed customer, and that's why they are the only candles we carry."

A box of six candles cost about $50, and when I got them home, they worked perfectly.

I suppose I should have realized earlier that you get what you pay for, but I kept dumbing down my expectations. My thinking went that because the candle wax dripped everywhere, I purchased them less often.

When I did, like at the holidays, I purchased the cheapest ones because I - mistakenly - thought they were all the same.

No one had challenged my assumptions or educated me.

And that is why brick and mortar retail exists – to let us discover new items we never thought we needed or wanted. And that takes employees knowing how to suggest the better products, the new products or the fun products.

But too many retailers have thrown in the towel when it comes to training their employees on customer service which teaches them how to sell their merchandise. Because of that, those employees only show customers just what they ask for.

That's where you're bleeding money, especially if you carry the finer things in life.

A lot of pundits are saying retailers need to change in the wake of online giants like Jet where price is king.

Change is good, but you don't throw the baby out with the bath water and increase your discounts, coupons and promotions as a desperate attempt to get shoppers to buy something.

Heck, Macy's was offering $10 cash cards to the first 250 customers in over 600 locations just prior to Christmas.

Imagine if they'd just taken that money and spent it on retail sales training for their employees.

When customers view your shop as just a place where they go and pick up an item, like they go to the supermarket to pick up a can of tomatoes, your value is diminished.

In Sum

Ever try to browse a retailer on your smartphone? I don't care how many filters for brands or sizes you put on it, it is hard to develop an emotional connection.

Are you missing sales in your location because you don't train your crew, who in turn don't craft an emotional shopping experience?

Conversion rates of 7% - 25% don't lie.

Are you putting all your money on buy-online-pickup-in store?

60% of orders recently were wrong.

Are you putting your money on an omnichannel app or site?

Fully one-third of such purchases are routinely returned compared to 8% in-store.

That's why the best way to compete in a discount-obsessed retail sales world is to engage your customer's heart to engage their head when they browse your salesfloor.

It takes training.

It takes constant monitoring.

And it takes rewarding those who do it and letting go of those who don't.

When you do those things, you'll see having a physical store is a valuable asset and not a liability.

But only if you train your employees.

Because only then will your customers discover exactly what they wanted even though they never asked for it in your store.

Writer's Bio:
Bob Phibbs is the Retail Doctor®, a best-selling author and speaker who has helped thousands of independent businesses compete. His new book, The Retail Doctor's Guide to Growing Your Business has received praise from both Inc. magazine and USA Today and can be found at your local bookstore or ordered at http://www.retaildoc.com/guide. He and his work have been featured in the New York Times, the Wall Street Journal and Entrepreneur magazine. Questions? Contact Bob at info@retaildoc.com.
This article was reprinted with permission of the author, Bob Phibbs, aka The Retail Doctor®.
Read more articles by this author
THIS BANNER IS AN AD:
---
---