---
Toys in the News: 12-31-2015
SUBMIT your news to TDmonthly.
See previous toy industry news.
Our editorial staff is currently out of the office and the news will not be updated on a regular basis.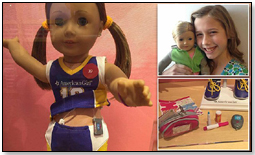 Mattel to offer diabetes kits for American Girl dolls. December 31, 2015

— Mattel Inc.'s American Girl, which has been aiming to expand the diversity of its line, will soon be offering diabetic accessories for its dolls...


Mattel Takes a Risk, With Barbie and Bugs. December 31, 2015 — As Gerry Cody, a senior design manager at Mattel, cheerfully loaded a live cricket into the driver's seat of a new toy car...

Modernizing Super Mario: How Nintendo Has Reinvented Its Star. December 31, 2015 — In the 30-odd years since his debut, Nintendo Co.'s Mario went from a pixelated man — with dots for eyes, a bar for a mustache and a square nose — to an expressive 3D character...

Mattel Vs. Hasbro: Which Toy And Games Giant Should You Add To Your Portfolio? December 31, 2015 — MAT and HAS are two attractive plays in the toys and games sector...

Is Hasbro a Better Way to Play Disney's Star Wars Success? December 31, 2015 — In only its second week, Stars Wars: The Force Awakens has already surpassed the $1 billion mark...

Mattel Goes High-Tech with Virtual Reality View-Master Toy. December 31, 2015 — One of your favorite childhood playthings just got a high-tech makeover...

Toys R Us Closes Flagship Store: Ferris Wheel, T-Rex and All. December 31, 2015 — For decades, children visiting New York City savored one stop above all: a trip to the kind of toy store that existed only in their imagination...

A tiny electronics company makes some of the most popular toys on Amazon. December 31, 2015 — One of the most popular toys on Amazon this year is made by a small company...

Noisy toys might hurt, not help babies' language skills. December 31, 2015 — Your infant or toddler might have gotten a lot of electronic toys under the Christmas tree this year...

It's Amazon and Also-Rans in Retailers' Race for Online Sales. December 31, 2015 — Two decades after Jeffrey P. Bezos started Amazon in his Bellevue, Wash., garage, his e-commerce juggernaut could be forgiven...

Retailers ring up healthy sales this holiday season. December 31, 2015 — The holiday shopping season isn't quite over for retailers, with millions of customers expected to hit stores and websites...
THIS BANNER IS AN AD:
---
---