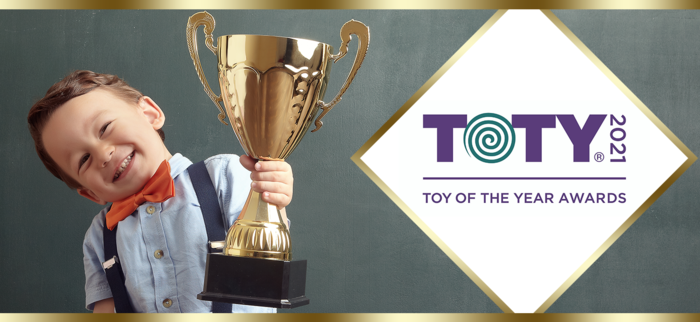 December 1, 2020 | Tickets are now available for the virtual Toy of the Year (TOTY) Awards, taking place on Friday, February 12, 2021. For the first time ever, toy fans everywhere are invited to attend!
No longer limited to a few hundred guests, the 2021 TOTY Awards virtual ceremony will welcome a much wider audience to the normally industry-exclusive event, while continuing to celebrate the industry's top playthings; honor the newest inductees into the Toy Industry Hall of Fame; and support The Toy Foundation's work to deliver the magic of play to millions of children in vulnerable situations.
Here what you need to know about this year's TOTY Awards:
The event will begin at 6 p.m. (Eastern) with online networking opportunities starting at 5:30 p.m. for members of the toy industry.


Attendees can watch as the winners are revealed in each category, enjoy a special tribute to the philanthropic work of The Toy Foundation and toy community, and learn all about the newest inductions into the Toy Industry Hall of Fame.


All tickets are complimentary and must be

reserved online. Because this is a virtual event, individuals who wish to attend must

complete their own registration.
"Viewers will be among the first to find out which toys take home the esteemed awards across 16 categories of playthings and find out if their favorite toy is crowned the People's Choice winner," said Ken Seiter, executive vice president of marketing communications at The Toy Association. "So, grab some popcorn, assemble your toy pals on the sofa, and join us in celebrating the hard work, innovation, and philanthropic efforts of the people and products that demonstrate embody? the power of play."
During the event, one product will also walk away with the coveted overall Toy of the Year Award, selected by a special panel of retailers, journalists, and toy industry analysts. Additional opportunities will be available for attendees to network, take part in interactive contests, play games, and win prizes.
Toy fans can head over to www.ToyAwards.org to vote for their favorite playthings, browse toys, and download shopping lists for the holidays. Voting is open now through January 5, 2021.
Companies looking for a valuable way to promote their brands – and contribute to a good cause – can also reserve ad space in The Toy Foundation's digital 2021 Tribute Book, the official event program for the TOTY Awards ceremony. Please contact Elizabeth Max, TTF's senior foundation manager, for more information.