---
Jay and Silent Bob´s Secret Stash: Kevin Smith Opens Westwood Store
Bob Chapman, co-owner of the new

Jay and Silent Bob´s Secret Stash

in Westwood, Calif., has worked with cult figure and partner Kevin Smith for the last six years on movie licensing. He produces T-shirts and toys for the comic book market with

Graphitti Designs

, a business he started in 1982.

Though he has friends in the retail business, Chapman never thought he would open a store. This was a decision made on impulse, based on his long-standing working relationship with Smith. "Jersey Girl" and the 10th anniversary "Clerks" party kicked off the opening in September.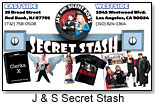 "It seemed like a good opportunity – working more with Kevin," Chapman says.
He describes Smith´s Red Bank, N.J. location 45 minutes from New York as "cute" with an emphasis on traditional comic books. Smith´s movies are focused on the tri-state area.

"Red Bank´s a quaint little town. I think it has two main streets in it," he remarks. "Red Bank has something Westwood doesn´t. It´s part of the Kevin Smith mythology. It means a lot to the Kevin fans. Westwood is part of the Los Angeles hubbub."

Only a block and a half from UCLA, the Westwood store has a broader scope and product mix, attracting a diverse crowd. This location appeals to the college crowd, benefiting from foot traffic and restaurants. Situated near six movie theaters where premieres are shown a couple times a month, this prime location is a cultural center.

"UCLA was part of the reason we moved there," Chapman states. "You have a real nice potential pool of customers. It´s hip. It has a lot of different things going for it that we thought would be conducive to the store."

Unlike New York where people walk to their destinations, in Los Angeles people drive. The Westwood area is unique for pedestrian traffic. Having the Kevin Smith mystique gives them another level of potential. "Our product mix and our look is different," he explains. "We´re still trying to determine what people want. People go there to be part of the Kevin Smith experience."

Westwood carries DVDs, comics, magazines, trade paperbacks, action figures, statues, posters, and T-shirts. The DVDs signed by Smith are their highest sellers, but toys and T-shirts often eclipse the movies. Everything is pop culture-related, items that cannot be acquired elsewhere.

"Right now, I´m real pleased with the diversity of products we´re selling," Chapman says. "I think that will be one of our strengths as the months and years go by. We have the ability to offer a lot of product."

He compares the store to a miniature version of the San Diego Comic Con. Though people may not be interested in comics, they´re going to see things they like. "Anyone can walk into San Diego and be visually stimulated," he comments. "There´s electronic games. There´s movie stuff. If we can translate that to a store it makes sense."

Kevin Smith´s next movie "Clerks 2: The Passion of the Clerks" will begin shooting in January and will most likely be released in summer 2005. Visual icons in the movie will determine the retail marketing. It's still too soon for any licensed product plans. Items will be an extension of the look and attitude of the film.

According to Chapman, timing is important. Firm decisions will be made once they are closer to the completion of the movie. Nothing is contrived.

"Part of Kevin´s charm is his lack of advance planning," he says. "Rather than forcing it to happen, it happens in a more organic process."



THIS BANNER IS AN AD:
---
---