In October 2004 Todd McFarlane, who has an 11-year history in the sports and movie licensing markets, held the official grand opening of a showroom and store in Tempe, Ariz. With Phoenix the hub of his business and his family living in the outlying area, Tempe seemed the most logical location.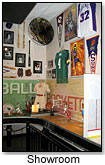 "We had the basic concept down from our old showroom in Manhattan that we used every year for the Toy Fair trade show," McFarlane explains. "I basically wanted my designers to re-create the look and feel of that space here in Tempe. I think they did a great job capturing the ´feel´ of what my company is all about."
Less than 20 percent of the space is utilized for direct sales, with the bulk of the showroom serving as a museum and store. Customers can still use electronic shopping kiosks to browse the on-site warehouse because even though items aren´t displayed, the latest figures are stocked. It's the next step for this man of vision.
"I started the toy company because nobody else would give me control over production of Spawn action figures, which was my own creation," McFarlane says. "I figured ´how hard could it be to make toys?´ I guess I got it sorta right, despite many in the industry who gave me less than a year to survive."
McFarlane launched its first licensed product line in 1997 with KISS. He branched into movie-based product with Movie Maniacs eight years ago, featuring horror icons from "Terminator" and "Terminator 2," "Alien," "Predator," "Texas Chainsaw Massacre," "Friday the 13th," "The Thing," "Army of Darkness," "The Fly," "Blair Witch," "Scream," "A Nightmare on Elm Street," and "Halloween." His blockbuster film licensing contracts include "The Matrix" trilogy, "Terminator 3," "Shrek," "X-Files," "Sleepy Hollow," the first two "Austin Powers" films, the Beatle´s "Yellow Submarine," "Akira," and "Alien vs. Predator."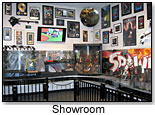 "It seems now that almost every pop culture movie that comes out has an action figure line, which wasn´t the case in the past," McFarlane states. "That makes it tougher to get both space in the toy aisles as well as the attention of our consumers. You really have to make a product that is worth the 10 bucks people have to shell out for a figure."
His company was one of the first to release a line of action figures for an R-rated film, Tim Burton´s "Sleepy Hollow" in 1999. Target audience is males 14 to 38 years of age, but he reaches people outside this group with his sports product and certain movie and music licenses. Today, McFarlane Toys are available at major mass and specialty retailers in the U.S. and Canada and more than 40 countries worldwide.
"Our motivating philosophy is to make product that is cool and that accurately captures the look and feel of both a character and the film that character or actor portrays," McFarlane comments. "I´ve felt that it is more than worth the few extra pennies per product to add the extra detail and painting to give it an authentic look and to be a quality figure for a reasonable price."
His only firm plan for the future is to keep doing what works, and keeping the products diverse. "Anyone who knows me knows I´m a big sports guy," McFarlane says, "but Spawn is probably more near and dear to me than anything. Spawn is what started this company, and it´s still the backbone of everything we do."
At this point he´s happy with the single showroom and the promise it holds. "Will I get an itch to expand someday? Maybe, but I don´t have that right now."