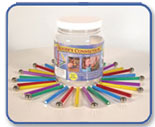 Whether you love geometry, science or just like having fun,

Roger's Connection Construction System

is a unique building toy that will keep children thinking about how to create an architecturally sound structure. Roger Silber, creator and owner of Roger's Connection (ToyDirectory), explained that this three-dimensional doodling is as strong as the imagination of the builder.

Each large set of Roger's Connections Construction Set ($22.99, ages 6 and up) consists of a mixture of 14 steel metal balls and 30, 4" long plastic rods that have rare earth magnets embedded in each end. The pieces of the set started out made in black, moved to a glow-in-the-dark for some time, and now are sold in bright colors.


In 1989, Silber, an electrical engineer, developed a prototype of the toy while gluing toothpicks together to help him visualize another project. Once he completed the structure, however, he could not take it apart to use the toothpicks again, thus creating the concept behind Roger's Connection. After several prototypes, Silber licensed his construction set with Design Science Toys in 1991.

Knowing that a visual demonstration would improve the sales of his product, Silber took the set to the shopping channel QVCTV, which immediately put it on the air in Iowa. The sets sold out in eight minutes.

Roger's Connection has been selling on QVC for over eight years, making it the longest running toy in the station's history. Scientific, mathematical and game Web sites all sell or use these construction sets as visual and practical demonstrations. The product's multiple uses make it a desirable item in many facets of the consumer market.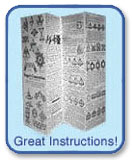 Children use the product to learn about math, science and architecture while improving their dexterity. Executives have them on their desks as an engineering tool. Teachers use the building sets in class for a visual explanation of magnetism and geometry.

This earned Silber the Gold Seal Award by the Oppenheim Toy Portfolio as well as the Parent's Choice Honor. The Construction set has received 5 stars on the Amazon.com customer ratings.