Article Synopsis
A new generation of toys based on classic storybook characters is flooding the market.
Hands-on toys like Miffy´s Sailboat, Miffy´s Pathfinder, and Miffy Clock/Puzzle are all based on the Dutch children´s author Dick Bruna´s title character.
Taggies, joining with the publisher Scholastic Inc., has created a variety of colorful, soft cloth books with one-of-a-kind fabric ribbons and tags lining their edges.
Two new products, Barbie as the Princess and the Pauper and Arthur´s Terrible Teasers, adapt favorite stories into enjoyable animated form.
New and varied licensed products will please just about any baby or toddler. The following innovative toys are designed to stimulate the senses.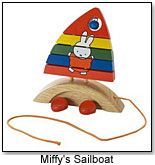 Based on the classic Dutch storybook character Miffy, a new line of sturdy wooden toys for preschool-age children has been created by Sanyei America Corporation and licensed by Big Tent Entertainment. First off, Miffy's Sailboat ($20; ages 2 to 5 years) is a unique stacking and pull toy set on a rocking base that imitates a sailing motion when overturned. The sail also doubles as a puzzle, which develops hand-eye coordination and spatial perception.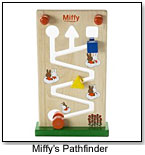 Next, Miffy's Pathfinder ($15; ages 2 to 5 years) captivates toddlers while they learn their shapes, challenging them to move three different objects through a zigzag path. Also, Miffy Clock/Puzzle ($25; ages 2 to 5 years) offers the first step in teaching children to tell time. With movable hands, the clock doubles as a stacking puzzle and comes with the book "Tell Time with Miffy," featuring colorful graphics.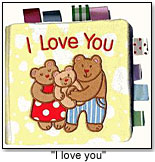 Teaming up with the publisher Scholastic Inc., Taggies has published a series of colorful, soft cloth books crafted in different textures with unique fabric ribbons and tags surrounding their edges. This patented design was born from the sharp observation on the part of one of the company´s founders, Julie Dix, that her baby was more interested in the tags on toys than the toys themselves. The new licensing agreement allows a wider infant audience to enjoy these soft, tactile books. The two titles include "Sweet Dreams" and "I Love You" ($12.95 each; ages birth and up).

Sandra Boynton, the best-selling author and illustrator, has released her latest work, "Rhinoceros Tap" ($16.95; ages 2 years and up), published by Workman Publishing. The book is accompanied by a CD with 15 silly songs, including the R&B inspired "Bad Babies" and the piano ballad "O, Lonely Peas." The 64-page hardcover book features colorful illustrations on every page, with some song lyrics in Part One and more detailed musical notations in Part Two. Teaming up with Sandra Boynton on the project are composer and classically-trained pianist Michael Ford and Broadway theater performer Adam Bryant.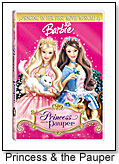 In conjunction with Lions Gate Family Home Entertainment, Mattel releases the full-length CGI animated musical, Barbie as the Princess and the Pauper ($19.98; ages 3 and up). In a contemporary twist on Mark Twain's classic tale of mistaken identity, Barbie stars as both characters. The film features seven original songs scored by the Czech Philharmonic Chamber Orchestra and sung by Broadway lyricist Amy Powers. A sing-a-long feature lets viewers chime in. For a limited time, a bonus soundtrack CD will be included, featuring the seven original songs from the film.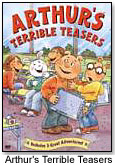 Sony Wonder releases three great Arthur adventures in Arthur's Terrible Teasers (DVD $10.98, VHS $9.98; ages 2 and up), based on stories by Marc Brown's best-selling children's books. Join Arthur and his friends Binky, Francine and the rest of the gang in three episodes. In "Arthur's Underwear," Arthur thinks it's hilarious when Binky's pants split during class, until he starts having nightmares about it happening to him. "Citizen Frensky" parodies the film classic "Citizen Kane" in which Francine decides to start her own paper, The Frensky Star, a juicy tabloid about the residents of their hometown of Elwood City. In "Stolen Bike," Francine is embarrassed by her crummy old bike, and in her attempt to get a new one she arranges for her bike to get "stolen."