"Xylophones, drums, guitars are what sell."—Debbi Scholl, Fundamentally Toys
With additional reporting by regional correspondents Virginia Davis and Elizabeth Greenspan
In every child is music. Sometimes it comes out through banging on a pot or a pan. For many, it takes a toy or a child-sized instrument to reveal the virtuoso within. Retailers and manufacturers told TDmonthly Magazine correspondents that low-tech instruments are "on the beat."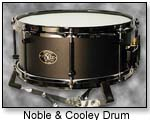 Lose the Battery
Tricia Cooper, the buyer for Le Jouet Inc., in Metairie, La., mentioned that instruments such as the Noble & Cooley drum sets seem to sell best. "Your basic marching drum does better for us than one that's battery operated. Things are getting more high-tech, but parents want the basic toys."
Other retailers agreed. Kate Tanner, owner of Kidstop Toy & Book Store in Scottsdale, Ariz., recommends the Sounds Like Fun instruments to parents and grandparents who say, "I don't want that annoying thing in my house." They appreciate a toy that needs no battery.
Debbi Scholl, owner of Fundamentally Toys in Houston, is another low-tech/Sounds Like Fun advocate: "We keep things that are simple and the child is actually playing the instrument. Xylophones, drums, guitars are what sell."

A good seller for many in the basic bang-it-and-play realm has been the Boomwhackers by Whacky Music Inc. (ToyShow). Cooper told TDmonthly she'd thought they were "really neat" when she saw them last year at the American International Toy Fair.

New items for Whacky Music are on the way, but not for awhile. "Our focus has been on developing more educational materials," explained Craig Ramsell, Whackmeister of Whacky Music, though "we have some new things in the works."

Real Instruments Beat Toys
Round Rock, Texas' Kaleidoscope Toys' owner Terry Myers had his own recommendation: "A favorite for people who want to spend a little more is the Music Maker Lap Harp (European Expressions). It's a lap harp, and it's easy to play because it has cards. You follow the notes. And the tone is beautiful."

"The parents really don't like all this electronic music," explained Greg Bonner, owner of Heights Toy Center Inc. in Little Rock, Ark. "They don't want the strings to be in an electronic chip, the creativity already done. I have musical instruments from Melissa & Doug."
Eleven of 20 retailers mentioned Melissa & Doug instruments as popular. Others in the low-tech category included Schylling (ToyDirectory), Toysmith, Bontempi and Hohner (ToyDirectory). Woodstock Percussion's (ToyDirectory) latest offerings are good sellers, according to Amy Dufour, public relations rep for Woodstock Percussion. Renee Trinca of Schoenhut Piano Company Inc. (ToyShow) sees their latest Mini-Grand Piano as being well received.
Despite the basics, there are some areas where electronic instruments have come to the fore, such as those that teach piano. Brian Metcalf, public relations specialist working with Allegro Rainbow, points out that the Piano Wizard has done so well, they've now come out with a Mac version.
In the end, high-tech, low-tech or no tech, Greg Bonner sums it up best: "Kids love to make noise."

.
Made of wood with nylon strings, this child-sized version of an adult guitar is practically the real thing. The guitar even comes with tuning instructions to turn young musicians into pros in no time. At 24? long, it can be stored easily without taking up too much space.
.
.
This kid-size guitar features six metal strings, a plastic red sparkle face and natural-wood neck. Measuring 29.5", the guitar also includes a built-in amplifier, a front-mounted speaker, a black nylon strap, a pick, a battery and a 16-page instructional song book by renowned folk musician Happy Traum.
.
.
.
.
This is a great beginner's percussion set for a little musician. The wooden bucket drum has a natural rawhide head and is great for playing with the hands or the included wooden sticks. Also included are two blue mini-maracas, one red tambourine stick, one green-handled castanet and an activity guide. Each provides a great tool for learning to describe and recognize different sounds.
.
.
Piano Wizard Premier combines the fun of a video game with the fundamentals of piano lessons. That means children can sit up to a keyboard today and play anything from Bach to Bon Jovi. What once felt like practice now feels like play. Children can choose from four different fantasy worlds to play in. They can change the speed, the instrument sounds, the skill level and more. And in addition to the MIDI songs that come standard with Piano Wizard Premier, thousands more can be downloaded from Internet libraries. The software can be sold with or without the keyboard. According to Allegro Rainbow's Brian Metcalfe, "The Piano Wizard Method teaches anyone to easily play piano in 4 steps. With Piano Wizard, the child is playing the piano the instant the game is started. They learn intuitively to hit the right note at the right time." Allegro is planning on releasing the highly anticipated Guitar Wizard. Launch date: 2003.
.