"Green seems to be a very popular color for babies." —Helen Noland, Father Goose

Green is the new yellow, retailers told

TD

monthly

Magazine

. But manufacturers said that white was their best-selling neutral for babies.

Celery Gets Chomped
"Young mothers buy celery green," commented Vicki Davis,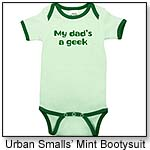 manager of the Children's Prep Shop in Atlanta. "It is a good color for a gift item for a boy or girl and, if asked, I suggest that color."
"We sell a lot of celery green to new mothers," agreed Shindele Liberman, the manager of Gretchen's in Atlanta. "Grandmothers tend to still prefer pink, blue or white, but green has been our best seller this year."
"Green seems to be a very popular color for babies," nodded Helen Noland, owner of Father Goose in Macon, Ga. "All the primary colors are good. Pink and blue have sort of taken a back seat to these colors."
Donna Robinson, designer of Love Auntie in the Midwest, informed TDmonthly, "Soft pastels are all good colors and, yes, green is much more popular than yellow, but white is the best color for any season with babies. It looks so clean, pure and innocent."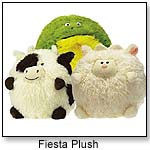 Laura Anne Martin, designer for Heirloom Blouses and Children's Wear in New York, said, "We have a very upscale line. We don't follow the trends because we want to stand out in the marketplace. We try to be classic. What we make will be good for the first child, second child and even the grandchild. In the fall we will use black velvet. The combination of black velvet and white will be very dressy, especially for the holidays."
"Fiesta has several items in mint," Suzanne Hammond of Fiesta Toy (ToyDirectory) told TDmonthly. "Most are in an assortment with other colors."
Primaries Become Primary
"We use a lot of white in our line, especially for our Sleepy Cuddlers and Lil' Snugglers, for infants," Erika Radich, marketing director with Douglas Cuddle Toys (ToyShow), told TDmonthly. "White is so pure and innocent, and our animals sprawl out and look like the perfect spot to lay a baby down. The lamb and white bear are popular. We use green with our frogs and some other toys … it is a popular color too."

Just 4 Fun owner Joyce Matthews in St. Simon's, Ga., concluded, "Green is a popular color, but we see a lot of red. … It is not just for the holidays anymore and then red goes well with white."

Primary colors and traditional pink and blue are all good colors for babies, but according to our research, if you choose celery green or white, you can't go wrong. Here are a few products that could get you started:
This cuddly pup will make the other stuffed animals green with envy. His sibling pups are pink and blue.
.
New designs for these silky soft baby blankets are Pink Bear, Chocolate Monkey, Spotted Brown Horse and Yellow Duck. These ultra-soft security blankets incorporate a 13" by 13" square of plush fabric and a sleepy plush animal head with embroidered eyes. Lil' Snugglers are intended to be carried everywhere toddlers travel and for that reason they are completely machine washable.
.
Mary Meyer says, "We have gone Green!" This frog comes as a teether blanket, jumper and as a musical plush toy (pictured).
.
The Baby Clothes Quilt Kit gives parents all the tools they need to create a beautiful quilt from their child's baby clothes — alternating squares in fabric, batting, a quilt back, safety pins, straight pins, a cutting template and very specific directions. And even better, if parents can't sew, or don't have the time, they can send the quilt kit back with squares from the baby clothes they've cut and Ticche & Bea will create the quilt. Within four weeks, parents will receive a beautifully sewn quilt ready to hang on the wall or give as a gift. The new product is already a top seller for Ticche & Bea.
.
Dedicated to liberating youngsters from the confines of "cutesy," Urban Smalls offers a fun line of infant giftwear that caters to a new generation of parents and gift-givers. A great complement to toys and other baby gift items found at specialty toy retailers, their Retro-Ringer Bootysuits come in brightly colored, stackable PVC boxes, perfect for displaying and wrapping. They also make tees, coordinating track pants and bibs.
.
Suitable for newborns to 6-month-olds, the BeddieBye Zip-Around Safety Blanket keeps baby warm without the risk of loose blankets. The sleeveless double velboa design helps reduce the risk of overheating, and an adjustable shoulder tabs allows the BeddieBye to grow with baby, while ensuring a safe and secure, customized fit. The BeddieBye zips open easily without disturbing sleeping baby for easy diaper changes. Adjustable tabs mean no fuss with armholes.
.