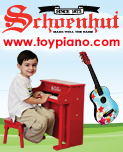 Article Tools:








TDmonthly's Top-10 Most-Wanted Plush Toys
Penguins and Uglydolls Give New Face to Cute
With additional reporting by regional correspondents Virginia Davis, Elizabeth Greenspan, Terri Hughes-Lazzell, Krista Lebednik and Brenda Ruggiero

There's nothing cuddlier than a ... penguin? That's what retailers across the country told

TD

monthly Magazine. When quizzed on their top-selling plush, 67 specialty toy storeowners agreed that classic characters might dominate, but penguins, pets-in-purses, Uglydolls and the oh-so-hot Webkinz were stellar sellers. Here are their top-10 squeezable plush toys:
.
.
.
.
.
.
.
.
.
.
Catalog Request Form


Advertisement: