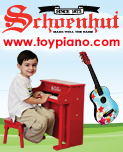 Article Tools:








Playmobil Offers Foundation for Kids' Creative Play
Themed Playsets Continue to Bring Imagination to Life
"We give the child a foundation, and they choose how to build within that foundation using their imagination." — Michelle Winfrey, Marketing & PR Manager

This article is a paid advertorial.

Introducing between 80 and 100 themed playsets, accessories and figures every year, Playmobil helps to stimulate children's imaginations and create endless adventures.

A CENTURY OF EVOLUTION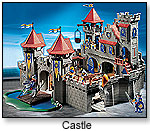 The firm that would become Playmobil began in 1876 in Germany as a lock and metal fitting company, named Metallwarenfabrik Andreas Brandstatter after the founder, TDmonthly Magazine learned. The company changed its name to Geobra in the 1930s, and continuously evolved in response to changing product needs, using sheet metal to manufacture various products, such as telephones, cash registers and various items for toy shops.

In the late 1950s, Horst Brandstatter, the company's present owner, shifted the focus to plastic. The company became expert plastic toymakers and rapidly expanded into the toy and leisure fields. But the 1970s oil crisis and surge in raw materials' prices forced them to regroup, and the small, moveable figures that became known as Playmobil were born.

Introduced at the 1974 International Toy Fair in Nuremberg, Germany, Playmobil was enthusiastically received by both parents and children, and has been a top seller since. Today, with headquarters in Zirndorf, Germany, it has subsidiaries worldwide. The toys were introduced in the United States in 1984.

NO RIGHTS OR WRONGS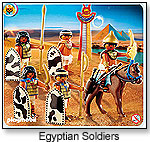 From pirates and knights to hospitals and circuses, Playmobil's diversity literally offers something for every child. The 1.2.3. series is targeted at children ages 1 and up, while the more complex sets are for children ages 4 and older.

Michelle Winfrey, marketing and public relations manager for Playmobil U.S., told TDmonthly the toy figures and sets "allow children to be children. There are no rights or wrongs. They don't dictate how to play. If a 2-year old wants to put a cow in the house, that's OK. It's an evolution of learning. We give the child a foundation, and they choose how to build within that foundation using their imagination."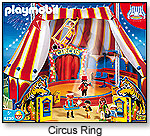 While playing, the child is learning. "The toys teach cognitive, social, emotional, motor and mobility skills, as well as about other cultures," Winfrey explained. And these skills are essential. According to the U.S. Center for Disease Control, from birth to 5 years a child should reach milestones in how he plays, learns, speaks and acts. Imagination-based toys such as Playmobil help achieve that.

Winfrey added that Playmobil has proven a wonderful toy for special-needs children. "I explain [to parents] that it's because the toys don't intimidate them. All the external stimulants are gone. It's just the child and the toy. It lets them focus and control."

NOSTALGIA AND TOUGH STUFF

Casey Sartain, buyer at Tutoring Toy in Salt Lake City, Utah, told TDmonthly that Playmobil is one of the store's best brands, and attributes its success to several things.

"First, it's the nostalgia factor. Parents and grandparents remember playing with them. … They have such good memories about it, and in turn are now buying Playmobil for their children. Country of origin is another reason. The fact that it's made in Germany/Malta makes a big difference to a lot of our customers. Finally, its durability is a real factor."

NEW EVERY YEAR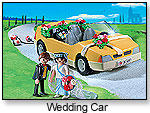 Playmobil keeps refreshing its line and will introduce this year an Egypt collection, which Winfrey shared will be "a phenomenal line," as well as a Veterinary Clinic and Wedding set.

Winfrey noted that Playmobil adheres to a key marketing rule when it comes to new product introductions: "We try to stay true to the brand. We're not selling something that's going to go 'boom.' It's a toy that's designed for your child to develop imaging, mobility and learning skills."

See some of Playmobil's new products below:
.
Cheer on the newlyweds as they make their way out the Church. Press the windows of the church tower and hear the bells and organ music. Also comes with three figures, many accessories, and a pink jewel case with rings for the child. 2 AAA batteries required. Dimensions: 12.5 x 16.5 x 22 inches (L x W x H). Recommended for ages four and up. Choking Hazard. Small parts. Not for children under 3 years.
.
.
.
.
Listen to the pianist as he performs a song for all to hear. Includes a figure, white grand piano, sheet music, and stool. Press the keys of the piano to play two wedding melodies. 2 AAA batteries required. Recommended for ages four and up. Choking Hazard. Small parts. Not for children under 3 years.
.
Catalog Request Form


Advertisement: