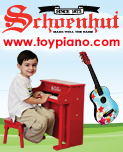 Article Tools:








Pentago Goes Multi-Player, Multi-Dimensional
Mindtwister USA Introduces New Game at Toy Fair 2010
"It's a game that can be played by 6-year-olds … But it's also steeped in enough strategic depth to keep an old chess dog playing it for years." — Monica Lucas, VP of Operations, Mindtwister USA
This article is a paid advertorial.
Mindtwister USA is ratcheting up the mental pyrotechnics of its popular, award-winning Pentago game with the introduction of a multi-player, multi-dimensional version. It continues the story of a successful company determined to challenge people's minds in a fun way.

FROM SIX TO SENIORS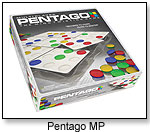 Invented in Sweden in 2003 by Mindtwister AB, the deceptively simple Pentago has become a huge hit, captivating players from 6-year-olds to seniors. Mindtwister USA was founded in 2006 by Tony Mag and Mathias Ringstrom, who licensed the game for promotion and distribution in the United States.

"It's a game that can be played by 6-year-olds all day long, on account of its simplicity and ease of learning," Monica Lucas, VP of operations, told TDmonthly Magazine. "But it's also steeped in enough strategic depth to keep an old chess dog playing it for years."

Traditional Pentago is designed for two players, who strive to get five in a row to win. The twist, literally, is that every time a player places a marble on the board, he also turns one of the game board pieces one 90-degree notch.


"It's a whole lot of strategy into one little box," said Diana Nelson, owner of Kazoo & Co. in Denver. She added that the game is very popular among her customers, and the company is a good vendor to work with.

Kate Tanner, owner of Kidstop Toys in Scottsdale, Ariz., agreed that Pentago is a steady seller.

"We all love Pentago; the way it plays is awesome!" she raved. "Just when you think you have a strategy figured out, someone moves a quadrant where you least suspect! The Pentago CE (Cruise Edition) version with the lid is great for travel."

TO THE NEXT LEVEL

Lucas is excited about the impending launch of Pentago Multi-Player. She described it as "totally unique and revolutionary ... more of a family-style strategy game, in that you can play two, three or four players, as individuals against each other, or as teams."

She explained, "On one hand, the Pentago play movement, place and twist, is dramatically enhanced if you're playing it one on one, like a regular strategy game. But it becomes more casual, if you're playing four people against each [other]. A little bit of luck and chance is introduced at that style and then you have several options in between. The movement of the game blocks is also so unique, it's patented. We feel that it's a no-brainer homerun, especially since the response from Europe has been fantastic, as Pentago MP was launched there in 2009."

BEYOND PENTAGO


Mindtwister USA has capitalized on the success of Pentago and introduced other fun and challenging games, including Sushi Roll, Quadrago and Element. Seven Card Samurai, also debuting his year, is a family card game set in feudal Japan during the era of the Samurai. It depends on skill, strategy and planning.

All Pentago products have primarily been designed in Sweden by Mindtwister AB.

"The other products are either developed by us," Lucas explained, "or by an independent game designer that works exclusively for Mindtwister USA. We test all games ourselves."

ENDURING QUALITY

Part of the games' appeal is their "robustness and completeness," Lucas told TDmonthly. "Our games are made to last forever and be very complete in their design, meaning nothing is left out. We don't take shortcuts to make a game a little bit cheaper. Our printed instructions are well written and don't leave anything to chance. Both Pentago games also have tips on strategy and not just the basic rules."

Lucas admitted that being a small company has made it challenging to market products to consumers. Nevertheless, Mindtwister USA is passionate about its mission to "bring happiness and joy to people's lives and, along the way, challenge their minds a bit."

See products from Mindtwister:
MSRP: $19.95
Age Range: 6 and up
SKU or Item #: 7 05105 96085 2
Launch Date: January 2010
Gender: Boys And Girls
A family card game set in feudal Japan during the era of the Samurai which depends on skill, strategy and planning. It is a time where bandits roam the countryside stealing the precious rice from villages. Yours is one of those villages. Defend your rice with Samurai and Ronin, use bandits and Ninjas to steal other villages' rice and eliminate their Samurai, and plead with the local Shogun to conscript help for you. But be warned, for the other villages are doing the exact same thing. Launch date: 2010.
ToyDirectory Product ID#: 26643
(added 1/11/2010)
.
MSRP: $29.95
SKU or Item #: 7 02105 12566 4
Launch Date: March 2010
Gender: Boys And Girls
This multi-dimension, multi-player version of the strategy game Pentago accommodates two, three or four players. Two players can play using one or two colors each, and in games with additional participants, players can choose to play as individuals or in teams. Launch date: March 1, 2010.
— A top pick, retailer Kate Tanner, owner of
Kidstop Toys,
informed
TDmonthly
at
Toy Fair 2010
.
ToyDirectory Product ID#: 26567
(added 1/5/2010)
.
In this fast-paced card and dice game for the whole family, players take turns as the sushi chef by rolling four sushi dice. Other players then race to match sushi cards in their hand to the sushi that was rolled. The first to do so says "Order up!" and lays down his or her cards. Whoever gets the most sushi cards by the end of the game wins. Players can use Wild Wasabi to help, but must beware the dreaded Stinky Sushi card. "It is easy to play, and the whimsical theme keeps you coming back for another hand," Mike Richie, game developer for Mindtwister USA, told TDmonthly. Launch date: April 2009.
ToyDirectory Product ID#: 22205
(added 1/23/2009)
.
Pentago Cruise Edition
by
MINDTWISTER USA
Other products from MINDTWISTER USA
TDmonthly rating:


MSRP: $19.95
Age Range: 6 and up
Launch Date: January 2007
Gender: Boys And Girls
This "cruise edition" of the quick-play, easy-to-learn strategy game Pentago is ideal for portability and travel. Launch date: 2007.
Awards: May 2012 TDmonthly Top Toy Award. Why it won: Not only is this game a proven best seller; it also earned a high rating from TDmonthly's panel of reviewers, as well as users on Amazon.com.
— Brooke Andrews, owner of Millers Toy Store in Mamoroneck, N.Y., told TDmonthly in late fall 2009 that her store sells about 12 Pentago games per week. Erika Evers, owner of Dancing Bear Toys in Hendersonville, N.C., estimated sales of about 8 to 12 units per month.
— As of 4/12/2012 this product had 4.8 out of 5 stars from 24 reviews on Amazon.com.
ToyDirectory Product ID#: 20088
(added 8/20/2008)
.
This two-player, wooden-strategy game features 16 upright poles and 64 beads in two different shades, challenging opponents to be the first to get four beads in a row, diagonally, horizontally or vertically. Players have the option of turning the moveable, middle section of the board containing four poles at every turn, thereby adding to the strategy component and changing the playing field.
Awards: 2009 Creative Child Game of the Year; 2009 Gifted Children Award
ToyDirectory Product ID#: 17654
(added 2/21/2008)
.
Pentago Classic
is a game that comes from Sweden, the country that brought the world the Vikings and the Nobel Prize. Swedes are known for their clever and simple styles, and this game is simple and stylistic but utilizes deep strategy and logic. Introduced in Sweden in 2004, it won the prestigious "Game of the Year" award in that country in 2005. Each game is handcrafted of wood and aluminum in a choice of three colors and includes glass marbles. "I'd buy one for myself, actually," said Debbie Scholl, owner of Fundamentally Toys in Houston, who called the game "cool." Her first shipment had just arrived at the end of October. A fifth of retailers interviewed by
TDmonthly
after Toy Fair had already ordered the game.
— Pentago was a top seller at
The Toy Shop of Concord
in Concord, Mass., in December 2009, according to Owner David Hesel. "They have a working display, and we've sold 300 to 400 this year because they understand how to reach the customer," Hesel said.
Watch Games Expo Video
ToyDirectory Product ID#: 8123
(added 6/2/2006)
.
Catalog Request Form
Writer's Bio:
Claudia Newcorn has been a freelance writer and editor for over 10 years, after having spent more than a decade in marketing and product management. She writes for both businesses and individual clients, crafting copy, content and advertising. Her articles appear in newspapers, magazines and specialty publications nationwide (www.acornmarketing.com). She is also the author of an award-winning fantasy fiction book, "Crossover," and several published short stories (www.claudianewcorn.com).
Read more articles by this author


Advertisement: