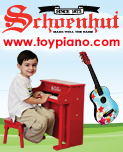 Article Tools:








Summary of Online Toy Reviews
TD Scout Shares Positive Consumer Reviews from Thousands of Websites
TDmonthly Magazine's Review Scout scours the Web weekly for reviews of new and hot products so you don't have to spend your time searching. Out of thousands of blog, retail and other sites, his research uncovers toys, games and other gifts that are worthy of your attention now. Check this space for briefs on reviews and ratings from across the nation and even the globe.

In light of the continuing economic crisis, financial responsibility is a hot topic. Many parents want to provide their children with good financial sense, but that can be a difficult subject. The Money Savvy Pig by MONEY SAVVY GENERATION and Moonjar Classic Moneybox by MOONJAR teach the basics of banking in a visually stimulating way kids readily embrace. See reviews on these and other products below.
.
.
.
.
.
Catalog Request Form


Advertisement: