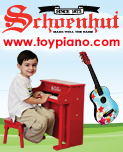 Article Tools:








Kids Play House With KidKraft and Melissa & Doug
Retailers Balance Space Issues With Service and Special Orders
With additional reporting by Terri Hughes-Lazzell, Chris Lundy, Claudia Newcorn and Brenda Ruggiero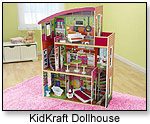 Children's furnishings and playhouses can enrich a play environment, but cost and size prohibit many specialty stores from carrying them, 21 of 43 retailers indicated in a recent TDmonthly Magazine survey.

"Unless you have the room to house a large variety, people will come in, look at the one or two pieces you sell, and if they're not quite sure what they had in mind, they'll look elsewhere," said Michelle Bears, owner of The Toy Store in Highlands, N.C.

When every square foot and spare dollar counts, even doll houses can leave a storeowner wondering if space could be better utilized. Retailers that do decide to stock these items — capitalizing on lines from KidKraft, Melissa & Doug, Guidecraft and Nilo — take different approaches to ensure their success:

Show Catalogs. In Donna Frederick's 800-sq.-ft. Durham, N.C., store, The Play House, she offers a catalog in addition to displays, and is careful to order only what is needed.

Assemble It. Shawntá Ray, owner of Happy Up Inc., which spans three stores in Illinois and Missouri, prefers to pre-assemble kitchens, rocking chairs, tables and other items in her store.

"If it's doing great in my store with 100 kids playing on it, it's going to do great in your house with your two kids, she told TDmonthly. "It's really a benefit for customers to have it here, not have to pay a shipping fee, and get it assembled."


Find Other Uses. When space becomes a concern, Janet Gregory gets the most out of her Anchorage, Alaska, store, Over the Rainbow Toys, by making displays serve dual purposes. "Our Nilo display table is also our store's play table with other items on it," said Gregory, who mixes assembled displays with boxed items and catalogs.

Stores of all shapes and sizes may accommodate furniture and playhouse items with the right mixture of hands-on samples, visual advertising, and smart storage. Of retailers who told TDmonthly they do sell furniture and playhouse items, these brands stood out as the best sellers: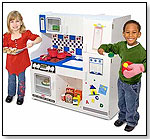 This large wood kitchen from Melissa & Doug is printed with bright graphics and loaded with pretend amenities so kids can take their role-play to the next level. Cabinets for storage above and below the sink, a refrigerator, oven, sink, stove and microwave are designed to accommodate hours of creative storytelling.
― Five of 43 retailers told
TDmonthly
Melissa & Doug is a best-selling line during a May 2010 survey on best-selling furniture and play house items.
— In a May 2012 survey, John Taylor, owner of
O.P Taylor's
in Brevard, N.C., told
TDmonthly
that this is their best selling furniture/play house item.
ToyDirectory Product ID#: 29024
(added 6/22/2010)
.
Constructed of sturdy wood with bright primary colors, this kitchen island comes with four major appliances and accessories. Multiple children can play together, sharing pretend household tasks at the stove, microwave, sink and oven. Turning nobs, opening doors, shakers and utensils add to the fun.
― "We do well with KidKraft kitchens and playhouses. We sell them year-round and offer free assembly," said Shawntá Ray, owner of
Happy Up Inc
in Edwardsville, Ill., when asked about her best-selling furniture and playhouse items during a May 2010 survey.
― Four of 48 retailers told
TDmonthly
in spring 2010 that KidKraft is a best-selling playhouse and furniture brand in their stores.
ToyDirectory Product ID#: 29025
(added 6/22/2010)
.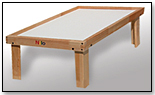 This 50.5" long by 34.5" wide by 20" tall solid hardwood table has a double-sided white melamine surface that is easy to clean and fantastic for puzzles, Play-Doh, arts and crafts. In addition, the table comes with an easy to clean, light-weight plastic play mat with detailed digital graphics that include roads/trails, airstrips, trees, rocks, grass, beaches and water. The table railing includes a number of holes that allows for an expanding line of playtime accessories. This table is featured in specialty toys stores only, no mass market stores! It is also the only train/activity table that allows a child to sit with their legs comfortably under the table! Its the number one table in the specialty market!
— "We have Nilo play tables," Chuck Harper, owner of
Explorations Inc.
in Granger, Ind., told
TDmonthly
when asked about his best-selling children's furniture in May 2009.
― Three of 48 retailers surveyed in May 2010 listed Nilo as their best-selling furniture item.
ToyDirectory Product ID#: 3306
(added 3/25/2005)
.
With crisp, elegant lines, durable construction, and a clean white paint job, this kids' room basic goes easily from play to crafts to snacks and back. The 28"-square table is 21" high, and the two chairs have 12" high seats to accommodate little ones but not be so short that an older child will be uncomfortable.
― Of 48 retailers who participated in a May 2010 survey, two named GuideCraft as their top-selling furniture brand for kids.
— In a May 2012 survey about furniture and playhouses, three of 11 retailers told TDmonthly that Guidecraft was their best selling brand in the category.
ToyDirectory Product ID#: 29026
(added 6/22/2010)
.
A wide base and low center of gravity are utilized to make this sturdy wooden step stool easy to use and safe from tipping over. The top flips open on heavy-duty, no-pinch hinges for a little extra storage that is easy for kids to reach and access.
― "KidKraft natural wooden furniture, the Step 'N Store," said Sandy Challinor, owner of
Owl's Nest Toy Store
in Southlake, Texas, when asked about her best-selling furniture during a May 2010 survey.
— In a May 2012 survey, Donna Frederick, owner of
The Play House Toy Store
in Durham, N.C., told
TDmonthly
that they sell 2-3 step stools each month. "This is a big first year birthday present," she explained.
ToyDirectory Product ID#: 29027
(added 6/22/2010)
.
Catalog Request Form

Writer's Bio:
Marie Raven has a long history with the specialty toy industry as a family business. In addition to freelancing for TDmonthly Magazine, she writes creative and technical material for various other businesses.
Read more articles by this author


Advertisement: