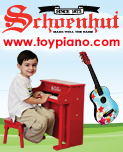 Article Tools:








TDmonthly Top Toy Award Winners January 2012
TDmonthly Honors 8 Innovative and High-Quality Products
TDmonthly Magazine is excited to announce our TDmonthly Top Toy Award winners for January 2012. TDmonthly has selected these high-quality, innovative products with high play value to feature to our 14,600 retailer subscribers, as well as our unique monthly online visitors, to help retailers and consumers make the best possible choices when deciding which toys to buy.

The TDmonthly Top Toy Award winners for January 2012 are:

Trigger from BLUE ORANGE GAMES

Master Kitz - The Starry Night by Vincent van Gogh from KIDZAW INC

Palette from FAT BRAIN TOY CO.

Codigo Cube from FOUR CLOWNS GAME & TOY CO. LLC

Chip Taylor and the Grandkids - Golden Kids Rules from SMITHSONIAN FOLKWAYS RECORDINGS

Laser Pegs 3-D Lite Board from Laser Pegs Ventures, LLC

Coloraturo from LEARNING MATERIALS WORKSHOP

Weird & Wacky Contraption Lab from SMARTLAB TOYS

(See full descriptions of these winning products at the end of this article)

No nominees or winners paid a submission fee to be considered or chosen, and we strictly limited the number of award winners, evaluating products based on the above criteria, as well as favorable review from retailers, consumers, experts or TDmonthly staff.

For more information on submitting your products for awards consideration, see this article.
.
.
.
.
.
.
.
.
Catalog Request Form


Advertisement: