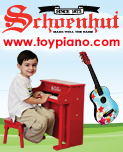 Article Tools:








20 Top-Selling Mass-Market Toys
You may sell specialty, but it's important to watch the mass-market to keep abreast of new trends and get tipped off early if your own best-sellers are "crossing over", like the popular Bananagrams. TDmonthly Magazine will be updating our list of mass-market top-sellers weekly to make this job easier for you.
13" Soft, huggable plush. Push Chica's belly and she squeaks. Clean with a damp, soapy cloth and fluff dry. Launch date: November 2011.
.
.
.
.
.
.
.
Kids can use this stylish case to hold their LeapPad Explorer and 6 game cartridges (fits cartridges for LeapPad Explorer and Leapster Explorer systems). Launch date: 2011.
.
.
.
.
.
.
.
.
.
.
.
.
Experience a whole new twist on accessory design with the Umagine Bizu Bead Style Studio. This must—have style center lets kids store, select and dispense their Bizu collection, making them the designer. With over 15,000 combinations, the Style Studio rotating tower allows kids to inventory their Bizu collection and create new fashionable accessories. Follow the trend by making Glam, Rock, Wild, or Funky styles, then become the trendsetter by mixing and matching to create an entirely new look. Create 4 stylish bracelets, link 3 together to make a necklace, or set the style with cool backpack and cell phone accessories. Includes Style Studio rotating tower, 40 beads (including 4 character heads), 4 elastic bands with toggle clasps, 1 beading tool, 2 clips, 4 character template cards and 1 instruction guide.
.
Catalog Request Form


Advertisement: