Article Tools:








Q&A With Jeff Kinney, Author of Diary of a Wimpy Kid
Jeff Kinney, author of the Diary of a Wimpy Kid series, took the time to chat with TDmonthly about his books, how he became an author, and how he hopes his books help kids learn to love reading.

Q. What career path did you originally envision for yourself? Did you ever anticipate working as a children's book author?

A. In college, I had planned on becoming an ATF agent. So the idea of becoming a children's author was far from my mind!

Q. How did you come up with the idea for your first Diary of a Wimpy Kid Book?

A. After college I decided to try my hand at becoming a newspaper cartoonist. I spent about three years getting rejection letters. Eventually I realized that I drew like a kid, so I decided to embrace that. That's when Greg Heffley was born.

Q. What steps did you need to take to go from the original spark of an idea to getting it published? How long did it take?

A. I spent about eight years working out my ideas. I knew I had a good concept, and I wanted to let it breathe. So I took my time and did it right.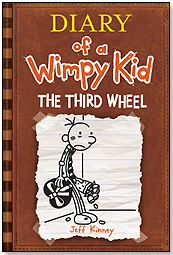 Q. What charitable organizations have you worked with in the past?

A. I've worked with various organizations such as Big Brothers/Big Sisters, the Boy Scouts of America, several cancer organizations and the Barbara Bush Reading Foundation.

Q. Why did you choose to work with these particular charities?

A. I try to align myself with charities to fit my values and interests. I served as a Big Brother for three years in my 20s.

Q. Greg Heffley isn't exactly an angel - he's always trying to worm his way out of his responsibilities. What do you hope kids learn from Greg?

A. I don't know if I hope kids learn anything from Greg. Greg's flaws are meant to be humorous. If kids take anything away from my books, I hope it's that reading can be fun!

Q. What do you consider to be your greatest accomplishment as an author? Why?

A. I think getting published was my greatest accomplishment. I didn't think I would ever break into publishing in any way.

Q. How do you hope your books affect kids' lives?

A. I hope kids learn to love reading and humor.

Q. Is there anything else you'd like to share with our readers?

A. Yes! I'd encourage kids to create something on their own. Creating something is a great feeling and it's contagious.







.

AD
---






.

AD
---






Diary of a Wimpy Kid has become a phenomenon. It started online and then moved to the The New York Times best-selling book series by author/illustrator Jeff Kinney. The first of two 20th Century Fox movies was released in early 2010, with a second due out in spring 2011. Wimpy Kid Greg even flew fly high in the 2010 Macy's Thanksgiving Day Parade for the first time. In this latest book, Greg Heffley is having second thoughts about growing up fast. Greg suddenly finds himself dealing with the pressures of boy-girl parties, increased responsibilities, and even the awkward changes that come with getting older—all without his best friend, Rowley, at his side. Can Greg make it through on his own? Or will he have to face the "ugly truth"? Hardcover, 224 pages.

.

AD
---






It's summer vacation, the weather's great, and all the kids are having fun outside. So where's Greg Heffley? Inside his house, playing video games with the shades drawn. Greg, a self-confessed "indoor person," is living out his ultimate summer fantasy: no responsibilities and no rules. But Greg's mom has a different vision for an ideal summer..one packed with outdoor activities and "family togetherness." Whose vision will win out? Or will a new addition to the Heffley family change everything? Launch date: October 12, 2009.

.

AD
---






Let's face it: Greg Heffley will never change his wimpy ways. Somebody just needs to explain that to Greg's father. You see, Frank Heffley actually thinks he can get his son to toughen up, and he enlists Greg in organized sports and other "manly"¯ endeavors. Of course, Greg is able to easily sidestep his father's efforts to change him. But when Greg's dad threatens to send him to military academy, Greg realizes he has to shape up...or get shipped out. Launch date: January 2009.

.

AD
---






In this follow up to the #1 New York Times Bestseller "Diary of a Wimpy Kid," Greg enters a new year in his middle school. He is eager to put his embarrassing summer behind him, but his brother Rodrick is ready to tell all, should Greg step out of line. Launch date: February 2008.

.

AD
---






.

AD
---
Catalog Request Form
THIS BANNER IS AN AD:
---
---


Advertisement: