Design Inspiration

A Stuffing Success: Inventor Brings Improved Teddy Bear Stuffer to Retailers
By Jeremy Loudenback
June 2003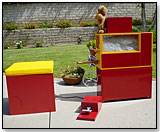 Mini Portable Teddy Bear Stuffer
Using his own experiences as a retailer and a pinch of innovation, Stanley Block has invented a new device that affords retailers the opportunity to cheaply produce and market thousands of different Teddy Bear creations. His brainchild, the brand-new Mini Portable Teddy Bear Stuffer, gives retailers the opportunity to customize Teddy Bear designs at a store or on location at an event like a fair or a birthday party.
Stuffed Animal
Just over three years ago, Block was running a flourishing retail business in the Silicon Valley using an existing plush stuffing machine to create customized Teddy Bears and Plush items for a variety of events. Intrigued by the opportunity to improve the design of the cumbersome, noisy stuffing machine, Block closed down his retail store in 2000. Spending winter perfecting a new model, he debuted a prototype Teddy Bear Stuffer in March 2001 for his company, Teddy Bear Stuffers and sold more than 200 of the stuffing machines.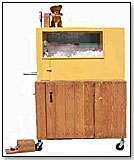 Standard Teddy Bear Stuffer
But Block wasn't finished. Most existing stuffing machines top 800 lbs., and Block wanted to give retailers an opportunity to take the different creative possibilities of the Standard Teddy Bear Stuffer and bring them to new retail markets: at carnivals, fairs, birthday parties and other special events.
Block spent several frustrating months trying to incorporate the successful features of the original into a model designed for outdoor use. Prototype after prototype dismally failed to meet Block's rigorous standards before he finally hit upon the current model earlier this year. The Mini Portable Stuffer weighs in at only 200 lbs. and breaks down into three pieces, the heaviest weighing a reasonable 80 lbs. Despite its smaller dimensions, the Mini Portable Stuffer can stuff up to 20 bears an hour.
Block says the inspiration behind creating the new machine came from his experience watching older stuffing machines that were usually loud and used the unwieldy 208-volt picker to operate.

Teddy Bear
Retailers now have access to a full line of bearskins, outfits and accessories, as well as the two types of stuffing machines.
"We're continually refreshing our product lines," says Block. "We have over 60 animal designs and over 150 designs, with many more coming out all the time."
Support for the Stuffers includes a whole host of operational and customer service support. In addition to detailed instructional manuals, Teddy Bear Stuffers also offers retailers carry-out cradles, stuffing, birth certificates and coloring puzzles to bring to a festive event like a birthday party.

The Stuffer has garnered sizeable interest from many different kinds of merchants.
"A lot of our clients are people who own gift stores or people who are looking to add on to their business," Block says. "We also have many people in the Fair industry as well as the Mall Carts business."

With orders already pouring in for his Mini Portable Stuffer, Block is prepared to ship the first sets this summer. Block is confident that despite an ever-crowded market for plush items, the Teddy Bear is poised to maintain its reign of popularity as America's favorite.

---
---