The Wireless World of Remote Controlled Toys
By Karen Mendez Smith
June 2003



Whether you like to take to the air, sea or road, this year's remote control vehicles feed the need for speed on any terrain.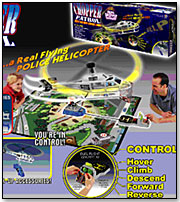 Jasman's 8" Remote Control Chopper Patrol
Up, Up and Away

Make sizzling spirals and 300 feet-high upside-down battle rolls with Wow Wee's Power Air Surfer High Performance Bi-Plane ($49.99), for ages 8 and up. Kids 5 and up will have a blast with Jasman's 8" Remote Control Chopper Patrol flying police helicopter play set ($19.99), which comes with a 48" color play-mat and accessories, such as fold-up buildings, all kinds of vehicles and a nifty hook for airlifting stuff.
Flight Drama
Take off and land on any surface with the easily assembled Mega Stealth II ($199.99) from Mega Tech (ToyFairPreview). It features a 3-channel transmitter, rechargeable flight pack and DC peak detection quick chargers. With a four-foot wingspan and a range of a half mile, it's sure to be a dynamic addition to the skies.
Water Wings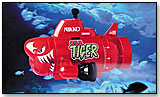 Seatiger Mini Sub
Power over land or sea on a cushion of air with TA/YO Edge's Hovercraft ($89.99), for ages 8 and up. With three motors and a nine-function radio control, all systems are "go." Plumb the depths of the tub or fish bowl with the Seatiger Mini Sub from Nikko America Inc. (ToyDirectory) for ages 6 and up ($49.99), or dive to six feet and turn on a dime with Mega Tech's Ocean Explorer I ($79.99), with twin engines and real running lights.
Making Tracks

Parma International School Bus

Kids 5 and up will love Mega Tech's Mega Turbo Racers ($19.99), fully functioning vehicles with real rubber tires, that come in a can. New from Parma International is the 1/10 Skool Bus ($26.99), a monster of a truck with an extensive decal set.
With an aluminum chassis, two-channel pistol grip radio system and four-wheel drive, Mega Tech's 1/10 Tempest Gladiator truck ($149.99) is ready to take on the toughest terrain. And don't forget that trains have gone the wireless route, too. Scientific Toys' five-piece Wireless Remote Coastal Express G-gauge Train Set ($39.99), will keep kids ages 4 and up fascinated for years to come.

Writer's Bio: Karen Mendez Smith has been involved in children's media for over twenty years as a literary agent, writer, and creator of animated television and film. Co-founder of Satori Organics and M/Path Press, she is a parent to eight children and five incredible grandchildren (and counting).


To view recent industry sales figures for Remote Control Toys, Click Here

---
---