Kids' Art Kits: Beyond the Refrigerator Gallery
By Janie Franz
June 2003




Kids are known for creating art out of anything from pencil erasers to toilet paper tubes. But when faced with colored pencils that won't blend or watercolors that don't dissolve, even a budding Van Gogh can become discouraged.

Beginning Explorations
A basic art kit for children should include an assortment of drawing and painting supplies. Some standouts are Lumograph Design Pencils Set (set of 12 high-quality drawing pencils, $9.45), Verithin Colored Pencil Sets (24 pencils, $11.52), Artist Pastels (24 pencils, $15.50) and Stone Brand Water Color Paints (four oz bottles of liquid water color base, $21-$34 each).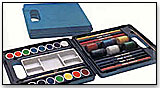 Prang's Painting Case
Prang's Painting Case ($22.99) is a good painting kit for young children. It contains six jars of tempera paint, 16 solid watercolors, eight brush pens, drawing pencil, brushes and tray, all packed into a compact case.
Advanced Experiments


Artsonia's Creativity Art Kits
More advanced kits include a wider range of media. Artsonia's Creativity Art Kits for kids ages 9-13 and 13-18 ($29.99 each) both have oil pastels, basic pastels, watercolor pencils, paper and instructions. Their Inspiration Kit for 13-to18-year-olds ($49.99 each) is a larger sized version of the Creativity Kit, but includes a sketchbook. Artsonia's Empowerment Art Kits ($89.99), also for ages 13-18, is a more sophisticated set that includes two sketchbooks, acrylics, a canvas panel and a palette. All Artsonia kits come with instructions.




Jon Gnagy Master Art Set
Good basic drawing kits are still available from Jon Gnagy, the TV drawing instructor of the 1950s. These kits contain paper, drawing pencils, eraser, paper shading stump, sharpener and step-by-step instructions. A starter kit costs $13.99 and the Jon Gnagy Master Art Set, which includes watercolors, brushes, oil pastels, and four instruction booklets in addition to the basics, retails for $29.99.




Kohinoor's Sketchers Set
The Reeves Maxi Colour Box ($49.95) offers colored pencils, graphite pencils, oil pastels, watercolors, brushes, eraser and sharpeners in a wooden case. Kohinoor's Sketchers Set ($60 in a metal case, $125 in a wooden case) is filled with pastels, graphite pencils, charcoal, and mechanical pencils and leads. Fantasia's Sketch Art Box ($55.95) is a wooden box full of art pastels, pastel pencils, charcoal pencils, drawing pencils and charcoal. Reeves Acrylic Paint Set ($64.00) contains 26 tubes of paint, brushes, pencils, eraser, sharpener, palette and an 80-page instruction book, packed into a wooden box.

Liquitex

Smaller collections are available for specific artistic interests, such as Liquitex, which offers a 6-tube set of acrylic paints for $29.85. Many watercolor sets are also available for young artists: Grumbacher Academy Artist Watercolor Set (10 tubes, brush, and palette for $26.39), Kol Watercolor Set (12 tubes, $20.00), and Niji Watercolor Sets (12 tubes, $5.95; 18 tubes, $8.49).

Writer's Bio: The mother of two grown children (an artist and a musician), writer Janie Franz once was a radio announcer and did booking for a rock band.


To view recent industry sales figures for Arts and Crafts, Click Here

---
---