Tween Style is Making Waves
By TDmonthly Staff
June 2003



The Bedroom Fortress…
As the inner sanctum for entertainment, daydreaming and hanging with friends, a Tween girl's bedroom is extremely personal, meant to reflect her emerging identity as she searches for affiliation with a peer group. With 27.6 million 8-to 14-year-olds in the United States--poised somewhere between Harry Potter and Linkin Park--it's estimated that Tweens spend $10 billion annually and influence an additional $74 billion of family spending, according to Teenage Research Unlimited.


PB Teen Dresser
Companies including DOM, Dry Ice, Delia's and the soon-to-be launched Pottery Barn for Tweens & Teens are building on the successes of adult bedroom-décor departments, recognizing the numerous opportunities for girls to personalize their living environment. PBteen, Pottery Barn's new magazine for Teens/Tweens, offers products to fit nine personality types--including glamor girl, surfer, bohemian and sportster--in five key product categories: furniture, rugs, lighting, bedding and accessories.
The surfer theme includes a cool Surfboard Headboard, Island Fever Pillow and Photo-Reel Lamps showcasing real-life photos of surfers. Also from Pottery Barn is the Shadowbox Furniture Collection, which includes a bed and bedside table. The set offers a blank canvas for the Tween to show off her own artistic ability and add an individual touch with pictures, awards or drawings.
Bratz fashion dolls' creator MGA Entertainment is also targeting Tweens with their new bedroom décor, including a Dream Pillow with a Journal and Pen Set by FAB set for a November launch in Target. There's also a bedding program by Franco Manufacturing expected to arrive at Target Sept. 1. Hot Delia's items include picture pillows, fake-fur computer covers, cell-phone holders, pink and orange sheets—all for $15 or under.
Girls & Their Pets
"The ties that girls forge with their pets are often among the most significant bonds of childhood, as deeply affecting as those with parents, sibling and friends."
Dr. Gail Melson, Department of Child Development & Family Studies, Purdue University
While an overwhelming 75% of US households with children have at least one pet, in fact…
It is more common for a child to have a pet than to have a little brother or sister.
From birth to age 18, a child is more likely to have a pet than to have both parents in the home continuously.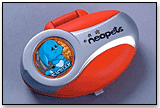 Hasbro Pocket Neo Pets
Banking on Tween girls' love of animals, Hasbro's My Little Pony brand has been lovingly updated for 2003 with Little Pony Glitter Celebration Ponies, fulfilling the Tween desire to mold her own identity with four unique horses: Sunny Daze, Wysteria, Sweetberry and Rainbow Dash ($9.99 each).

As gender differences emerge during childhood, boys are less likely than girls to make use of nurturing opportunities. It is not surprising that girls are more drawn to practicing and developing these relationship skills with pets, whether real, stuffed or imaginary.


Furreal Friends Go Go Walkin' Pup
Hasbro's Furreal Friends line was one of 2002's blockbuster toy introductions, and their upcoming Furreal Friends Go Go My Walkin' Pup ($49.99), a line of electronic plush animals that compellingly mimics real household pets through life-like organic movements and sounds, is sure to follow suit.
The #1 Tween-ranked website? Neopets.com--a virtual community of pets requiring frequent attention from their owners, who must feed, educate and keep them out of harm's way. Hasbro's Pocket Neo Pets ($14.99) allows kids to access their virtual pet's digital environment with three modes of play. The set includes four games and a collectable biography card.

---
---