TDmonthly Toy Giveaway Sweepstakes for Storeowners

There is no sweepstakes this week. Please check back soon.

Retailers: If you have not previously registered with ToyDirectory.com/TDmonthly.com, please click here to create a free account. That way, we will be able to notify you directly of the next available Toy Giveaway Sweepstakes related to product categories you've expressed interest in for your store.
You must be a retailer in order to enter the TDmonthly Toy Giveaway Sweepstakes. ToyDirectory.com/TDmonthly.com will confirm the legitimacy of retailers before they are declared Sweepstakes winners. No purchase necessary. Official rules here.
For information on having your products featured in TDmonthly's Toy Giveaway Sweepstakes for Storeowners, please call 424-272-6854.
Previous Giveaway Winners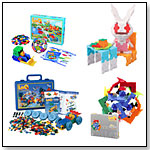 LaQ Prize Package by LaQ USA, Inc.
LaQ Free Style Pallet - The distinctive shape and clever angles of the 1,000 pieces in this kit open numerous possibilities for hours of creative fun. The parts make a snapping noise when pieced together.
LaQ Art and Hobby Construction Kit: Basic HAMACRON - This construction kit comes in a plastic carrying case that snaps closed and has a handle on the top. It features more than 650 pieces, including wheels and connectors to build moveable models. Projects include a water mill house, a merry-go-round, a car, a helicopter and a sports car.
LaQ Basic 3 - This 650-piece set includes all seven types of LaQ blocks with a balanced number of pieces in the six basic colors of red, blue, yellow, green, white and black. It includes a Starter Instruction Book and Collection 1 Instruction Book so beginners can create a variety of LaQ models.
LaQ Mini Kit Bunny - This 175-piece kit can be used to create the following items: bunny, flower, pencil box, picture frame, coasters, eyeglasses, play house set, and ring and bracelet.
RETAIL VALUE: $194
On their first order of LaQ products, winners will enjoy no minimums, free shipping, and free tryout parts to use as samples in their stores.
5 WINNERS FOR THIS GIVEAWAY!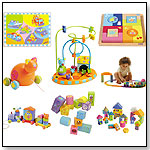 Boikido Prize Package by BOIKIDO
Four Seasons Block Puzzle - This eco-friendly puzzle is made of wood from FSC-monitored sources, painted with water-based paints, packaged in a box made of recycled materials, and printed with soy bean ink. It received a 2009 Parents' Choice Approved Award.; My First Train Set - Specially designed for preschoolers, this wooden train has building blocks and tracks that encourage imagination, and electronic sounds on the locomotive for added entertainment.; Shapes Train - This multi-activity and multi-character train set functions as classical building blocks and a train set. Kids can learn shapes, colors and characters as they develop motor skills. The pull-along feature encourages walking.; Cat Pull Toy - This pull-along friend makes a click-clack sound and is designed to encourage walking.; Vehicle Sound Puzzle - This colorful puzzle is designed to help kids learn different vehicles and has sound elements to encourage learning.; Musical Blocks - This 12-piece set of colorful blocks has musical elements to add to the fun.; 30-piece Block Set - These colorful wooden blocks come with a storage bag and are designed to develop motor and problem-solving skills while teaching shapes.; Mouse Family Maze - This maze features a magnetic stacking mouse, a wooden mouse house, three track coaster mice and two bead wire mazes.; RETAIL VALUE: $235+ Winners' orders will enjoy a one-time 20% discount on the entire line (no other discounts or freight allowance given). Credit card payment before shipment is required.
Winners from 6/21/09:
1. Driana Pearlman, Amazing Spiral Books, Comics, Toys & More, Baltimore, MD
2. Marsha Shell, Marsha's Place, Star City, AR
3. Maggie Brown, 5 Lil Monkeys, Astoria, OR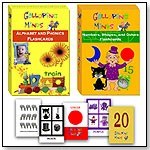 Alphabet and Phonics Flash Cards (2 sets) and Numbers, Shapes and Colors Flash Cards (1 set) by GALLOPING MINDS
The Alphabet Flash Cards display engaging images with uppercase and lowercase letter recognition and over 70 simple words to facilitate reading. The Phonics Flash Cards have over 100 words that help young children build phonics skills. Galloping Minds Numbers, Shapes and Colors Flash Cards offer a way to teach and reinforce numbers, counting, shapes and color recognition for preschoolers. Eleven basic shapes, 11 colors, and numbers and counting from 1 to 20 are covered. Each flash card is post-card size, features quality photography, and is laminated to prevent damage. In addition to home use, the sets may be used in the classroom and at daycare centers. The flashcards have received the following awards: Dr. Toy's 10 Best Educational Products and 100 Best Children's Products for 2008.
— In addition to the prize shown, winning retailers will receive a 5% discount and free shipping on their first order of Galloping Minds products.

Winners for the week of 5/11/09:

1. Susan Miceli, Purple Daisy Kids, Powell, OH
2. Marsha Shell, Marsha's Place, Star City, AR
3. Sandra Happeny, Learn & Play House, Allendale, MI
4. Becky Dolan, Magellan's Toy Shop, Seattle, WA
5. Nick Ashmore, Toy Castle, Texarkana, TX
6. Kimberly Harris, Minky Monkey Toys, Mammoth Lakes, CA
7. Kristin Scully, NEST Maternity & Baby Boutique, Portsmouth, NH
8. Brenda Shults, Addison Pilot Shop, Addison, TX
9. Diane George, Mini Inspirations, Parker, AZ
10. Jennifer Shuman, Active Kids Educational Toys, El Paso, TX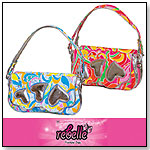 Rebelle Butterfly Friendship Bags - Fuschia and Blue by REBELLE INC.
Each Friendship Bag unzips to become two bags that can be shared between best friends. Girls can exchange halves to create a dual-colored bag that symbolizes that they are BFFs. Each handbag also contains a secret code, which gives its owner special access to the Rebelle website and the Rebelle Girlz — Holly, Rosie Shaye, Lola, Allegra, Sophie and Kaia — six girls from around the world who met at summer camp and instantly became best friends forever.
— In addition to the prize shown, winners will receive a 5% discount on any first-time order of Rebelle Friendship Bags.

Winners for the week of 5/4/09:

1. Kimberly Emigh, Growing Tree Toys, State College, PA
2. Cindy Thul, Party Animals, Elburn, IL
3. Kristin Scully, NEST Maternity & Baby Boutique, Portsmouth, NH
4. Su Landen, Poopsies, Galena, IL
5. Diane George, Mini Inspirations, Parker, AZ
6. Maureen Lachapelle, All About Imagination, East Greenwich, RI
7. Ron Manoviec, Party Maniacs, Romeo, MI
8. Deborah Cracovia, antiquenvintage, Nyack, NY
9. Sandra Happeny, Learn & Play House, Allendale, MI
10. Marsha Shell, Marsha's Place, Star City, AR