---
Why We Love TOYDIRECTORY and TDmonthly
Read Dozens of Success Stories
Don't believe the hype? What about a peer? If you want to know how TOYDIRECTORY and TDmonthly Magazine help hundreds of specialty toy manufacturers and retailers build their businesses, just read what they have to say in their own words. You can even hear some of them speak the words aloud; just click on the "Watch Video" links!



INCREASED EXPOSURE AND SALES:


"The videos are well done and more than worth the cost [of the Toy Fair package]. We really appreciated it." — Steve Boss, C&I Collectibles

"Our sponsorship of ToyDirectory.com got us quality leads and sales." — Adrien Broussard, Games Workshop


"Our contribution of 100 toy pianos in TDmonthly's 2010 Charitable Kid contest targeting children in need was such a heart-warming experience that we are overjoyed to participate again...We sincerely hope that colleagues in the toy industry will jump on TDmonthly's very worthwhile charitable bandwagon, providing encouragement and joy to impoverished children." — Renee Trinca, president, Schoenhut Piano Co


"I received a call this afternoon from an account who had not ordered from us since 2007 who said they saw our ad in the guide [TDmonthly Buyer's Guide]. They placed the order using our special"
— Melinda Voelcker, MONEY SAVVY GENERATION, INC.


"TDmonthly has been an excellent vehicle to get information out to both retailers and consumers … We constantly hear from consumers that they've seen the TDmonthly spots. …"
— Beau James, Corolle Dolls

"Your site brings me tons of traffic. Keep it up. I'm willing to go on record saying that!"
— John Capriola, Capriola Corporation


"It's a very cost-effective way to get my message out to retailers. Very, very, very cost effective! ... I can't say that enough. I'm really happy with their sales staff and everyone and their patience with me ... Overall, a very satisfied customer!" — Cathie Cashman, Swatch Group (Watch her video, right)

"We've advertised for TDmonthly for the ASTRA show and seen an instant increase in our traffic to our site. We've gotten dozens of hits … that were flagged from TDmonthly and it was a positive experience for us."— Daniel Monahan, Dano2 (Hear more in Daniel's video, right)

"…We've seen quite a bit of people responding [to our ads]... It's been a great resource for us and we're looking forward to using it in the future and would recommend it for anybody else in this industry
to use them as well." — Michael Richie, Mindtwister USA (watch his video, left)

"We have been advertising with TDmonthly for over a year and have received a lot of good leads from them... We have also been a sponsor for them. … Go ahead and advertise with TDmonthly, because you'll see results."— Ed Kuntzman, Imaginatives (Hear more in Ed's video, right)



"We use TDmonthly and find it to be a very helpful service to spread the word about our new products and existing line. They are very persistent in helping us to make sure that we're creating news ... We are really pleased with the support they've provided us in the past and look forward to having them help us in the future." — Robin Lehnert, HaPe International (Watch Robin's video, left)

"Just Jump It has not done a whole lot of advertising over the years, but the one place we always do advertise is with TDmonthly... We have a 3-month promotion going with a skyscraper banner that gets lots of hits. We've seen business come directly from the website … We're also doing a fourth-quarter promotion where a mailer goes out to, I believe, 2,000 retailers …"— Chris Kalberer, Just Jump It (See video, right)



"TDmonthly is a wonderful magazine, a wonderful website. They've helped us so much [to] sell our products and be really helpful in getting us out there and getting our name out there. …"— Brooke Sherman, Kid O Products (See video, left)



"Several years ago, when I first started out, I found TDmonthly to be an invaluable tool to me as an inventor. … It was the go-to place for me for informative articles [and] contacts in the industry." — Mary Kay Russell, Kubit2Me (See video, right)



"We love the press that we get from TDmonthly…"— Beaver Raymond, Marshmallow Fun (See video, left)



"Here to talk about TDmonthly and how they raise awareness of our products, their beautiful videos and a great website." — Alexander Pariente, Safari Ltd. (See video, right)



"One thing TDmonthly has done for us is to get out and have people that are within our audience, our customers, other people in our industry, where we can clearly send a message about who we are, what we're doing and what our objectives are ... It's a pleasure to work with TDmonthly and we'll continue to do so in the future."
— Scott Severson, The Shrunks Family Toy Co. (See video, left)



"We use TDmonthly on a regular basis. It provides us all kinds of background information on the marketplace ..."— Richard Gill, Discovery Bay Games (See video, right)
"We use them to gather some of our leads ..... I highly recommend small businesses to use TDmonthly." — Bob Knight, Find It Games, 2009 (see video, left)

"TDmonthly is absolutely fabulous! It's a terrific portal for manufacturers to connect with the retailers. And it's a great way to get their products out and for the retailers to find out about it."
— Meghan Ristau, Woodland Magic Imports (see video, right)


"We did well [at Toy Fair]. I think a lot of our traffic was generated by you guys. You built up a lot of interest ... " — Aimee Symington, president, Successful Kids (Hear more about Aimee's Toy Fair experience and TDmonthly by clicking on her video, right)

"I continue to do business with the TOYDIRECTORY over the last four years because I get results! — Stanley Block, president, Teddy Bear Stuffers

"ToyDirectory and TDmonthly Magazine offer Out of the Box a chance to present our

most current information to retailers. The publications also allow retailers to access our website directly from the source of information. A great service!" — Matt Mariani, former director of marketing, Out of the Box Publishing

"As a new player in the novelty toy business, Gibby Novelties was looking for an avenue in 2004 to assist us in getting the 'word out' to retailers and consumers about our doll and novelty lines. TOYDIRECTORY and TDmonthly Magazine have done a fantastic job in helping us develop and grow our business in the past few years! We could not have prospered and grown as rapidly as we have without their sales and marketing efforts, inside knowledge of the industry, and the consistent web exposure on our behalf! If you want to see immediate results, we highly recommend the use of their knowledge and expertise! — Daniel Gibby, owner of Gibby Novelties LLC


"Douglas Company has been working with TOYDIRECTORY and TDmonthly for several years. We appreciate the continuous visibility to our market and the many leads that have become new retailers as customers. As we all know, the specialty gift and toy market is significantly driven by web-based marketing. We appreciate complementing our print materials with the carefully targeted, well-executed, and prolific exposure that TOYDIRECTORY and TDmonthly offers. The TDmonthly and ToyDirectory staff are competent, kind, and eager to help...that is priceless. We thank you for a very positive relationship over the years." — Erika Radich, marketing manager, Douglas Cuddle Toys

"I have received many nice orders since joining forces with TOYDIRECTORY.com. The people I have worked with are delightful and I have never had a problem with them. They come very highly recommended by my company, which is a small publishing company." — Nancy Poffenberger, president, Fun Publishing Co.


"TOYDIRECTORY has been a great resource for our company. They are highly proactive and frequently provide coverage about our new products. And we love our Toy Show Preview and all the leads it generates! Through our relationship with TOYDIRECTORY, we have gotten smarter about our Internet presence. TOYDIRECTORY personnel are professional, prompt, consistent, smart, helpful and just plain nice. Their customer service is outstanding; their creative department is excellent [and] their professionalism and competency is top notch. And, they make us feel special. These days, that kind of customer service is truly rare. But the best thing I can say about TOYDIRECTORY is that when I Google my corporate name, I am now at the top of the page! Thank you, TOYDIRECTORY!" — Brenda de Jong, former owner, Small Miracles


"It is with pleasure that I have this opportunity to express my appreciation for TDmonthly's suggestions, guidance, and help at modest costs enabling Rolli-Rider to achieve international exposure. You and your staff have been remarkably unquestionably responsive. We do appreciate having had your help and partnership." — Noel Eberhardt, Rolli-Rider


"We have subscribed to TOYDIRECTORY for nearly two years. We are a distributor of high-end construction toys from Germany and of amazing brainteaser games from Taiwan. Virtually everything we sell has received numerous awards from the toy experts. We have tried print advertising and find that, in our experience, the responses are just not worth the expense. On the other hand, inquiries and orders resulting from TOYDIRECTORY have been well worth the relatively small amount of expense incurred. We find that their prices are more than reasonable, their attention to clients is way better than most (they really want to work with and for you), and they are very responsive to getting information updated, etc. They will actually chase you to make sure your information is current! Highly recommended with no reservations! — Tony Cross, president, Mic-O-Mic Americas Inc.

"Timeless Toys Inc. has used the services of TOYDIRECTORY for over two years. We have received three to four times more responses and interest in our products from potential Internet dealers and retailers who have found our site through TOYDIRECTORY in comparison to any other similar services that we have used. The personnel at ToyDirectory are very friendly, knowledgeable and responsive to our questions or special needs. I recommend them to any firm in need of improved Internet exposure." — Harold A. Nizamian, chairman & CEO, Timeless Toys Inc.


"Our listing in TOYDIRECTORY and TDmonthly Magazine has generated many quality leads over the last few years. Initially we planned to run our listing for just a few months, but 2 years later we are still there and receiving new leads every week...well worth the investment. The basic listings we subscribe to, together with many other services offered — email broadcasts, product reviews and video diaries — provide a cost-effective vehicle in promoting SaiZon and Stikfas products to many retailers we may not have otherwise approached." — Martin New, director of sales and channel marketing, Stikfas/SaiZon


"Wild Heart Ranch has been profiled on TOYDIRECTORY on an ongoing basis to generate sales leads and brand awareness. We have generated targeted leads that have translated into sales for us. As the toy industry transitions to more and more online sales, we feel having an online presence with TOYDIRECTORY is an effective online sales tool for us." — Dawn Van Zant, founder/director, Wild Heart Ranch Inc.


"I just wanted you to know that I received an inquiry today within 24 hours of your posting KAPLA on TOYDIRECTORY.com. That is quite efficient indeed." — Marjorie Israel Chayette, general partner, Kapla Toys


"We have had great success with our advertising dollars spent at TOYDIRECTORY. We consistently have visitors to our site who request information through our wholesale site. Those visitors have turned into real sales and become ongoing customers. The customer service and exceptional value TOYDIRECTORY offers keep us advertising with them!" — Susan Berns, Fairy Finery


"Fanny's Play House has subscribed to the different programs of TOYDIRECTORY.com for several years. We are a small company without a showroom or many sales representatives. TOYDIRECTORY.com gives us a lot of exposure to retail stores. We get inquiries regularly as a result, some of which lead to an order. I recommend their programs to small companies in particular." — Fanny Wong, former CEO, Fanny's Play House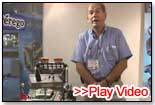 "TDmonthly has been very good for Peg Perego because it allows us to get a message out to the independent retailers ... Four-fifths of the products that we have can be sold effectively by the independents and they don't have to compete mano-a-mano, price-per-price with the big-box stores ..." — Kent Maxwell, Peg Perego, 2007 (Watch the rest of Kent's testimonial, taken at the Fall Toy Preview 2007)

"First of all, we would like to thank you for the great job you are doing. Since we opened our website www.dandme.com six years ago, approximately 98 percent of our web business is a result of our listing with you." — Don and Mary Hurley, owners, D and ME Wood Toys



"ToyDirectory has a fantastic product with their E-casts. They have really delivered results for our company. In addition, we feel their manufacturers' page and Toy Fair Previews are an important part of our marketing strategy." —Grant Cleveland, owner, DuneCraft Inc.

"I just wanted to let you know how happy I've been with the results from being listed on TOYDIRECTORY.com. The number of inquiries I have received have been phenomenal. The listing price is well worth every penny and I definitely want to renew my listing. Thank you!" —Suzanne, DOLL Essentials
"You guys really are the best. I know my budget isn't even close to what the "big boys" spend per year on advertising and marketing, however it is saying something that you guys are getting 85 percent of my total budget this year, and probably more of it next year. I appreciate your help very much, please know that! ... Leads from TOYDIRECTORY.com have resulted in a purchase rate of 2%. We are very happy with the results." —Joe Karsten, Adventure Products Inc.


"The Bear Mill has utilized TOYDIRECTORY for the past two years. I find advertising through TOYDIRECTORY to be a big asset to our company. ... My contacts through the TOYDIRECTORY continue to increase with every advertisement I place. Overall, the service we have encountered through the Toy Directory has been wonderful and we will continue to utilize them in the future." —Janis Fenton, co-founder, The Bear Mill

"We love TOYDIRECTORY.com. Our website has received many visitors from your directory. When we look around at the community you have established, and the consistent service and e-mails we receive, we are proud to be members of your site." — Maureen Gallagher, Galison Books
"I really appreciate being listed in TOYDIRECTORY.com. It seems to be a popular site, because we are getting many leads. Keep up your good work!" —Moshe Neurath, Hygloss Products Inc.
"I can say that our presence on TOYDIRECTORY has resulted in a steady stream of leads, a fair number of which have turned into customers." — Roger Fletcher, Diamond Comic Distributors Inc.
"My listing on TOYDIRECTORY.com's online directory has proven to be a profitable venture. I receive several responses from retailers who have seen the pictures of my products and are looking to buy wholesale on a regular basis. The cost of listing with TOYDIRECTORY is low, and the response is absolutely worth it!" — Dianne Gendron, Basic Creations

"TOYDIRECTORY and TDmonthly Magazine are a source of valuable industry contacts that, quite simply put, turns into value, money … hard cold cash, that warm the cockles of our hearts." — Emmanuel Aronie, sales/operations, Zero Toys Inc.

MANUFACTURERS MAKE SALES:
"With any marketing campaign, you must be able to track response results. TDmonthly actually sends a visitor activity report from retail customers interested in your advertised products. At TEDCO Toys, I actually call every potential customer inquiry to send information about our company and products. After following up, many orders are generated."
— Bob Sherman, TEDCO Toys

"TDmonthly did everything that they promised, and more. One unexpected item: TDmonthly did a video product demonstration which was so good that I made it the first thing you see when you go to my website. I was contacted through TDmonthly by a toy store in CA who liked my product and is now a wholesale customer of Bead The Message. I am feeling more confident about exhibiting at Toy Fair anticipating that many of the buyers have seen my product on TDmonthly and will include a visit to my booth in their itinerary. I feel I've gotten tremendous bang for my advertising buck with TDmonthly."
— Marci Braunstein, president, Message Beads LLC



"We've been using
TDmonthly
for five years. ... We've got quite a few customers from the
email blast
. ... And you're also very
cost effective
. That's a big plus right now!"
— Andrea Nasstrom, Acting Out (Listen to the rest of Andrea's remarks by watching her video, right)



"We find that [TDmonthly and TOYDIRECTORY are] very beneficial in delivering qualified leads to our sales team. We have great turn and closure percentage on our leads from TDmonthly, so I highly recommend them." — Barb Rainville, Maple Landmark Woodcraft (Hear more by watching Barb's video, left)

"Two days after we went live on TDmonthly, we got a phone call from a distributor who has 37 points of distribution. She'd seen our game on TOYDIRECTORY and asked for a sample to show her boss. We sent her a full-scale comp and she called back to say 'We're in ... can we get it early?' We've made four pre-Toy Fair sales so far with TDmonthly!" — Tara Murphy, founder, Elastic Earth



"We picked up seven or eight accounts from TDmonthly [in a few months]." — Phillip Hoffman, Giga Tents


"When I asked [a sales rep who'd contacted me] how he had heard about our company he told me that he had viewed our videos on TDmonthly.com ...Thank you, TDmonthly for showcasing our line in such a positive light." — Laurie Greenblatt, vice president of sales, beeposh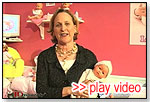 "[TDmonthly] has really made my job so much easier, because retailers discover Corolle through TDmonthly — through their written material and online videos. It's really increased our visibility..." — Maggie Moss-Tucker, public relations, Corolle Dolls (Hear more of what Maggie has to say by watching her video, left)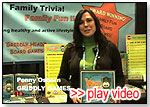 "TDmonthly has got to be the hardest working media group in the toy industry. You really cannot afford not to be on their website ..." — Penny Osborn, Griddly Games Inc. (Hear more of what Penny has to say in her video, right)

"ToyDirectory is a wonderful resource for all toy companies large or small. The staff is extremely helpful and is always willing to go the extra step to help a company succeed. I have received tons of inquiries from retailers because of my ToyDirectory listing and TDmonthly spotlights. Thank you ToyDirectory for all your help and wonderful words of wisdom!" — Andi Green, Monsters in My Head, LLC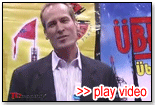 "Sales-wise, we are close to tripling in size in one year and a very large part of that is due to ToyDirectory and TDmonthly Magazine." — Dane Scarborough, owner and founder, Uberstix (See another testimonial from Dane at the 2007 WHTRA, left)





RETAILERS GET NEW TOYS AND USEFUL VIDEOS:


"[With TDmonthly], right at your own computer, when a customer asks you about a toy or a product, you can look it up right there." — Mary Sisson, owner, Kazoodles, Vancouver, Wa. (watch video, left)



"We really found that TDmonthly was on top of what was going on in the industry. …The videos of current products ... gives us an idea of what the product is like, how it's interacted with …. Another feature of TDmonthly that I'm particularly fond of [is] ... the stories of other retailers.... It's just a great product." — Hans Masing, Tree Town Toys and Brain Station, Ann Arbor, Mich. (See what else Hans has to say on his video, left)


"One of the main features that I like best is they have these little short [video] clips of demonstrations from different companies … If I want to see what a certain product looks like, I can do a little search on it and click it and run it and see what it looks like. …"— Terry Myers, Kaleidoscope Toys, Round Rock, Texas (Hear Terry's own words in her video, right)


"I highly recommend TDmonthly Magazine ... when we first opened up our store about four years ago, I started doing the sourcing for my store through TDmonthly. … It's very simple to use, very intuitive …"— Eric Masoncup, Geppetto's Toy Box, Oak Park, Ill. (See what else Eric says in his video, left)



"I am now a huge fan of TOYDIRECTORY. I never knew anything like this existed and it is so helpful. I'll barely have to leave my shop again to find the newest, best and most popular things for my store. It is a great resource for me and I am very grateful to have it. I appreciate your helpfulness and all the vendors should LOVE you!!" — Teri Weiss, owner, The Elegant Child, Beverly Hills



"I did receive the Onionhead prize and LOVE them. I will be ordering them for the store within the next month. ... Although I saw thousands of products at Toy Fair and did stop by [Onionhead's] booth, it can be very overwhelming. ... Once I have the product in my hands and I am able to really see the value of the product, it can make a huge difference. I am so happy that we were selected to receive this giveaway as I will definitely be a customer."
— Jennifer Schuman of 1SmartNoodle.com, on TDmonthly's Toy Giveaway Sweepstakes for Storeowners

"TOYDIRECTORY and TDmonthly is a wonderful source for us. We are able to see new products and have direct contact with manufacturers that we might not have thought about. Editors' recommendations and monthly best-seller reports have helped us become more efficient and profitable." — Cherilyn Mitchell, owner, www.thefastestremotecontrolcars.com

"I get a lot of my information from TDmonthly. They're by far the best around." — Nathan McKelvey, manager, Toy Castle, Jonesboro, Ark.

"We use the
TOYDIRECTORY
product videos as teaching tools for our staff. Not only do they show the features of the toys, but the benefits are touched on as well. The videos also allow us to preview toys that we may be interested in stocking in our store." — Jennifer Wyatt, manager, Totally Thomas' Toy Depot, San Diego

"[The TDmonthly mailer] is probably one of the best mailers yet." — William Bailey, owner, Bailey Enterprises, Seaford, NY

"I'm very grateful for your directory, because we have such a small shop we don't travel to shows. We are always looking for the best quality and unusual toys. I get the scoop on all I need from your site." — Melissa Pellnitz, Berkira Learning Center Store, Boca Raton, Fla.

"Thank you for the heads up on the new [TOYDIRECTORY] layout. I am able to look it over quickly to make sure I am carrying the best of the best. Keep'em comin." — Jeanette Lauture, owner, Aunt Jean's Toys & Treats, Montclair, N.J.


"TDmonthly does an excellent job documenting the toy industry's trends and highlighting new products with informative interviews that are enjoyable to watch. I always look forward to seeing the next set of videos." — Kathleen McHugh, ASTRA President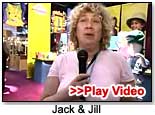 "I absolutely love [TDmonthly]! It is definitely right on. ... We have an upscale customer... and I do use the site to find new products ..." — Barbara Vininsky, owner, Jack & Jill, Montreal, Canada. (Hear more of Barbara's testimonial by clicking on her video, right)
LEADS AND CUSTOMERS:
"We've received many inquiries from our placement in the TDmonthly Wholesale Buyer's Guide. It was a terrific investment and we've already renewed our placement in the next Guide. We have no doubt that the TDmonthly Wholesale Buyer's Guide was an invaluable resource for exposing our new products to toy retailers across the country." — Brian Rovner, Twisterz Toys LLC


"We get regular customer referrals and great promotion out of it so we're really big fans of TDmonthly."— Wayne Rothschild, Neat-Oh! International (Hear more from Wayne by clicking on his video, left)



"Almost from the beginning, we have taken the opportunity to advertise on TDmonthly with banner ads, skyscrapers and other combination promotional venues. We've always found it a good investment and have had customers, both international and domestic, let us know that they've found us on TDmonthly, so we know it works." — Chris Ryan, Noodlehead (See what else Chris has to say on his video, right)

"We have loved our experience so far with TDmonthly. Just received another retailer inquiry today who mentioned they saw the product on your site. Thanks for all you do to keep our products fresh and in front of the public." — Maureen Farinella, Mark-My-Time LLC

"Rebelle Friendship Bags received many inquiries as a result of ... TDmonthly's Toy Giveaway. Rebelle was very happy with the serious nature of the inquiries we received and we certainly made contacts we never would have had if it weren't for the exposure as a result of TDmonthly's Giveaway. ... I would recommend the giveaway to any company looking for increased exposure in the marketplace. I would especially recommend it for newer companies and newer concepts!" — Daisy Cook, owner, Rebelle Inc.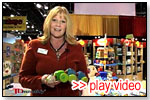 "We have been an advertister with TDmonthly for at least six years now and they continue to give us quality leads ..." — Lea Culliton, president, HABA USA (Hear the rest of what Lea has to say by watching her video, right)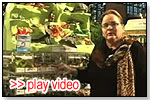 "[I appreciate] the amount of people that are brought to my company by advertising, by showing my line on the TDmonthly Toy Preview. [TDmonthly] helps people like Safari Ltd. advertise to a wide array of people throughout the USA and Canada and beyond sometimes ..." — Ramona Pariente, president, Safari Ltd. (Hear all of Ramona's praise by watching her video, left)
"Thank you for filming our games at Pomona! I noticed (using the stats you provide us) that games with video get many more hits than those without! — Leah Osterhaus, VP of marketing, Out of the Box Publishing Inc.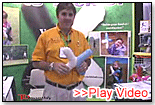 "We're very excited with TDmonthly. Out of all of our advertisers, we've seen the greatest response from them." — Charles Littwin,general manager, Ttalf Corp. (Watch the rest of Charles' testimonial, from the 2007 ABC Kids Expo, right)


"We use ToyDirectory because it is a great way to reach a vast amount of customers efficiently and affordably." — Devo Ihonde, vice-president of sales, eeBoo


"We know our customers and prospects regularly read TDmonthly because we can see their follow-up activity on our website whenever we advertise or are fortunate enough to be mentioned in an article. We can even trace post-advertising residual activity from our permanent listing. Finally, we read it, too, to keep abreast of the toy business." — Gerry Linda, director of marketing, Neat-Oh! International LLC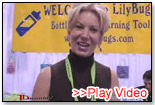 "TDmonthly ... has been tremendous ... I've got a lot of retail interest." — Crystal Kane, Lilybugs (See the rest of her testimonial at the ABC Kids Expo 2007, right)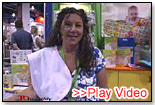 "TDmonthly ToyShow Preview has been great for us. We get a lot of leads from that. I like using it. I like the fact that I can showcase my new products..." — Missy Cohen-Fyffe, Babe Ease (See the rest of Missy's testimonial in her video from the ABC Kids Expo 2007, left)


"TOYDIRECTORY.com is our main method of Internet marketing. The quality of its editorial content and its insightful coverage of the toys, games and educational products industries through its TDmonthly and Playzak Internet magazines have made TOYDIRECTORY.com enormously influential in these markets. For example, a recent survey conducted on the Internet by the oldest and best-known print magazine in the toy industry and also conducted by TOYDIRECTORY.com resulted in at least 10 times the number of responses to the TOYDIRECTORY.com-issued survey. TOYDIRECTORY.com is a very powerful, convenient and surprisingly cost-effective marketing medium, which we highly recommend. — Marshall P. Gavin, executive vice president, b. dazzle, inc.


"HABA USA continues to be very satisfied with the leads brought to our attention through TOYDIRECTORY and TDmonthly Magazine. This is one advertising venue that I don't have to ponder over the value provided." — Lea Culliton, president, sales & marketing, Habermaass Corp. dba HABA USA

"TOYDIRECTORY/TDmonthly is a 10 out of 10. ... I've gotten many leads and they consistently come through from all across North America." — Shelley A. Markwart, Zany World Games (Hear more of Shelley's testimonial at Toy Fair 2006, right)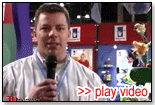 "We always get great sales leads from TDmonthly." — Derek White, Manhattan Toy (See the rest of Derek's testimonial from Toy Fair 2006, left)

OUTSTANDING SERVICE:
"I want to take a minute and give giant kudos to Allen in the web dept. He just literally saved my rear-end with a print issue I was having for the press release room at the show. Not only was he extremely polite, but so helpful and really dropped everything to help me with a 20-minute 'save' window. Between him, you, Melvin, Elba and Julie I actually feel like I have a 'team' behind me ... and trust me, that is huge! Especially since I am just a one person company and at times things get so overwhelming ... just to be able to pull up from the memory banks the "team" feeling helps me through the biggest of obstacles. I love TDmonthly!"
— Michelle Lamar, owner, Mother's Cubbard


"Thank you so much for notifying me of the very positive
TD[monthly] review
. ... I'm elated that the staff had fun and shared a lot of laughs. ... I appreciate the constructive criticism of the weighting of the hilt. No one has ever mentioned this and I have never thought about it. I think it could be a big improvement and will be looking into making the change. I think it is valuable insight that is much appreciated. So, your staff has indeed helped to make my product even better. Please thank them for me."
— Jim Bogner, CEO, Revel King, Inc.


"Your whole team is great and we're really excited to share our new products with the TDmonthly family!"
— Grace Purtell, logistics coordinator, CCA and B



"I just want to say how much we love working with TD
monthly
and
TOYDIRECTORY
... for 12 years. I would suggest for any marketing and advertising, go with ToyDirectory! ..."
— Renee Trinca, president, Schoenhut Piano Company (Listen to what else Renee has to say in her video, right)


"TOYDIRECTORY and TDmonthly have always been extremely professional to work with. I appreciate the personal attention we receive and believe that the exposure to the toy stores we target is a great value. I would not hesitate to recommend TOYDIRECTORY to any company looking to expand its business-to-business relationships." — Dave Wedzik, founder and president, Alivan's

"I just want to let you know that we enjoy working with TOYDIRECTORY and TDmonthly because you are all very thorough and good at following up with us; you are all very pleasant to deal with and you do a great job with displaying and linking our products. Keep up the good work!" — Susan Price, sales administrator, Goldberger Doll Mfg.

"Your company does such a wonderful job hiring! Everyone at TDmonthly has been such a pleasure to work with." — Lisa Carvajal, founder/CEO, TOTO Products


"I just wanted to thank you for your help with our listings. [The staff] was great in getting everything updated, with good placement. We really appreciate it." — Holly Beth Moncher, president, Time for Manners

"TOYDIRECTORY is a reference point, having their pulse directly on the toy industry. I keep working with TOYDIRECTORY to take advantage of their resources. I am kicking this relationship into high gear this year and definitely plan to use them in my marketing strategy." — Daina Bennett, Educational Materials Distributors

"TDmonthly provided us with an immediate profile with our most important target market —

specialty toy retailers. And they did this at a price we could afford. The TDmonthly team has been easy to work with and very professional. One of the things I especially value about our relationship with TDmonthly is the way they come to me with suggestions for ways to improve the reach of our marketing effort. When I think TDmonthly, I think value for money." — Jim Phipps, CEO, AquaStruct, Inc.

"The listing we have on TOYDIRECTORY has been great for exposure, as has the ad we took out for the Toy Fair issue. But most of all I have appreciated the excellent customer service." — Laura Cipullo, KelMar Games Corp.

"Your company is coming across as a group of very refined, creative and customer caring individuals...I am impressed." —Sam Otal, Training Wings Inc.
"Recently, we had experience with an online directory/search engine for wholesale gift products through one of our wholesale gift show operators, which caused me especially to appreciate and not take for granted your integrity, design standards, thoroughness, timely and accurate communications and referral traffic volume." —Marshall Gavin, executive vice president,
b. dazzle, inc.
"The HABA® corporation has been extremely pleased with the quantity and the quality of the leads that TOYDIRECTORY.com and TDmonthly.com consistently sends to us. We would like to thank the TOYDIRECTORY staff for their assistance in planning our marketing strategy and the consistently valuable customer service your organization provides. Thank you for doing such a great job!" —Lea Culliton, president, national sales & marketing, Habermaass Corp. dba HABA USA
"What I appreciate, as the executive who is responsible for marketing at b. dazzle, inc., is the constant flow of creative new marketing ideas and programs that TOYDIRECTORY.com innovates and tailors to our specific needs; it's as if I have my own advertising creative staff supporting me and helping me to maximize our marketplace exposure. In today's highly competitive marketplace, every manufacturer of toys, games and gifts needs an Internet marketing strategy. For b. dazzle, inc., that Internet marketing strategy, simply stated, is TOYDIRECTORY.com." —Marshall Gavin, executive vice president, b. dazzle, inc.

"The representatives for TOYDIRECTORY and TDmonthly Magazine have focused on the particular needs and goals my business wants to accomplish through advertising, and have always kept me updated on any offers that might pertain to those needs throughout the year. I appreciate the dedication they have to my business, and the ongoing communication they have with me." —Kim Weil, Bendon Publishing International
"Toy Directory and TDmonthly provide Alivan's with an invaluable resource for marketing our product line toward targeted retailers." —David Wedzik, founder, Alivan's Inc.

"It is a real pleasure to work with the TOYDIRECTORY.com staff. They are highly creative, practical, considerate and helpful. If you have come to believe that customer service no longer exists in our culture, your cynicism will be extinguished and your faith will be renewed when you work with the wonderful professionals at TOYDIRECTORY.com." — Marshall P. Gavin, executive vice president, b. dazzle, inc.


"I cannot express my appreciation for your support. We are soooo honored to be included in this product preview. I am just delighted. I must say that everyone at TDmonthly Magazine has been exceptionally supportive, cooperative, informative and eager to assist us in getting our products in front of the Toy Fair world! ... Seriously, you have one of the most stealth operations and are committed to serving your customers. I could not be more impressed." — Debby Carman, founder, Faux Paw Productions

"I met you guys at the Game Expo in Las Vegas and it's been one of the best things that's happened to me. The people are great to work with and I'm getting a chance to market my game that I wouldn't have otherwise." — Rahn G. Porter, president, Boxing Express

"In my quest to seek out a new source that would display The Learning Station's over 20 years of award-winning educational music and videos with panache, distinction and international appeal, the search engines brought me directly to TDmonthly Magazine. Immediately impressed with my new found, high-ranking, quality prospect, I proceeded to initiate a relationship. To my VERY pleasant surprise, I found much more than a company that would satisfy my perfectionist, promotional desires — I was warmly greeted by a welcoming group of OUTSTANDING professionals that invited me to become part of their TDmonthly family and who have gone beyond all boundaries, bending over backwards to seek my complete satisfaction. [TDmonthly is] a high-standard industry magazine that encompasses ALL of my promotional needs, catering to our intelligent, international audience and that has added a whole new dimension of 'EXCELLENCE in ADVERTISING' to our entire product line." — Proud to be a new TDmonthly member, Laurie Monopoli, The Learning Station

"Being listed in the TOYDIRECTORY is probably the most effective internet listing for toy manufacturers seeking
new internet business. Our listing in the TOYDIRECTORY has brought us more leads from internet retailers than any other online listing." — Marsha Cannonie, former National Sales Manager, Premium & Special Markets, Nikko America Inc./Erector

MORE RETAILERS' TESTIMONIALS back to top
RETAILERS FIND NEW TOYS:
"[With TDmonthly], right at your own computer, when a customer asks you about a toy or a product, you can look it up right there." — Mary Sisson, owner, Kazoodles, Vancouver, Wa. (watch video, left)

"I love to receive updates about new products in my email. It helps me keep on top of the newest toys. I really enjoy the videos of the products that you make available. A demonstration of the toy is definitely what sells it." — Allen Di Frischia, manager, Playthings Etc. - The Worlds Coolest Toy Store, Butler, Pa.

"We put the [TDmonthly] mailers out on the counter and had staff initial the ones they were interested in. We'll be talking to those people at Toy Fair." — Cathy Albro, owner, Creative Learning, Grand Rapids, Mich.

"We received the [TDmonthly] mailer and there were some companies in there that I'd been interested in. We're going to see one of them at the Gift Show. I always enjoy TDmonthly online and look at it every time." — Victoria Ackerman, Punky Doodlebugs, Vancouver, Wash.

"I love to read what toys are selling around the country and what is the next hot toy." — Robin Ellerman, owner, Trains-n-Toys, North Canton, Ohio

"I look forward to every issue of TDmonthly. It is my must-read to get info about other dealers the toy business." — Bart DeMarco, partner, Brighter Starts, Park Ridge, N.J.

"I always read my TDmonthly Magazine, especially looking for new, unique, open-ended toys that are made with natural materials, and if possible, made in the USA or Fair Trade. I've found a few good contacts through TDmonthly and I always enjoy reading the informative articles on sales and business ideas, marketing, etc. ... I always come away with a few good ideas to apply in my business." — Sonya Bingamn, owner, www.aToyGarden.com, Fair Oaks, Calif.

"Thanks for being there. We just opened a year ago and because of you we have been kept up to date on all the new toys and industry news."
— Patty Thinker, owner, CriticalThinkers, Encinitas, Ca.

"We use Toy Directory and TD Monthly to follow the latest trends in toys. It is the perfect source to find new and interesting things." — Donna Horner, owner, My Little Boys Clothing and Gifts, Bolivar, Penn.

"Our business crosses over between the toy and hobby industries. I find TDmonthly Magazine to be an excellent resource to keep me informed of new developments and new products with easy and efficient navigation to find what I am looking for quickly." — Bob Wilke, partner, corporate franchise team, Hobbytown USA, Lincoln, Neb.

"I found numerous companies listed on your website advertising the toy show in NYC this year. We have many samples of product coming, all of them new and exciting opportunities for us and our customers. With the toy show being in NYC it was a major help for us in the Midwest to see all of the suppliers in one spot since we are unable to attend the show. I haven't had any complaints and don't expect to with TDmonthly." — Josh Grindstaff, Education Station, Coldwater, Mich.

"I enjoyed your emails and have found them very informative. I would recommend them to anyone who is in a gift-buying position. They are also very timely." — Marlys Nelson, former buyer for Foster Corner Drug, Perry, Okla.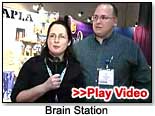 "TDmonthly has been great for me doing product research before we came out here to the show [Toy Fair.] ... When we got started, that's one of the ways I found out about the manufacturers and one of the ways I contacted them." — Patricia Masing, co-owner BrainStation, Tree Town Kids and Tree Town Toys Two, Ann Arbor, Mich. (Hear the rest of Patricia's testimonial by clicking on her video, right)


"I love getting [TDmonthly]! I saw the PUMGO for the first time on your site, and I brought it in and did pretty well with it. And I was the only one in Montana who had it ... It's actually pretty great!" — Denise Hoffman, owner of A Pocketful of Toys, Fallon, Mont.

"We have found ToyDirectory invaluable as we are a new Internet retailer. It's great to get up-to-date information about new products." — Jason Chapman, managing director of Toys Are 4 U Ltd, Sittingbourne, Kent, England

"Since I'm starting up a new business here in Belgium (a retail shop, toys and collectibles) and would like to import mainly from the U.S., TOYDIRECTORY is a great help for me!" — Glenn Delcart, Best Copie, Oost-Vlaanderen, Belgium

"Being from New Zealand, which is more than shouting distance from the United States, I find TDmonthly an excellent source of information. I don't get the opportunity to travel to the major fairs often and rely on agents and publications to get information. If I see a line in your update that looks pretty good for our market, I'll often contact one of our own sourcing agents and tell them to contact the company. Sometimes the line can work (freight, margins etc.); sometimes it can't. I would rate TDmonthly as the most informative toy publication I've come across so far. — Warren Hunter, merchandise manager, General Merchandise, Foodstuffs Auck Ltd, New Zealand

"With ToyDirectory and TDmonthly Magazine we were able to do a lot of contacts with suppliers that we didn't know where to find. I can say that both ToyDirectory and TDmonthly were my right brain of the commercial process I've been to with several manufacturers and suppliers that appeared in TDmonthly Magazine." — Luis Miguel Ribau, Oficina da Ciência, Lda, Aveiro, Portugal


"The best thing about [your videotaping me at Toy Fair 2006] is that I saw your site and found a gazillion things to read there: rating toys in the homeschool articles, etc. It was one of the best things that came out of Toy Fair." — Michelle Deutschmann, owner of Kaleidoscope Toys, Falmouth, Mass.


"I have your site in my Favorites and go back and look from time to time ... at least once a week. I try to spend a good chunk of time researching." — Betty Nobles, buyer for Village Toy Shop, New Hartford, N.Y.


"I went through and found several things I was interested in, including Fanny's Playhouse. ... I've ordered and they're great things, and I wouldn't have heard about them otherwise. The articles on the site have been really helpful because we've never run a toy store before ..." — Mary Sisson, owner of Kazoodles, Vancouver, Wash.
"I research to see who's doing what, what's coming out, who's the distributor, where I can get the merchandise." — Carolyn Stevens, owner of Collectibles N Toys, Wayne, N.J.

"I use it all the time. I really like the Retailer Spotlight ... I also use it to look up a vendor that I need information on ... such as Red Farm. I get busy, but I'm pretty much able to go every month and see what's new." — Jan Adamson, owner of Annie's Toy Chest, Cocoa, Fla.

"My daughter and I use your site as a guide for purchasing toys and games for the playrooms at the Ronald McDonald House in Jacksonville, Florida. Because of the controlled environment, we know what toys are played with most and which ones take a lot of playtime. Your site has helped us make good decisions about what donations to request and what to purchase. We are glad you all are in business." —Mrs. Darlene Klosterman and Amanda Klosterman, volunteer staff, Ronald McDonald House
"The new owners of the store have been using [TDmonthly Magazine], so they're definitely finding things. I've been in the business a little longer than them, so I'm more familiar with the toys, but they've brought things to my attention that I've never seen or carried. They're definitely seeing it as a pretty valuable tool." — Kevin Hart, former buyer for Toy Store, Atlanta

"I get the Bloom Report and I go to your site from there to search for new products." — Angie Wilkos, owner of Cherry Street Kids, Black Mountain, N.C.

"I like reading the articles about other dealers and about business in general." — Joyce Hoover, owner of the Doll & Gift Gallery, Rogers, Ariz.


"It's great! I find it very informative. ... I've gone through the newsletter to contact the companies to find out if they have fairy products." — Katina Dispenza, owner of Efairies.com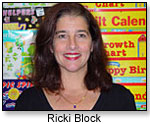 "You offer a great service. I registered, and have also used the Inquiry Basket. … Thanks for all your hard work in covering so many new companies" — Ricki Block, owner of Ariel's Child, New Windsor, N.Y.

"Your site's very easy to use." — Jeff Gurley, owner of The Lollipop Shop, Jonesborough, Tenn.

"I really appreciate this type of newsletter. It helps a lot to hear from other retailers about products that are working for them."
— Pam Nailor, owner of Royal Hobbies, Chandler, Ariz.

THIS BANNER IS AN AD:
---
---