Licensed products currently account for over one third of the toy industry, and the market segment keeps growing. Superhero products are one of the larger players in this field, especially as more feature films continue to be based on comic books.
Just this summer, "Spider-Man 2" grossed $371.7 million, making it the second-highest grossing comic-book adaptation behind the original "Spider-Man" movie. Related products maintain their popularity in part because of the November 2004 DVD release.
Along with "Spider-Man," Marvel Comics´ other successful movie adaptations include "X-Men," "Daredevil" and "Blade." A new "Super-Man" movie is currently in pre-production, while "X-Men 3" and a sequel to "Daredevil" are in the works.
Marvelous Action Figures
Mega Bloks Inc. (ToyDirectory) has entered into a multi-year agreement with Marvel Comics to create a comprehensive line of toy products based on Marvel characters. The X-Man Wolverine figure will have pop-out claws. The Amazing Spider-Man Building acts as its own carrying case, and provides a backdrop for the action of the newest figures. 
The Fantastic Four will blitz the bad guys and the retail market in 2005. The superhero team will not only have a new movie, action figures and game sets, but their own animated television series as well.
Constantine, On the Big and Small Screen
"Constantine," based on the DC/Vertigo comic book "Hellraiser," is scheduled for release in February of 2005. Keanu Reeves plays a supernatural detective whose investigation of a mysterious suicide launches him into encounters with both angels and demons. The videogame  adaptation of Constantine, under development by SCi Games and Bits Studios, will be released on Playstation 2 and Microsoft Xbox in conjunction with the film release.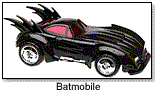 Not to be outdone, Batman returns with a prequel this coming year. "We are launching a full line of ´Batman Begins´ products from Mattel, Thinkway and Playalong," said Kelly Gilmore, vice president of toys for Warner Brothers Consumer Products. "Batman Begins" products will include action figures, playsets, vehicles, and role-play toys. In addition, look for new, collectible Die-Cast Batmobiles from Corgi (ToyShow).
Superhero sequels don´t always work. Take Sony´s "Hellboy," a sequel released in the summer of 2004. The product was highly merchandised, although sales suffered when the movie returned lower-then-anticipated box office numbers. Regardless, "Hellboy" retains a strong underground audience. Talks of completing a "Hellboy" trilogy are in the works.   
Aspen Comics
Michael Turner created the comic book series "Fathom" in 1998, which debuted as the best-selling comic book that year. It continued to be a top-10 seller for three years running. In 2002, Turner left his comic book company employer to create his own production company, Aspen Comics, which now produces the "Fathom" line. 
"Comic book people are constantly pitching ideas to producers," said Frank Mastromauro, vice president of Aspen Comics. "There are over 150 comic book properties currently in development (as movies). ´Fathom´ counts itself among this number." Lightstorm Production Company, distributed by 20th Century Fox, has the option of producing "Fathom" as a feature film. Producer/director James Cameron is steering the process.
As Aspen waits for a turn on the silver screen, the team at Aspen Comics entertains fans with Aspen collectibles, posters and hard-cover books. The Aspen team has also commissioned a limited-edition Aspen bust, although action figures are a much larger investment. The team is developing a video game concept that will be adapted for XBox and Playstation 2 next year.