---
Newspaper, Glue and Memories
(Jodi Webb has taken over the post as TDmonthly´s newest Mom, beginning this month.)

After my daughter's birthday party this year we lugged home gift bags stuffed with the latest dolls, videos and electronic games. The next day the pestering began. But she didn't want any help releasing the Bratz Twins (MGA Entertainment) from the countless strings and ties that trapped them in their box. She didn't want me to play a quick game of her new Junior Scene It? or even track down a few triple A batteries for the 20Q ball (Radica). My daughter wanted newspaper.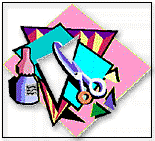 One of her friends, familiar with my daughter's horse obsession, had rounded up every horse-related craft kit at a local store. Piled on her desk were paint-by-number kits, a plaster sculpture to paint, horse stampers and stickers and more. She couldn't wait to spread out the newspaper and start her projects.

Arts and crafts projects have always been a big part of my children's life, thanks to my elementary school teacher mom. Every holiday "Nan" worked on a creative activity with her class and sent home an extra set or two for her grandchildren. It snowballed after those first few construction paper leftovers.

My husband, not a fan of playing dolls or dress-up, found projects were the perfect activity for a dad and his girls. I've hovered nervously around him as he armed my then 4- and 7-year-old with electric screw guns while they constructed birdhouses for all of our feathered neighbors.

As play dates and slumber parties became regular events at our house, I discovered that things went more smoothly when the kids were each completing their own project instead of fighting over a single toy or telling me they were bored.

Now I have globs of glue and glitter permanently attached to my kitchen table and I have learned to always keep a stash of old newspapers in case a project develops. Much of my home decor is of the homemade variety – the magnets on my fridge, containers of all sizes and uses, even the candles on my shelves.

Someday the children will outgrow crafts; the pottery wheel will gather dust, I will no longer have to buy glue by the gallon and my afternoons will not be consumed by translating step-by-step directions into language a 5-year-old can understand. But the memory of these afternoons spent at the newspaper-covered kitchen table will always be fresh in my mind – along with the glue and glitter spatters.



Writer's Bio:
The mother of three children ages 13, 10 and 2, Jodi Webb started out as a toy seller. She´s happy to find a job where her accountant will let her write off her toy purchases!
Read more articles by this author
THIS BANNER IS AN AD:
---
---