Law dictates a person must be 16 to drive – but not the vehicles manufactured by Peg Pérego (ToyShow). The company's battery-powered vehicles' popularity is growing at NASCAR speed as kids everywhere zip around on everything from ATVs to John Deere Gators. Believe it or not, these mini-cars' roots stretch all the way back to 1949.

In that year, Giuseppe Pérego founded Peg Pérego in Italy and began designing, manufacturing and marketing juvenile products, most notably baby carriages, strollers and high chairs. In the early '60s, Peg Pérego made the move into the toy industry with a line of pedal cars. According to Ken Maxwell, vice president of marketing, the first U.S. factory to design and manufacture these vehicles was built in 1968 under the subsidiary name of Pines of America.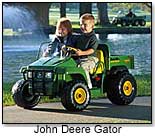 When Maxwell joined the company in 1978, it was already leading the way into a new field of interactive toys. "Pines of America was one of the very early pioneers to develop rechargeable, battery-powered riding vehicles for children," Maxwell says. "These products became so popular that by 1980, battery-powered vehicle sales surpassed the sales of the pedal cars."

Sadly, the company's founder passed away in the early '80s and Pines of America was sold. Maxwell stayed with the company briefly before re-upping with his previous employer after they built a new facility, Peg Pérego USA. By working closely with its parent company, Peg Pérego USA was able to re-enter the market in 1990 with a line of high-quality children's vehicles. Since then, the company has grown and expanded, and is working in conjunction with some of the best known recreational vehicle dealers.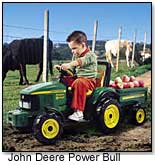 "In 2000, we formed a licensing alliance that allowed us to build extremely realistic children's vehicles, such as the John Deere Gator, a line of John Deere tractors and a John Deere Buck ATV," Maxwell says. "This alliance also resulted in bringing a complete line of Polaris Sportsman ATV vehicles to the market."

This union brought about Peg Pérego's best-selling product, the John Deere Gator. According to Maxwell, the vehicle is immensely popular because it "possesses a good portion of all the successful attributes seen in children's vehicles over the past 25 years." Not only is the vehicle bestowed with a very recognizable brand, John Deere, but it also has a remarkable number of popular features, like a self-propelled body with dual motors powered by a rechargeable battery.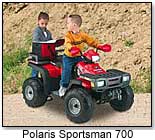 "The kids are able to drive it in the grass and dirt and it has a large dump bed where they can emulate working – and feeling good about accomplishing something," Maxwell comments. "It is easy for them to get on or off and it accommodates two or more children."

The Vice President of Marketing stands behind the company he has worked with for almost three decades. "Today, Peg Pérego's children's vehicles are the most sought after children´s vehicles in the world. Our focus at Peg Pérego is product, product, product."

Still a family-owned company, Peg Pérego retains great pride in its products with a strong belief that its associations with John Deere and Polaris attract consumer attention while its high standards, quality and customer-driven features speak for themselves.