---
Schleich Worlds of Play Capture the Globe
Detailed Figurines Stand Proud With Quality Detail and Historical Accuracy
"Schleich now has a 70-percent share of the collectible figurine market internationally and is distributed in more than 70 countries."
This article is a paid advertorial.

Schleich produces realistic, high-quality animal, historical and fantasy toys. The fun and beautiful figurines appeal to both children and collectors.
TD
monthly Magazine recently spoke with Matt Dawes, executive vice president of sales and marketing at Schleich North America, and former VP of specialty sales at RC2. He talked about the company's history and why its figurines and play worlds mean so much for children's playtime.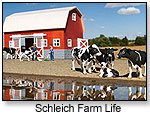 Schleich was founded in Germany in 1935 by Frederich Schleich, a maker of plastic products. His company originally made protective clothing and safety glasses, but introduced the first bendable figurines in 1950 and began marketing them in toy stores throughout Germany.

The figurines entered the United States in 2000-2001 and were immediately recognized for their high quality. They were sold only in specialty stores, so brand awareness was low until they gained distribution at Toys "R" Us and Target.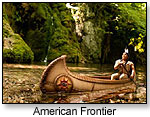 From 1960 to 1980, Schleich acquired the licenses to various figurines, including the Muppets and Peanuts. Schleich was also licensing Smurfs at this time. The popularity of Smurfs ebbed and flowed, and in the 1990s it was necessary for Schleich to expand its product offering.

CREATING WORLDS OF PLAY

The company first focused on animals, specifically farm life. This introductory line was successful, so Schleich moved into wildlife products. In 2003 we developed and introduced World of Elves, World of the American Frontier and World of Knights.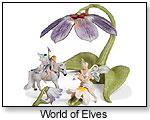 Our figurines are designed and developed in Germany by our product development team, which consists of designers, sculptors and painters, and our marketing team. The sculptors and painters use dynamic profiling to ensure that the figures are as accurate and realistic as possible. Historical accuracy is ensured through researching written events, pictures or drawings from the time period.

We decide to develop new items based on gaps in our current line. When developing products we consult with parents, teachers and children and try to determine how the items will fit within our current portfolio.

Several years ago a fantasy line — the fairies, elves, etc. — was launched. Given some activity in the market from books and movies, our fantasy line has grown nicely. We're developing product that will enable Schleich to further enhance the line.

GROWING THE WORLD OVER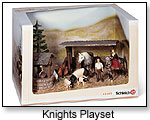 Schleich now has a 70-percent share of the collectible figurine market internationally and is distributed in more than 70 countries. We manufacture our figurines in Germany and other countries.

The current challenge in North America is to grow brand awareness. The quality and detail found in Schleich products makes the figures come to life for children. We know that once children get into the imaginative play world of Schleich, they will continue to use our products for years.

Our website features a store locator, product information, contests and more. We're continuing to build our site to make it more store and consumer friendly.

The overall sales strategy for Schleich is to maintain our core specialty business while evaluating opportunities that would enable the brand to grow without jeopardizing the current high-profit margins retailers enjoy by selling the Schleich brand. On several occasions in the past year, Schleich was approached by a retailer to buy and sell our products. I believe this is the best example of the strength of the brand — when consumers are asking retailers to stock the Schleich brand in stores we have not yet approached.

The one piece of advice I would offer to someone just starting out in the toy industry is: Have fun! Although we're ultimately judged by sales and profit, we're bringing a product to market that should bring a smile to children's faces. At the end of the day we're selling toys, and it should be an enjoyable experience for all involved.

See some products from Schleich:







.

AD
---






The evil Antylar dragon has an impenetrable coat of scaly armour. Only the bravest knights and elves dare fight against Antylar in order to protect their homes from its attacks. Antylar has large veined wings, yellow eyes and a thorny head measuring an impressive 12" x 11.8" x 9". Antylar will definitely stirs up things in the World of Elves.

.

AD
---






This zebra is part of Schleich's extensive collection of wild animal figurines. Launch date: January 2009.

.

AD
---






.

AD
---






.

AD
---






.

AD
---






.

AD
---
THIS BANNER IS AN AD:
---
---