---
TDmonthly's Book Expert
One Educated Bookworm's Opinion
With this batch of children's titles, TDmonthly Magazine's Book Expert experienced a heart-warming Christmas tale, explored things both revolutionary and evolutionary, and picked up a compelling message about the treatment of abandoned animals.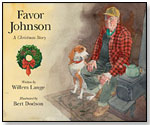 Title: Favor Johnson
Author/Illustrator: William Lange, Bert Dodson
Publisher: Bunker Hill Publishing
Gender: Boys and Girls
Age: 6 to 12
MSRP: $16.95

TDmonthly rating:




What It Is: An American folktale that has been told on Vermont Public Radio at Christmas for more than 25 years, this charming story centers on Favor Johnson, a farmer who keeps to himself all year long, except at Christmas. Why does he deliver his homemade fruitcakes to the whole town on Christmas Eve? This story of love and devotion revolves around Favor's beloved hound dog Hercules, who is rescued by Favor's neighbor, the town doctor, one Christmas Eve, changing the life of Favor — and Hercules — forever.

Why You Should Carry It: This book is an appealing holiday story that is sentimental without being maudlin, and will appeal to adults and children alike. It is beautifully illustrated with attractive, yet simple, watercolor paintings that embody the spirit of New Englanders.

What Kids Think: This is a holiday story that kids will request year after year. Christopher, age 6, especially liked the fact that the story centered on a dog! Children of all ages, as well as adults, can feel the emotion in this spare tale of a lonely man, his dog, and the spirit of the holidays.

---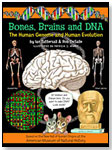 Title: Bones, Brains and DNA: The Human Genome and Human Evolution
Author/Illustrator: Ian Tattersall & Rob DeSalle/Patricia J. Wynne
Publisher: Bunker Hill Publishing
Gender: Boys and Girls
Age: 8 to 12
MSRP: $16.95

TDmonthly rating:




What It Is: "Bones, Brains and DNA" is a very attractive and fun science book for children, co-written by a paleoanthropologist and a molecular biologist. Illustrated with whimsical cartoon-style illustrations, the book features two museum mice, Wallace and Darwin, who serve as guides to the New Hall of Human Origins at the American Museum of Natural History in New York. The book introduces the reader to a wide variety of topics, including anthropology, paleontology, evolution, our human ancestors, DNA and genetic sequencing, and how early humans evolved.

Why You Should Carry It: The book presents serious science in a highly entertaining format with many full-color photographs, cartoons and sidebars. It would make a terrific gift for children interested in exploring different areas of science, particularly those who might be branching out from interest in dinosaurs to the evolution of humans. It is also suitable for teachers for classroom use or for homeschoolers.

What Kids Think: Lindsey, age 11, really enjoyed the "cool drawings" and the "really interesting" information about evolution and DNA. Because this book has a large amount of text, it is not really suitable for reading out loud, but kids will enjoy exploring the colorful illustrations and well-written text.

---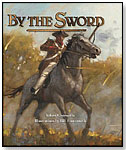 Title: By the Sword
Author/Illustrator: Selene Castrovilla, Bill Farnsworth
Publisher: Boyds Mills Press
Gender: Boys and Girls
Age: 9 to 12
MSRP: $17.95

TDmonthly rating:




What It Is: Based on an historical episode from the Revolutionary War, this attractive picture book tells the story of Benjamin Tallmadge, a young teacher who enlists in George Washington's army along with his beloved horse, Highlander, and later becomes one of Washington's trusted confidants and spies. The book describes his experiences at the Battle of Long Island, and is well researched, using Tallmadge's diaries and other primary-source documents to reconstruct an exciting battlefield tale.

Why You Should Carry It: This is a great book for parents or teachers to share with middle readers who are learning about the American Revolution or who are budding history buffs. The author and illustrator make the reader feel like he or she is really in the middle of the action. The oil painting illustrations, done in an impressionistic style with muted tones portraying everything from a burst of gunpowder to the miserable conditions for the everyday soldier, are well integrated. The book includes an excellent timeline, research notes and bibliography, as well as maps.

What Kids Think: Edward, age 12, thought this was an exciting story, and liked the way it portrayed battle in a realistic way, including descriptions of bloody soldiers, cannon smoke and gunpowder. He said it made him interested in reading other stories to do with the American Revolution.

---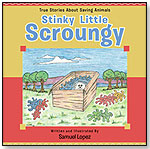 Title: Stinky Little Scroungy: True Stories about Saving Animals
Author/Illustrator: Samuel Lopez
Publisher: Little Five Star
Gender: Boys and Girls
Age: 4 to 8
MSRP: $15.95

TDmonthly rating:




What It Is: Based on a true story about animals who live at the Compassionate Pet Sanctuary, this is a nice story for teaching children the value of caring for abused, abandoned pets. Will Farmer Sam's nephew be able to save the stinky, abandoned puppy he finds near the farm?

Why You Should Carry It: This is an appealing book for animal lovers, and has a good message about the importance of treating animals with compassion and love. However, the design of the book, with its mix of snapshots of actual farm animals and very simple colored-pencil illustrations that appear to have been done by a child, appears amateurish. There are other stories out there with a similar message that are much more attractive.

What Kids Think: Emma, age 6, enjoyed hearing the story of Stinky Little Scroungy read aloud, and the tale of the abandoned pet made her think about how we have to help animals that have been abandoned. This is a very good story for sparking discussion of the issues of homeless pets and pet overpopulation.

Writer's Bio:
A member of the American Library Association, Margo Tanenbaum was formerly employed by an independent children's bookstore and has published book reviews on Amazon Vine and Goodreads. She is pursuing a master's degree in library science and writes about historical fiction and non-fiction for children and teens on her blog,
The Fourth Musketeer
.
Read more articles by this author
THIS BANNER IS AN AD:
---
---