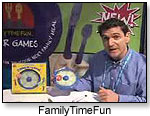 Video demonstrations of games, infant toys, science kits and other children's playthings will be the highlight of TDmonthly Magazine's March issue, featuring more than 125 clips of products showcased at Toy Fair 2010. So get ready to sit back at your computer, grab some popcorn, and review dozens of toys that might just be the next big thing in your store. You'll hear and see brief presentations of the products from the people who know them best — oftentimes the inventors themselves!
Watch toy demo videos from Toy Fair 2010!
See also:
TDmonthly's Top-10 Toys from Toy Fair 2010

Writer's Bio:
ALISON MAREK is an award-winning writer, director and cartoonist whose work has been published by Fairchild Publications and DC Comics (Piranha Press), broadcast on Showtime and other cable networks, and viewed worldwide in film festivals. See her short films and print work on www.alisonmarek.com. Watch her nefarious villains in the web series www.MuggsMovers.com. Get inspired by her cartoons "Daily ARFFirmations to Unleash Your Inner Fido" at www.ARFFirmations.com. Phew! And then ...
Read more articles by this author