TOY FAIR 2010 — For daily photo, video and new product reports from TIA's American International Toy Fair, held Feb. 14-17 in New York City, click here.
Rifles Reach Washington Port as "Toys." February 24, 2010 — An overseas shipment tagged as "toys and parts" that arrived in Tacoma, Wash., was discovered to contain 30 rifles similar to those used by the U.S. military. The guns were created to fire plastic balls but could easily be retooled to shoot real ammunition. According to the Associated Press, they were seized by U.S. Customs and Border Patrol officials to be destroyed.
Left Behind Games and Digital Praise Join Forces. February 24, 2010 — Christian video game companies Left Behind Games and Digital Praise, producer of "Guitar Praise" and "Hermie & Friends" games, have announced a merger to combine their resources and development teams for heightened visibility of the faith-based video game market. According to a press release, CEO Troy London of Left Behind Games complimented Digital Praise's powerful brands, distribution, management and record generation of millions of dollars within the Christian video game market. Privately held Digital Praise will benefit from the capital and possibilities for innovation offered through a publicly company.
Toys "R" Us Continues Layaway for Big-Ticket Buys. February 24, 2010 — Toys "R" Us and Babies "R" Us stores are extending their layaway programs beyond the holidays, offering 90-day payment periods on items including bikes, swing sets, water slides, cribs, car seats and high chairs, the Associated Press reported.
Buyer Attendance Climbed 3% at Toy Fair 2010. February 23, 2010 — Toy Fair 2010 drew more than 10,600 buyers this year, up 3 percent over 2009, the Toy Industry Association reported in a press release. Buyers from 85 countries joined more than 1,100 exhibitors in 345,500 square feet. Ramona Pariente, president of Safari Ltd., thought this Toy Fair "the best we have had in the 22 years we have been attending."
Happy Heinys Donates Infant Goods to Haiti and Africa. February 22, 2010 — With the help of retailers, customers and celebrities including Tiffany Thiessen and Jolie Fisher, cloth diaper company Happy Heinys has donated nearly 1 ton of reusable cloth diapers, infant gear and toys to orphanages in Africa and Haiti since the earthquake hit in January. According to a press release, Happy Heinys has also been involved in other charitable efforts: Aid for Orphans; the Red Cross 9/11 fund; Timothy House in Haiti; Autism Speaks; and the Guatemala Stove project.
Mega Brands Files for Bankruptcy. February 19, 2010 — Montreal-based Mega Brands has filed for Chapter 15 bankruptcy protection in Delaware, reporting assets and debt between $100 million and $500 million. On Feb. 12, the toymaker began restructuring designed to slash its debt by $290 million and cut yearly interest costs by $30 million, according to Reuters. A recapitalization vote is set for March 16.
Allreds Design Recalls Pacifier Clips and Bracelets for Lead. February 17, 2010 — The U.S. Consumer Product Safety Commission, in cooperation with Allreds Design, has announced a voluntary recall of about 900 baby bracelets and pacifier clips with clasps that contain high levels of lead. One 10-month-old was treated by a doctor for elevated lead levels. The products sold at resale and consignment stores from June through December 2008 for about $5.
Buyers at Toy Fair Foresee Another Challenging Holiday Season. February 17, 2010 — This year, after a good-but-not-great Christmas for the industry and with shoppers still spending carefully, buyers at the American International Toy Fair said they were anticipating another cutthroat holiday season. Despite being surrounded by the latest action figures, arts and crafts kits and stuffed animals, many attendees said they were exercising more caution in ordering products. Industry watchers say they expect slightly higher spending on toys this year but doubt there will be a huge resurgence. U.S. retail sales of toys totaled $21.47 billion in 2009, a decline of less than 1% from the $21.65 billion in 2008, according to market research firm NPD Group.
Fisher-Price iXL Described as Hottest Toy for the 2010 Holidays. February 17, 2010 — Mattel's Fisher-Price unveiled the iXL at Toy Fair, and Robert Eckert, CEO of Mattel, thinks it is the hottest toy for the 2010 holiday season. The $79.99 Fisher-Price iXL is a portable media player and entertainment system. With the iXL Learning System kids get six applications: Story Book, Game Player, Note Book, Art Studio, Music Player and Photo Album. It's PC and MAC compatible and features an SD card slot for expanded memory and comes with a USB cord to connect to the computer. A software management CD enables users to add their own photos and songs (MP3s and WMAs). iXL can also store multiple software titles, songs and pictures with no cartridges needed. It will launch in July 2010.
VTech® Debuts Innovative Educational Products. February 17, 2010 — To meet kids' growing need for innovative technology, VTech®, creator of the Electronic Learning products category and a leader in merging technology, education and fun, unveiled its newest innovative educational toys at Toy Fair. The most talked about include MobiGo™, a touch-screen handheld game console; FLiP™, the world's first children's animated e-reader; and additions to the already popular infant line including VTech's first-ever electronic bath toys.
WalMart Announces Exclusive "How To Train Your Dragon" Toy Line. February 17, 2010 — Walmart announced that it has teamed with toymaker Spin Master and DreamWorks Animation SKG for an exclusive toy line for the upcoming feature film "How to Train Your Dragon." Available March 1, it includes human and dragon figures, playsets and role-play toys ranging in price from $5 to $30. "How To Train Your Dragon" is based on the book by Cressida Cowell. It tells the story of a Viking teenager who befriends a dragon.
Nine Women Win Wonder Women of Toys Awards. February 17, 2010. — The sixth annual Wonder Women of Toys Awards were granted in nine categories on Feb. 14. The awards, which honor achievements by women all along the children's entertainment supply chain, were presented at a gala at The Penn Club in Manhattan.

• Inventor/Designer honors went to Oxford Games' Leslie Scott, inventor of Jenga.
• The Green award was given to Ewa Martinoff, president of eco-friendly children's jewelry company Shainsware.
• Entrepreneur honors went to Melanie Corpstein, CEO of doll maker Adorable Originals.
• The Online Social Networker Award, a new category, went to Kidstuff Public Relations' Lisa Orman.
• Licensing Agent honors were bestowed on Patti Becker, founder of Becker Associates.
• The Licensor award was won by Sesame Workshop's Ann Kearns.
• The Retailer award was given to QVC's Bernadette Voelker.
• The Manufacturer award was given to Hasbro's Bryony Bouyer.

Winners were voted on by the Women In Toys advisory board following a nomination process open to anyone in the children's entertainment industry.
Over 7,000 New Products Debut at Toy Fair. February 16, 2010. — With over 100,000 products on display — more than 7,000 being debuted at this year's 107th annual event — experts from the Toy Industry Association (TIA) have surveyed the show floor and are assigning this year's top four trends all "A's": Active, Accessible, Affordable and Aspirational, reflecting toys intended for multiple age groups and play patterns, from multiple manufacturers and entertainment studios, and across all categories of products.
Playmobil Unveils 2010 Line at Toy Fair. February 16, 2010. — Playmobil unveiled its new toy line dedicated to encouraging children's creativity through fresh and fantastic make-believe themes at Toy Fair. Themes expected to attract attention this year include the Furnished School Building and its accompanying sets and the African Wild Life assortment. A new Fire Station, Fire Engine and Ladder Truck will help kids learn about the people in their neighborhood, and serves as an excellent way to discover facts about fire safety. The Dragon Land theme provides a fantasy play setting boys and girls both will enjoy, with dragons, castles and more.
Toymaker's Shares Doing Well on Wall Street. February 16, 2010. — Shares of the top two toy makers have held up well during this bumpy start to the year on Wall Street. Mattel and Hasbro have continued to ride a wave of momentum that began last year in. Mattel (MAT, Fortune 500) is up 5% this year, while the stock of top rival Hasbro (HAS) is up 12%. Other toy companies have done even better. Shares of interactive educational toy maker Leapfrog Enterprises (LF) are up 20%. So are shares of Kid Brands (KID), which makes toys and other products for infants.
Exciting New Toy Fair Products Include New Zhu Zhu's 'Wild Bunch.' February 16, 2010. — According to the Associated Press, Toy Fair 2010 is already proving to be a showcase of exciting new products. Some noteworthy toys mentioned include Zhu Zhu Pets Wild Bunch; Dance Star Mickey from Mattel; Radica Puppy Tweets Accessory from Mattel; Hasbro's Star Wars All Terrain Armored Transport; Hasbro's Easy Bake Deluxe Delights; Spin Master's Dairy Queen Blizzard maker; and Jakks Pacific's new Girl Gourmet Chill Treats.
Toys 'R Us Plans IPO. February 15, 2010. — Five years after taking the giant toy chain private for $6.6 billion, the retailer's private-equity owners are planning to cash in with an initial public offering in the summer of 2010, according to the New York Post. The plan is to issue as much as $1 billion in publicly traded shares. The cash would be used to slim and refinance Toys 'R' Us' $5 billion debt load, which has hampered the big funds' ability to take profits on their investment.
Toy Industry Association Elects Industry Executives to Serve on Board of Directors. February 15, 2010. — At the Toy Industry Association (TIA) Board of Directors Association's Annual Business Meeting this morning in New York City, retiring Board Chairman Al Verrecchia, Chief Executive Officer of Hasbro, passed the gavel to Bryan Stockton, President, International, Mattel Inc., who will take over as Chairman of the Board for a one-year term. Soren Torp Laursen, President, LEGO Systems, returns to the Board of Directors and will assume the role of Vice Chairman. Eight individuals were named as new members of the Board of Directors for a two-year term beginning February 2010: Andrea Barthello, ThinkFun, Inc.; William Beebe, Hoogaloo Toys; David Hargreaves, Hasbro Inc.; Sam Harwell, Big Time Toys, LLC; Shirley Price, Funrise Toy Corporation; Chuck Scothon, Mattel, Inc.; Soren Torp Laursen, LEGO Systems, Inc.; and Robert Wann, Patch Products, Inc.
Warner Bros Consumer Products and Legos announce new Harry Potter sets. February 15, 2010. — Warner Bros. Consumer Products (WBCP) announced an extension of its successful partnership with leading toy manufacturer, The LEGO Group, to bring the magical world of Harry Potter to fans everywhere. Under the agreement, Lego will roll-out six new construction sets based on iconic scenes and locations, including the Hogwarts Castle, Hagrid's Hut, Hogwarts Express and Quidditch Match. Available in October, the sets feature new and newly decorated minifigures. Also new to the range will be a constructible board game called Hogwarts, launching in August.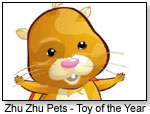 Toy Industry Celebrates Annual TOTY Awards. February 14, 2010. — Considered the "Oscars®" of the toy industry, the Toy Industry Association's annual gala paid tribute to the best in toys and children's entertainment; outstanding achievements by individuals, teams, and companies; and the creativity and playful spirit upon which the toy industry is based. Zhu Zhu Pets by Cepia, LLC was named as the overall "Toy of the Year" winner and captured two category awards. The coveted TOTY awards program included twelve categories with more than 80 finalists; winners included a tie for Preschool Toy of the Year.

The 2010 TOTY Award Winners were:

Toy of the Year: Zhu Zhu Pets, by Cepia LLC.
Activity Toy of the Year: Crayon Town, by Wild Planet Entertainment.
Boy Toy of the Year: Bakugan 7-in-1 Maxus Dragonoid, by Spin Master.
Educational Toy of the Year: Mindstorms NXT 2.0, by LEGO Systems.
Electronic Entertainment Toy of the Year: Rubik's TouchCube™, by Techno Source.
Game of the Year: Sort It Out!, by University Games.
Girl Toy of the Year: Zhu Zhu Pets by Cepia LLC.
Infant Toy of the Year: Crayola Beginnings Color Me A Song, by Crayola, LLC.
Innovative Toy of the Year: Zhu Zhu Pets, by Cepia, LLC.
Outdoor Toy of the Year: My 1st Scooter, by Radio Flyer.
Preschool Toy of the Year (Tie): Tonka Chuck & Friends Chuck My Talking Truck, by Playskool, and Bilibo, by Active People.
Property of the Year: Bakugan, by Cartoon Network.
Specialty Toy of the Year: Captain Owen's Dolphin Explorer Boat, by Sprig Toys.
Toymakers Thinking Green. February 14, 2010. — Toy Fair is featuring a "green" pavilion for environmentally friendly toys for the first time. According to Reuters, Toys made from organic cotton, bamboo or other organic materials are safer for children and could eliminate or reduce huge testing costs. Reyne Rice, trend specialist for the Toy Industry Association, said about 25 percent of retail buyers at last year's event wanted to see more "eco-friendly" products.
Fun Technologies Revamp Old Favorites. February 14, 2010. — In keeping with the times, Reuters reports toy makers are focusing on fun technology to win sales in 2010. Industry leaders such as Hasbro are incorporating new technologies in old favorites like Scrabble and Monopoly. Mattel's "Puppy Tweets" attach to a dog's collar and posts to a Twitter account in the pet's name, leveraging newer technologies like social networking, already popular among children.
Disney's Toy Story 3 Event Ushers in over 250 toy releases. February 14, 2010. — Business Wire reports that Disney's Toy Story 3 Event Ushers in over 250 toy releases. In a playful, Toy Story-themed setting before an invitation-only crowd of toy industry insiders, Disney-Pixar's Toy Story 3 plethora of new toys and playthings that pay homage and celebrate the best the toy industry has to offer. The event unveiled a first look at some of the more than 250 new toys releasing this Summer and into the 2010 Holidays.
Walter Morrison, Frisbee Inventor, Dies at 90. February 12, 2010 — Walter Frederick Morrison, the inventor of the classic toy Frisbee, has passed away at his home in Utah. He was 90 years old. AOL News reported that the disc invention came to Morrison while he was throwing a cake pan on the beach. He began selling the "Pluto Platter" in 1948, selling the rights to Wham-O nearly 10 years later, in 1957.
Manhattan Group Recalls Pull Toys for Loose Wooden Parts. February 10, 2010 — The U.S. Consumer Product Safety Commission, in cooperation with manufacturer Manhattan Group LLC, has announced a voluntary recall of about 2,400 Pull-A-Long Friends Toucan, Pull-A-Long Friends Alligator, and Pull-A-Long Friends Sharky toys in the United States and 400 in Canada because wooden parts can break or come off and pose a choking hazard to children. The toys retailed at gift and specialty stores from September 2009 through January 2010 for about $22. Consumers should return them to the store where bought for refund or a replacement toy.
Tiny Love Recalls Wind Chime Toys for Puncture Hazard. February 10, 2010 — The U.S. Consumer Product Safety Commission, in cooperation with distributor Tiny Love Inc. and the Maya Group Inc., has announced a voluntary recall of about 600,000 Wind Chime Toys in the United States and 200,000 in Canada because the toy can reveal sharp rods when pulled apart that pose a puncture or laceration hazard to babies. One 2-year-old suffered a minor cheek injury. Seven items are affected by the recall, and were sold at Toys "R" Us, Buy Buy Baby, Target, Walmart and TJ Maxx stores from February 2002 through February 2010.
Innovage Recalls Discovery Kids Lamps. February 9, 2010 — The U.S. Consumer Product Safety Commission, in cooperation with Innovage LLC, has announced a voluntary recall of about 360,000 Discovery Kids™ Animated Marine and Safari Lamps because a defect in the circuit board can create an electrical short, posing fire and burn hazards. There have been seven reports of the lamps catching fire, and one child suffered from smoke inhalation. The lamps were sold at mass, hardware, drug and department stores, as well as through online and direct sales, from July 2009 through January 2010 for about $10. Consumers should contact Innovage at 888-232-1535 for refund information.
3 Infant Deaths Prompt Crib Recall. February 9, 2010 — The U.S. Consumer Product Safety Commission has announced a recall of all Generation 2 Worldwide and "ChildESIGNS" drop side cribs after receiving reports of three infants (two 8-month-olds and one 6-month-old) who suffocated after becoming entrapped between the drop side and the crib mattress, in 2002, 2003 and 2007. The plastic parts on the crib can break, causing the drop side to detach from the corner, posing a risk of entrapment, suffocation or strangulation. Generation 2 has been out of business since 2005, but an estimated 500,000+ cribs were sold through retail locations including Kmart, Walmart and Buy Buy Baby, for $60 to $160 per crib. Consumers should contact the store where they bought the crib to determine a refund, replacement or store credit.
WHAM Partners With Sprig Toys, Launches Jr. Line. February 9, 2010 — WHAM-O is taking over global sales, manufacture and operations for eco-friendly specialty toy line Sprig Toys, which will now be distributed on a broader scale under the WHAM-O Jr. brand. According to a press release, the new Jr. line will encompass Sprig's trucks, blocks and other preschool toys made from bio-composite Sprigwood, as well as inflatables and outdoor items from WHAM-O.
FAO Schwarz Exits Las Vegas. February 9, 2010 — FAO Schwarz's premier three-level location at the Forum Shops in Las Vegas is now up for rent after Toys "R" Us opted not to renew the store's lease. FAO Schwarz had occupied 55,000 square feet in the high-end mall since 1997, the Las Vegas Sun reported.
Ty Inc. Halts Sale of Beanie Boos in Aurora vs. Ty Case. February 8, 2010 — Aurora World Inc. announced Monday in regard to its copyright infringement lawsuit against Ty Inc. that Ty has agreed to no longer offer for retail sale the "Bubblegum" and "Cleo" plush in its Beanie Boos line. In the federal suit, which will go to trial at a date to be determined, Aurora alleges that the Beanie Boos are "unlawful imitations of the YooHoo & Friends products" and damage their value in the marketplace. UPDATE February 16, 2010 — According to a press release, Ty Inc. said it has not sold nor will sell the "Bubblegum" and "Cleo" characters and will remove pictures of those plush from retail displays.
Schylling Fined $200,000 for Lead Paint Violation. February 4, 2010 — Schylling Associates will pay a $200,000 settlement stemming from allegations that the toymaker, between 2001 and 2003, knowingly imported and distributed spinning tops and tin pails that contained excessive levels of lead in paint or surface coatings. The U.S. Consumer Product Safety Commission reported that Schylling failed to report the lead violation to the CPSC until 2007, instead issuing in 2002 a unilateral recall requesting merchandise returns from stores.
Bella Sara Licensee Changes Name. February 3, 2010 — Seattle-based Hidden City Games, licensee of the Bella Sara brand for tween girls, has updated its name to Hidden City Entertainment to reflect its planned expansions in branding and licensing projects. For one, the company, which launched in March 2007, is anticipating the release of collectibles line for boys.
Dollar General Recalls Toy Guns for Choking Risk. February 3, 2010 — The U.S. Consumer Product Safety Commission, in cooperation with retailer Dollar General and importer Dolgencorp LLC, has announced voluntary recall of about 9,600 Special Forces and Police SWAT Toy Gun Sets because the orange tips that indicate they are toy guns can be removed and present a choking hazard. The guns retailed at Dollar General stores in 35 states from September through October 2009 for about $5. Consumers should take the guns away from kids and return to the store for refund or replacement.
Couple Offers $1,000 Reward for Return of Lost Teddy Bears. February 3, 2010 — The tiny Japanese plush bears only cost $10 when Christopher Ferreira and his girlfriend bought them two years ago. Now, the California couple is offering a $1,000 reward to the person who returns the bears, which have been missing for 10 days after disappearing at a movie theater. The bear pair, Korilakkuma and Rilakkuma, have been the subject of numerous videos and photos — traveling in Tokyo, dancing, eyeing sushi, taking a bath — and are now featured on a website, wearebearz.com, pleading for their safe return. See the Oakland Tribune.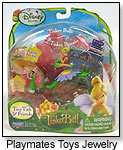 Playmates Toys Recalls 252,000 TinkerBell Jewelry Sets for Lead. February 2, 2010 — The U.S. Consumer Product Safety Commission, in cooperation with importer Playmates Toys, has announced a voluntary recall of about 252,000 Tiny Tink and Friends Children's Toy Jewelry Sets because a cylindrical metal connector on a charm may contain excessive levels of lead. Four SKUs are affected by the recall and were sold at stores across the country from November 2008 through November 2009 for $6 to $8. Consumers should take the charm and cord away from children and contact Playmates Toys at 888-810-1133 for a replacement charm accessory. The sets were also recalled in Canada.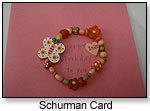 Papyrus Greeting Cards/Bracelets Recalled for Lead Paint. February 2, 2010 — The U.S. Consumer Product Safety Commission, in cooperation with importer Schurman Fine Papers, has announced a voluntary recall of about 174,000 Papyrus Brand Greeting Cards with bracelets because the surface paint on the jewelry contains excessive levels of lead. The birthday card retailed at card and other stores from February 2004 to September 2009 for about $7. Consumers should stop using the bracelet and contact Schurman Fine Papers at 888-990-9095 for information on getting a refund.
Quadrilla Rolls into Licensing Deal With Manhattan Toy. February 2, 2010 — Manhattan Toy has entered into an international licensing agreement to manufacturer and distribute Quadrilla marble runs and accessories (formerly available through HaPe International) beginning this year. "Manhattan Toy is dedicated to the art of creative play and quality craftsmanship so the link with Quadrilla makes perfect sense. Both brands share a mission to inspire and enrich young lives and developing minds," Mike Klein, president of Manhattan Toy, said in a press release.
Toy Sales Down <1% in '09, at $21.47 Billion. February 1, 2010 — The NPD Group reported Monday that retail sales for the toy industry came in at $21.47 billion last year, versus $21.65 billion in 2008, falling less than 1 percent. Fourth-quarter sales increased by 4 percent, while the Building Sets category in particular saw growth of 23 percent. Following behind, but also with increases, were Arts & Crafts (7%), Action Figures (4%) and Games/Puzzles (1%). Only the 9 to 12 age group experienced growth in dollar sales, according to a press release. Bakugan, Transformers, Barbie, Star Wars and Crayola proved the most popular properties of the year.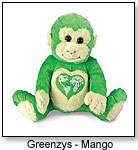 GREENZYS Line to Debut at FAO Schwarz. February 1, 2010 — Peat the Penguin, Yew Yew the Panda and other environmentally minded characters will be introduced at FAO Schwarz on April 5 as part of the new GREENZYS line that encompasses plush, books, animated content and an interactive website, according to a press release. The plush made by Kids Preferred, along with the other elements of the brand, are designed to encourage kids toward eco-friendly living. A percentage of each purchase will go to support the Environmental Media Association.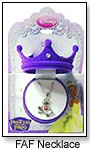 FAF Recalls Disney Necklaces for High Levels of Cadmium. January 29, 2010 – The U.S. Consumer Product Safety Commission, in cooperation with importer FAF Inc., has announced a voluntary recall of about 55,000 Children's Metal Necklaces that contain high levels of cadmium. The affected crown and frog varieties of the Disney necklace were sold at Walmart from November 2009 through January 2010 for about $5, and should be returned to the store for refund or replacement.

Mattel's 4Q Profit Up 86%. January 29, 2010 – Mattel saw an 86-percent rise in fourth-quarter earnings, bolstered by strong sales of Barbie, MindFlex and the Matchbox line, Dow Jones Newswires reported. The nation's No. 1 toymaker hit a net income of $328.4 million (89 cents a share) vs. $176.4 million (49 cents a share) for fourth-quarter 2009. U.S. sales dropped 2 percent, but sales of Barbie saw a 12-percent jump.