---
TDmonthly's Book Expert
One Educated Bookworm's Opinion
TDmonthly Magazine's Book Expert learns how smart a baby educated in-utero can be and marvels at the sacrifice of a man to save his fellow villagers from a looming natural disaster. See reviews of books from Candlewick Press, Owl Kids, Little, Brown and Co., and Penguin Group below.




Title: Baby Brains: The Smartest Baby in the Whole World—Candlewick Storybook Animations
Author/Illustrator: Simon James
Publisher: Candlewick Press
Gender: Boys and Girls
Age: 3 to 7
MSRP: $14.99

TDmonthly rating:





What It Is: Part of a series based on classic picture books, this gift pack includes a full-color hardcover picture book, a disc that is an animated DVD of the book on one side, and audio on the other (complete with page-turn signals so children can "read" on their own), and a colorful activity pack consisting of a poster and stickers themed to the book. "Baby Brains" is a hilarious story about Mr. and Mrs. Brains, who make sure to read to their baby and do whatever they can to make sure the baby is smart while he is still in utero. When he is born, he is so smart that he goes to school at a day old, then goes to medical school, and finally becomes an astronaut, all while still in diapers. It is a foregone conclusion that Baby Brains, despite his smarts, still needs his mommy, but the story is told with such wit and humor that you can't help but love him and his family.

Why You Should Carry It: This is a terrific series to carry; the combination DVD/book/activity set makes it an ideal gift, which comes in its own reusable plastic case for storage or carrying in the car or to Grandma's. Candlewick chose some of its best titles to include in this series, including "Farmer Duck," "Hooray for Fish" and "Owl Babies."

What Kids Think: Paris, age 4, thought this book was "so funny." She really liked the image of Baby Brains screaming for his mommy in outer space, and she thought it was great that the book came with a CD so she could listen to the story in the car. She also loved the stickers of Baby Brains and the activity set that came with the book.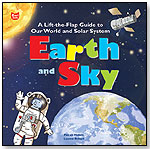 Title: Earth and Sky: A Lift-the-Flap Guide to Our World and Solar System
Author/Illustrator: Pascale Hedelin/Laurent Richard
Publisher: Owl Kids
Gender: Boys and Girls
Age: 5 to 12
MSRP: $24.95

TDmonthly rating:





What It Is: This is a very attractive, interactive book for young children who are curious about subjects such as geology, geography, the weather and the solar system. The book could be suitable for children ages 5 to 12, depending on whether they are looking at it with an adult or reading it on their own. The playful, cartoon-style drawings and many interactive elements, which include flaps to lift, wheels to turn, tabs to pull, pop-ups and more, make this a fun introduction to what otherwise could be a dry and boring science book. The text and illustrations start with exploring the earth, and go on to provide interesting facts about the moon, the sun, tides, various planets, constellations, other galaxies, astronauts and the international space station. The text is simple enough for very young children, but also provides details for older children up to the end of elementary school.

Why You Should Carry It: While this book, at $24.95, has a fairly high price point for a children's book, its attractive design and many interactive elements make it a good value, especially for gifts that will encourage children's natural curiosity about the earth.

What Kids Think: Daniel, age 6, whose dad is a scientist, really enjoyed this book, especially the many tabs and flaps to explore. He thought other kids would like it as well, since it was a lot of fun to play with. It's more appropriate for sharing one-on-one with a child; the many interactive elements make it difficult to use in a read-aloud situation in a classroom.




Title: Tsunami!
Author/Illustrator: Kimiko Kajikawa/Ed Young
Publisher: Philomel Books
Gender: Boys and Girls
Age: 5 to 10
MSRP: $16.99

TDmonthly rating:





What It Is: Caldecott winner Ed Young and writer Kajikawa team up to create a stunning picture book about one man's simple sacrifice in the face of a natural disaster. Somehow Ojiisan, the wisest, oldest and wealthiest man in the village, feels that something isn't right the autumn day the villagers are to celebrate the rice harvest. When an earthquake strikes, the villagers are not frightened, but soon "the sea was running away from the land." Ojiisan knew it was a tsunami, and that he must get the villagers out of danger. When the villagers run to the beach to watch the ocean, Ojiisan nobly sets fire to his own rice fields, knowing that the fire will bring the villagers away from the ocean, far from the coming monster wave that soon devours the village. Due to Ojiisan's sacrifice, the villagers' lives are spared.

Why You Should Carry It: This is a dark and powerful book that might frighten young children but would be suitable for school or classroom libraries or for families who enjoy folk tales. Ed Young's dark collage illustrations are very striking but may appeal more to adults than children.

What Kids Think: Jane, age 9, thought this story was "scary," but liked the ending, where Ojiisan invites all the villagers to come live at his house on the hill, the only one remaining after the tsunami.

Writer's Bio:
A member of the American Library Association, Margo Tanenbaum was formerly employed by an independent children's bookstore and has published book reviews on Amazon Vine and Goodreads. She is pursuing a master's degree in library science and writes about historical fiction and non-fiction for children and teens on her blog,
The Fourth Musketeer
.
Read more articles by this author
THIS BANNER IS AN AD:
---
---