---
Toys in the News: 12-30-10
SUBMIT your news to TDmonthly.
See previous toy industry news.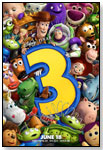 'Toy Story 3' named highest-grossing film of 2010. 12/30/2010 — Pixar movie Toy Story 3 has been named the highest-grossing film of 2010. The final installment in the franchise raked in over $1.06 billion (£686 million) at the worldwide box office following its summer release.

Middleton Doll changes name to FirsTime Design. 12/30/2010 — The Middleton Doll Co. will change its name to FirsTime Design Limited after shareholders approved the change at the company's annual meeting last week.

Astronaut Buzz Aldrin sues Topps for using his likeness in trading cards. 12/29/2010 — Buzz Aldrin was the second person to set foot on the moon; now he's the first to sue Topps Inc. for putting a photograph of the historic moment on its "American Heroes" series of trading cards.

Hobby Lobby Eyes February Opening of Store. 12/29/2010 — The Business Review reports that Michael's and A.C. Moore competitor Hobby Lobby plans to open a 55,000-square-foot store in Latham New York. The store will sell items such as arts and crafts, party items, and home accents, to name a few.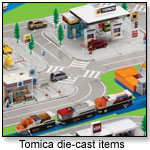 Tomica Lands in the US. 12/28/2010 — According to autoevolution, Japanese-based die-cast toy company Tomica plans to enter the U.S. market once again since pulling out in the 1980s. Energized by the growing interest that Americans are having for the auto industry, Tomica will be selling its model vehicles through Toys 'R' Us and FAO Schwartz. Prices to range from $4.99 and up.

PlayCore buys BigToys and Spectrum Products. 12/28/2010 — Chattanooga-based toy company PlayCore Holdings, Inc. has purchased two companies: Olympia, Wash.-based BigToys Inc., and Missoula, Mont.-based Spectrum Products LLC.

Christmas toy makers in China in dire straits. 12/27/2010 — Chinese manufacturers who supply 60 percent of the world's Christmas toy products are in dire straits as rising labour and material costs as well as the appreciation of the renminbi are forcing them to shut business.

SCAD and Kids II® Joining Together to Offer Creative Learning Opportunities. 12/27/2010 — According to a press release, Savannah College of Art and Design is teaming up with baby product company Kids II to provide new product ideas for Kids II in return for providing students with hands-on experience in a real-world, corporate environment.

Motorola Wants Ban On Xbox 360 Sales. 12/24/2010 The US International Trade Commission currently has Microsoft under investigation, following a complaint from Motorola that the Xbox 360 violates a number of patents held by the telco.

Dangerous counterfeit toys seized at LAX. 12/24/2010 — Two days ago, Los Angeles ABC News reported that the U.S. Customs and Border Protection seized about 55,000 children's ride-on vehicles from China at LAX. The vehicles featured couterfeit batteries, which pose a safety hazard.

Zoom Buggy Cars and Dream Pillow Stars Recalled by Kindermusik Due to Choking Hazard. 12/23/2010 — The U.S. Consumer Product Safety Commission and Health Canada, in cooperation with the firm named below, today announced a voluntary recall of the following consumer product. Consumers should stop using recalled products immediately unless otherwise instructed. It is illegal to resell or attempt to resell a recalled consumer product.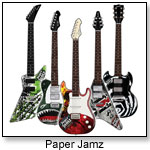 Toymaker can't sell Gibson look-alikes. 12/23/2010 — Nashville-based Gibson Guitar Corp. was granted a request for an injunction against WowWee USA Inc., the maker of Paper Jamz toy guitars, on Wednesday by a court in Los Angeles. The ruling directs retailers to stop selling the stringless guitars, which play music as children pretend to be rock stars, The Tennesean reports.

Suit: Sports deals led to price gouging by Electronic Arts. 12/23/2010 — A federal judge in San Francisco has certified a national class-action lawsuit against Electronic Arts that alleges the Redwood City game maker used exclusive licenses with sporting associations to enable price gouging of consumers.

More than 13,000 Counterfeit Toys Seized at the border. 12/21/2010 — More than 13,000 counterfeit toys were confiscated at the Otay Mesa cargo port of entry. Over the last two-and-a-half months, U.S. Customs and Border Protection officers seized 13,843 toys.

Barrett LaRoda negotiates deal with Funko. 12/22/2010 — Chairman of the LaRoda LTD, Barrett LaRoda has finalized a deal on behalf of Funko that will license celebrities as Hip Hop branded figures. Funko, one of the largest manufacturers of entertainment bobblehead products is the leader in bobbleheads, vinyl action figures, and plush toys. LaRoda negotiated the licensing for Biggie and Tupac, making them the first two figures that will hit the market worldwide in early 2011.

CPSC Bans Drop-side Cribs. 12/22/2010 — In a December 15th unanimous vote, the Consumer Product Safety Commission (CPSC) approved a rule to ban drop-side cribs, it was reported last week. New regulations will call for cribs with tighter fittings and more durable sides and mattress supports.

New Package Puts Jelly Belly in the Checkout Lane. 12/22/2010 — Jelly Belly Candy Company has released a new 1.45-oz. 20 Flavors bag well suited for quick turns at checkout. The new Jelly Belly 1.45-oz. bag is packed in two 24-count caddies that feature a low profile and removable header.

Kids Dominate Box Office — December 21, 2010. Kid flix dominated the silver screen this weekend, with Walt Disney's Tron: Legacy taking the top spot with $43,600,000. Warner Bros.' Yogi Bear came in 2nd, with a gross of $16,705,000, while Fox's Chronicles of Narnia: Voyage of the Dawn came in at third, with a take of $12,400,00, according to Variety.

Toys Tell Ancient Stories — December 21, 2010. 100 years of toys and dolls on display at the Stamford Museum and Nature Center 's Leonhardt Gallery in Connecticut til January 10th personalizes the collection with stories of the playthings. One teddy bear was de-stuffed and kept in a little boy's pocket when his family emigrated from Egypt, according to The New York Times.

Lusitania Sold for $194K — December 21, 2010. A 37.5-inch long toy replica of the famous Cunard ocean liner that was torpedoed by a German U-Boat during the the second world war brought almost $200,000 at a Sotheby's auction of antique toys in the collection of the late publisher Malcom Forbes. Overall, though, sales of the collection, which included the earliest known Monopoly game, handmade by its inventor Charles Darrow, were disappointing, according to The New York Post.

Debut of 'Play Happens' Among Exciting Events during Toy Fair 2011. 12/20/2010 — In conjunction with the opening of the largest toy box in the Western Hemisphere, the Toy Industry Association (TIA) has launched an exciting new initiative to correspond with the annual four-day extravaganza, Toy Fair. "Play Happens," an innovative virtual and social board game created by TIA to bridge the online and offline activities of Toy Fair attendees and exhibitors, will turn the city into a virtual game board during the show, from February 13-16, 2011.

Underground signs new licences for plush. 12/20/2010 — Toy maker Underground Toys adds Transformers 3 and Ghostbusters plush licenses for 2011.

Mom and Consumer Group Sue McDonald's For Luring Kids with Happy Meal Toys. 12/17/2010 — In conjunction with the Center for Science in the Public Interest (CSPI), Monet Parham, a 41-year-old mother of two, filed a class action against McDonald's on Wednesday in San Francisco Superior Court, claiming that the fast food chain's practice of giving away toys with Happy Meals is a form of deceptive advertising to children.


Zoobles vs. Squinkies: Hot Toys This Christmas. 12/17/2010 — Squinkies by Blip Toys are tiny creatures (animal, people, and objects) made of a rubber-like material and come in a variety of bright colors. Zoobles by Spin Master Toys are ping-pong-sized balls that magically pop into a creature when placed onto a special stand. Both are predicted to be huge hits this Christmas.

Mattel acquires rights to Phase 10 card game. 12/16/2010 — Mattel Inc., the El Segundo-based toymaker, said it acquired the license for the exclusive, worldwide rights to rummy-style card game Phase 10 from Fundex Games Ltd.

Hasbro Reviews $150 Million Media Account. 12/16/2010 — Toy maker Hasbro is seeking media agencies to make presentations for its $150M media-planning and buying account, AdAge.com reports.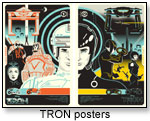 Alamo Drafthouse's Mondo Teams up with Sideshow Collectibles for Poster Series. 12/16/2010 — Mondo, the collectible art boutique arm of Alamo Drafthouse Cinema, announced a partnership with Sideshow Collectibles to release a series of Mondo's highly sought after film posters from world famous artists. Mondo's limited edition, screen-printed posters will be available for purchase at MondoTees.com, with variants available at SideshowCollectibles.com. The first series in the partnership will be Walt Disney Picture's 3D high-tech adventure "TRON: Legacy" and the original "TRON."

Charity Gets Ugly. 12/15/2010 — Ugly Dolls were a featured charitable giveaway on the Today Show. Since Pretty Ugly LLC began donating plush to the Today Show in 2002, it has awarded almost $1,000,000 in merchandise to needy children. Watch the video here.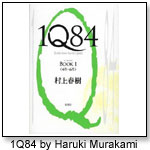 Apple accused of selling pirated Japan novels online. 12/15/2010 — Publishers in Japan demanded Tuesday that Apple stop selling pirated digital copies of novels by Japanese authors, including Haruki Murakami's "1Q84", in its online book store.

Tomy targets US holiday comeback with trains, cars. 12/15/2010. — Japanese toymaker Tomy Co. is hoping to score a comeback in the U.S. this Christmas with toy trains and cars that boast a 40-year history in Japan but failed previously to catch on abroad

Fun Q Games announces international licensing agreement with The Green Board Game Company. 12/15/2010 — The award-winning card game Triplica by Fun Q Games has been licensed to The Green Board Game Company for manufacturing and distribution. The license agreement permits Green Board Games to sell Triplica in all markets with the exceptions of North America and Israel. Fun Q Games will continue to be the sole supplier of Triplica in North America. Triplica will soon be made available in Israel by SmartZone through a licensing agreement signed earlier this year, according to a press release.

Canadian company making dolls that give birth. 12/15/2010 — Canadian company MamAmor has come out with dolls that give birth. Designed for educational purposes for kids, the cloth mother doll features elasticized snap crotches with baby, umbilical cord, and placenta tucked inside the doll.

Turner Broadcasting to Carry Four Hasbro Studios Series. 12/14/2010 — Turner Broadcasting has reached a deal with Hasbro Studios to carry its children's series Transformers Prime, Chuck and Friends, My Little Pony and Pound Puppies internationally starting in summer 2011.

Ravensburger renews Thomas license. 12/14/2010 — Games and puzzles firm Ravensburger has announced that its licensing agreement for Thomas & Friends has been renewed by HIT Entertainment.

Jakks Pacific turns to consoles with Kinectimals. 12/14/2010 — As a move to make its way into the more profitable console world, Jakks Pacific has struck a deal with Microsoft to begin creating special plush animals for the Kinect game Kinectimals.

Thermo Fisher to Acquire Dionex for $2.1 Billion. 12/13/2010 — According to Businessweek, Thermo Fisher Scientific Inc., the world's largest maker of laboratory instruments, agreed to acquire Dionex Corp. for about $2.1 billion to expand in the water-analysis business in China.

Retailers want to climb into the toy box with Toys "R" Us. 12/13/2010 — NorthJersey.com reports retail chains such as Barnes & Noble Inc, Borders Group Inc., and Sears Holdings Corp., are increasing their toys selection, seeing the opportunity potentials in the toy industry.

Wal-Mart Plans to End Extra Pay for Sunday Shifts Next Year. 12/13/2010 — Wal-Mart Stores Inc., the largest private employer in the U.S., plans to stop paying staff there an additional $1 an hour for working Sundays, taking a bite out of its single biggest expense.

New Tariff Statistical Breakout for Toys in 2011 Increases Reporting Burdens for Toy Importers. 12/10/2010 — On January 1, 2011, modifications to the table of statistical breakouts under the provisions for toys (heading 9503) in the Harmonized Tariff Schedule of the United States will become effective. Toy importers will have to revise their classification databases to accommodate these changes.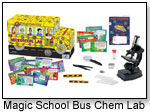 The Young Scientists Club Celebrates 25th Anniversary of The Magic School Bus™ with Five New Kits for 2011. 12/10/2010 — In 2011, the kids will cheer as The Young Scientists Club rolls out its newest science kits to explore and experiment with volcanoes, electricity, chemistry, and microscopes while taking an imaginary ride with Ms. Frizzle on board The Magic School Bus.

PlayCon 2011: "Play to Win" Program Currently in Development. 12/10/2010 — Toy Industry Association is revamping their annaul executive leadership conference, formerly known as ToyCon, into PlayCon, a program designed to cater to toy industry and play professionals to discuss the business of play. PlayCon is scheduled to be held on May 4-6, 2011, in Scottsdale, AZ.

High-Tech Daft Punk™-Inspired TRON: LEGACY™ Product Unveiled Just in Time to Rock the Holidays. 12/09/2010 — Disney Consumer Products (DCP) announced Wednesday its collaboration with electronics powerhouse, Monster Cable, and specialty toy maker, Medicom Toy, for new Daft Punk-inspired TRON: LEGACY electronics and toys.

Council won't play with kids' fast food toys. 12/09/2010 — Councilors in Wisconsin decided Tuesday night that they weren't going to toy with an ordinance that would ban free trinkets given away in children's fast food meals. The council voted 7-1 to receive and file a proposal that would have banned free toys given away with unhealthy fast food meals.

Retailers can't afford to be 'out of stock,' finds new NPD report. 12/08/2010 - A new report from market research company The NPD Group has found that 62% of toy purchases are planned and 77% of buyers who made a planned purchase said they knew specifically where they wanted to shop.

Mattel Grows Diverse Games Portfolio with Acquisition of Phase 10(R) and iMAGiNiff(R) Games. 12/08/2010 - Mattel, Inc. today announced it has acquired the license for the exclusive, worldwide rights to classic rummy style card game Phase 10® from Fundex Games, Ltd. and in a separate transaction, has acquired the rights to party game favorite iMAGiNiff® from Blue Opal Australia Pty Ltd.

Dora stars in interactive storybook app. 12/08/2010 - Dora the Explorer is kick-starting the holidays by starring in a new interactive storybook app for the iPhone, iPad and iPod touch. Dora's Christmas Carol Adventure, developed for Nickelodeon by Montreal-based Budge Studios, features elements of mobile gaming and offers interactive storytelling interspersed with mini-games.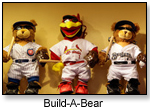 Build-A-Bear Seeks Buyer, Approaches Private-Equity Firms. 12/07/2010 — Build-A-Bear Workshop Inc., the chain of make-your-own stuffed animal stores, is seeking a buyer and has approached private-equity firms, according to three people with knowledge of the matter.

ROTH Capital Partners to Host Infant, Juvenile and Toy Consumer Conference. 12/07/2010 — ROTH Capital Partners, an investment bank for providing financing and advisory services to emerging growth companies, announced that it will be hosting an Infant, Juvenile and Toy Consumer Conference at the Gansevoort Park Avenue Hotel in New York City on December 14, 2010.

Baby GoGo™, a Gender-Neutral Doll for the Holidays. 12/07/2010 — Thirteen-inch doll Baby GoGo™ is a gender-neutral baby doll that features a medium skin tone and is dressed in contemporary colors, while targeting both boys and girls. The doll, since launch this year, has already garnered multiple awards, according to a press release.

Five Top Selling Toys and Games for the Past Week. 12/06/2010 — Of the five toys and games reported by The Independent, two that have made the list include Bananagrams and Bey Blade, as well as familiar names such as Scrabble and Ravensburger. See the list and how it was compiled.

Hamleys of London Under Fire from Animal Activists. 12/06/2010 — Famous toy store, Hamleys of London, is receiving heat from animal activists after advertising the use of live animals (penguins and reindeer) to attract customers in for the holidays.

Small-Business Owners Cry Foul Over US Safe-Toy Law. 12/03/2010 - Business owners say the regulatory costs imposed by the Consumer Product Safety Improvement Act of 2008 are forcing some companies to close their doors--even if their products pose no danger. But some lawmakers say the stringent rules are needed to keep kids safe. Some lawmakers may be open to amending the CPSIA.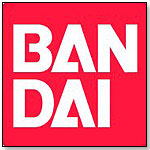 New agency for Bandai. 12/03/2010 - Bandai has hired Mischief as its new PR firm. The firm will be working on all the Bandai product ranges from now onwards concentrating on boy's ranges Ben 10, Power Rangers and Armouron, girls' range Harumika and pre-school range Tinga Tinga Tales.

FBI Concerned About Barbie Doll With Video Camera. 12/03/2010 - Agents with the Federal Bureau of Investigation said they're concerned about a hot-selling Barbie doll this holiday season. The doll has a video camera concealed in its necklace. The FBI said the doll is perfectly safe if used correctly.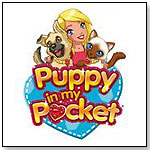 New TV and website boost Giochi Puppy property. 12/02/2010 - A new consumer site for Puppy in My Pocket has gone live to coincide with the new TV series in Italy.


Hasbro/Yummy Dough case begins. 12/02/2010 - The High Court trial is expected to last six days, with Hasbro arguing the MAPS' use of the word 'dough' in its Yummy Dough line, infringes it own Play-Doh copyright.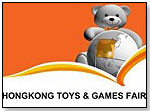 Spielwarenmesse expands World of Toys Pavilion in Hong Kong. 12/01/2010 - Pavilion exhibitors at Hong Kong Toys & Games Fair 2011 increase by 20 per cent.

Hasbro wins patent case against Buzz Bee. 12/01/2010 - Hasbro Inc won a victory over rival Buzz Bee Toys when a federal court banned the privately held rival from making or selling anything that uses Hasbro's patent for certain toy water guns.

Mega signs Need for Speed licence. 12/01/2010 - Firm to produce construction toys based on the video game franchise in new deal with EA.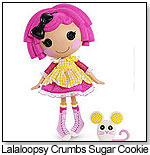 More Needy Girls Get Lalaloopsies. 11/30/2010 - The New York Post announced that MGA Entertainment was donating six more popular Lalaloopsy dolls to six runners-up in the paper's giveaway contest.

Pocoyo™ Toy Line Makes a Splash at Retailers. 11/30/2010 - The Pocoyo toy line featuring characters from the multi-award winning animated series Pocoyo is now available at retailers including Toys"R"Us, Toysrus.com and Amazon.com. Bandai's toys capture the vibrant and exuberant world of Pocoyo and his animal friends for preschool children ages one through three, encouraging them to learn through laughter.
THIS BANNER IS AN AD:
---
---